Good morning, Quartz readers!
Here's what you need to know
The pandemic is helping America's traditional retail powerhouse compete with Amazon. Walmart's 5000-odd physical stores have become useful distribution centers for online sales—especially fresh grocery pickups. Amazon has the much smaller Whole Foods chain, and can't compete in this area.
Johnson & Johnson will no longer sell baby powder in North America. The company blames "misinformation" about the product's safety, but it also faces thousands of lawsuits claiming that its talc products were contaminated with asbestos and caused cancer in children.
All 50 US states have eased lockdowns, but to widely varying degrees. The north east, west coast, and blue Midwestern states are the most cautious, while in Georgia, restaurants, gyms, and hair salons have been operating for some time. Connecticut opens up a little today, among the last to do so.
Rolls Royce is cutting 9,000 jobs worldwide. The British engineering firm is a major supplier to commercial airlines. It doesn't just sell the engines and drive off in its extravagant car—payment is based on the number of hours the planes are in the air. No flight, no fee, and finally, the loss of jobs.
The music industry could almost double in value over the next decade. That's according to Goldman Sachs, which said that the decline in live performances will be offset by premium online experiences and other revenue-generating innovations. Prince and David Bowie were doing this years ago, y'know.
---
The department of awkward solutions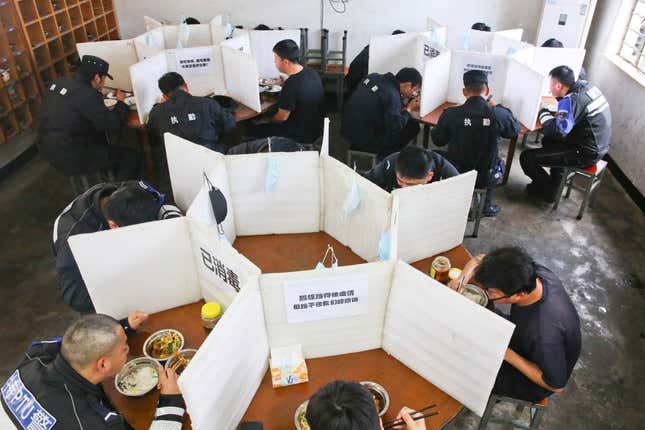 As businesses around the world begin to reopen, many workers can expect a host of half-baked design solutions in the name of stemming viral spread. Design and architecture reporter Anne Quito spoke with experts to help deliver the dos and don'ts of re-entering office life.
👍Do: Try new things.  Last month, commercial real estate firm Cushman & Wakefield introduced "The Six Feet Office," a set of guidelines including unusual new practices like only walking in a clockwise pattern.
👎Don't: Skip steps. In the rush to produce solutions, designers could cut corners while testing prototypes. Paolo Cardini, associate professor of industrial design at the Rhode Island School of Design, argues, "You are skipping safety prototyping… That's dangerous."
👍Do: Consult experts. The best solutions come from working with health experts. For example, the architecture firm MASS Design has been working with doctors to publish a useful set of guidelines (pdf) for designing healthier spaces.
👎Don't: Make hasty decisions. Cardini says now is not the time to implement any permanent infrastructure or to order products in bulk. "I think we need to wait a little bit more to have a good array of effective and validated solutions," he says.
Charting quarantine cannabis cultivation
The quarantine gardening boom definitely extends to cannabis. For the last few years Scotts Miracle-Gro has attributed a growing portion of its sales to its subsidiary Hawthorne Gardening, which specializes in hydroponic cannabis cultivation. In 2019, the segment accounted for over 20% of the company's revenues, up from 5% in 2016: "We're shipping more out the door at Hawthorne than we ever have before."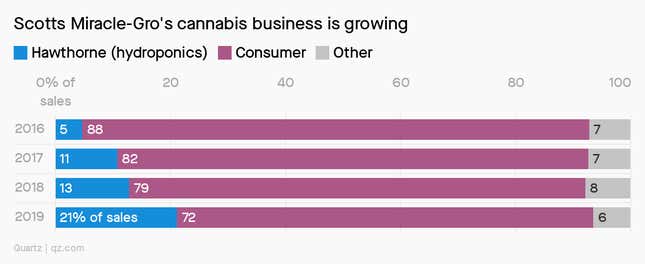 ---
For Quartz Members 
We'll need extraordinary measures to produce a Covid-19 vaccine. As countries around the globe reopen economies, they're also looking at vaccines. There are more than 120 candidates making their way through various stages of testing, and in order to identify, produce, and distribute what will become the most in-demand pharmaceutical product on Earth, manufacturers will need to explore every option.
✦ Get access to these articles and a lot more when you become a Quartz member. (Try a seven-day free trial.) ✦
You asked about herd immunity
Is it possible to achieve herd immunization against COVID-19?
A few countries have tried. The UK initially proceeded with a frightening attempt, but ultimately reversed course and focused on lockdowns and increased testing. The UK's chief scientific officer has said that about 60% of a population needs to be infected to build herd immunity—the protection that emerges as a virus makes its way through people.
The place to keep an eye on is probably Sweden, which took a very different approach. The country's primary schools have remained open. Restaurants too, though tables are set farther apart. Work from home is encouraged but not enforced, and even nightclubs can operate with a few changes. But it's now topping per capita death rates in Europe.
✉️ Do you have a burning question about how coronavirus is changing the world?
---
Surprising discoveries
Parts of Antarctica have green snow. Climate change is causing the proliferation of an algae that was first noticed by explorers in the early 20th century.
Do you miss the New York subway? An app recreates the sonic experience, including "Stand clear of the closing doors please."
A man made money by buying his own pizza on an app. DoorDash, for which he had not signed up, reportedly paid his restaurant the full $24 while charging him $16.
A Chinese mother was reunited with her kidnapped child—32 years later. Mao Yin was 2 when he was taken from a hotel in 1988, and his mom never gave up.
Shakespeare's Globe may be gone ere long. The detailed reconstruction of the Bard's playhouse in London is facing its biggest threat since the Great Fire of 1666 claimed the original.
---
Our best wishes for a productive day. Please send any news, comments, profitable pizza, and a sonnet to hi@qz.com. Get the most out of Quartz by downloading our app on iOS or Android and becoming a member. Today's Daily Brief was brought to you by Hasit Shah.