Good morning, Quartz readers!
Here's what you need to know
US-China tensions over Hong Kong risk boiling over. The US government could impose sanctions this week over Beijing's moves to enact a national security law for Hong Kong that would suppress dissent. A top US official has said it will be difficult to certify Hong Kong's special status with such a blow to its autonomy, but the tricky part will be figuring out how to punish China without hurting Hong Kong. Meanwhile Hong Kong police moved to quash protests today against local legislation to make insulting the Chinese national anthem a crime.
Europe announces a coronavirus stimulus package. The European Commission's proposal is expected to build on a Franco-German plan to raise shared European debt to fund a recovery. Meanwhile, Spain begins 10 days of mourning for coronavirus victims as the global death toll crossed 350,000. A US forecast suggests deaths will surge in Brazil and elsewhere through August.
Volkswagen makes big moves in China's electric vehicle market. The German auto maker is reportedly in final talks to take a 50% stake in the state-owned parent of its Chinese EV partner JAC Motors. It could also pay over $1 billion to become the biggest shareholder in a Chinese EV battery maker.
Twitter fact-checked Donald Trump. The platform put warnings on tweets from the US president claiming that mail-in ballots are prone to fraud. Separately, search giant Google deleted millions of negative reviews left for the TikTok app in its app store as part of a coordinated backlash against a popular Indian creator who made light of acid attacks. YouTube was also caught deleting a pair of phrases that insult China's Communist Party from comments.
It's decision day for Huawei's Meng Wanzhou. A Canadian court is expected to decide whether proceedings against the Chinese tech giant's chief financial officer meet a crucial requirement for extradition. If the judge finds it doesn't, she could be freed after a year and a half of being detained in Vancouver over Huawei's alleged violation of US sanctions against Iran.
---
A banner day for US space travel (weather permitting)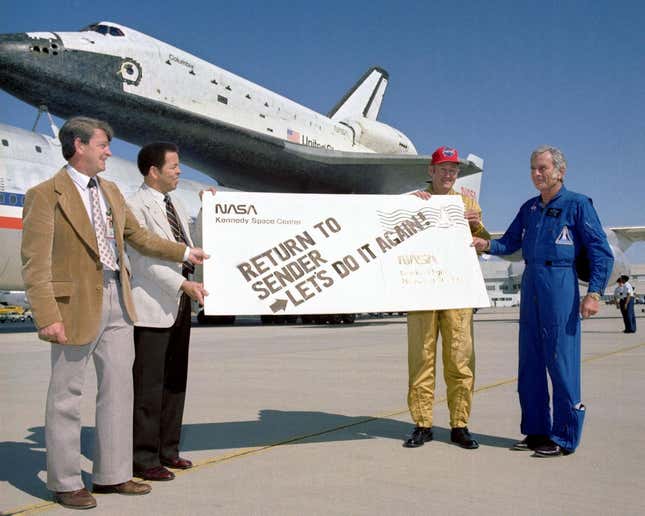 NASA will send humans to space from its Kennedy Space Center in Florida for the first time since 2011, using a SpaceX Crew Dragon capsule. If the weather fails to cooperate (a 40% chance), backup times for today's 4:33 pm ET launch have been scheduled for later this weekend. You can watch the official NASA livestream right here.
No matter what happens—sign up for the Space Business newsletter (it's free!) and let Quartz's Tim Fernholz keep you posted.
---
Charting American mall tenants
Even before the pandemic, many US malls were in decline. Years of developers overbuilding shopping centers resulted in a bubble of retail space that ultimately burst. While high-end malls filled with activities and restaurants still draw visitors, the rest often struggle to lure shoppers as their stores lose relevance, and US consumers buy more online. Now Covid-19 is increasing the pain.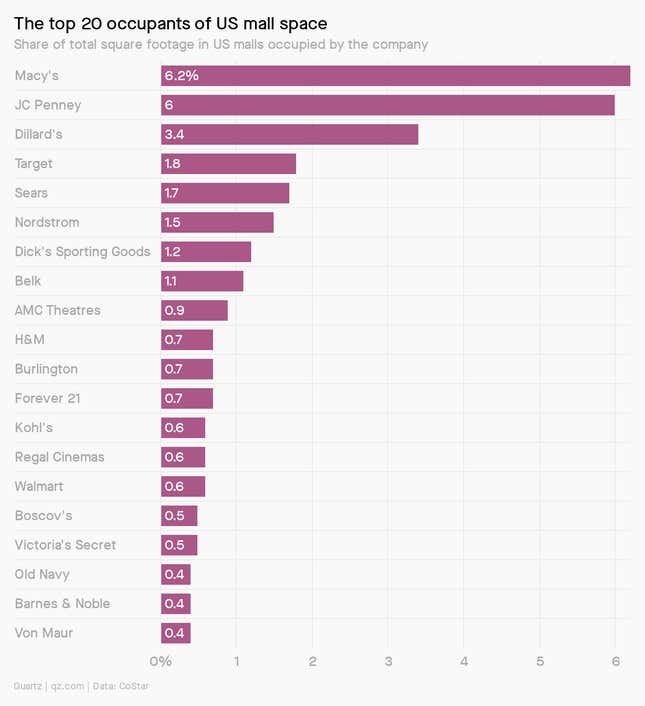 ---
For Quartz members: Watch our workshop on remote communication
How do the best remote teams communicate? They lean in, literally (you'll have to watch the video) and capitalize on whatever medium they're using. Also, they don't run from conflict; rather, they set norms to confront it productively.
Our Quartz at Work (from home) workshop, "How to Communicate like the Best Remote Teams," featured Amy Gallo, contributing editor at Harvard Business Review and author of the HBR Guide to Dealing with Conflict, and Dustin York, associate professor of communications at Maryville University, in conversation with Quartz executive editor Heather Landy.
✦ Get access to this video and a lot more when you become a Quartz member. (Try a seven-day free trial.) ✦
---
You asked about private jets
"Will private jet demand boom in a post-Covid world?" – James
It already has. Demand for private flights from Hong Kong to Australia and North America jumped 214% in January, just as the pandemic was spreading beyond China. By February, however, that rush was over with flight volume normalizing. As the virus took hold in Europe, private jet flights originating from Italy rose by 11%, before plummeting by 46% at the start of March. And in the US, the wealthy are once again taking to the skies, though not yet at pre-crisis levels.
---
Surprising discoveries
Crayola's acknowledging "flesh" comes in different colors. The company developed 24 new crayon colors with a makeup artist to represent a range of skin tones.
Next stop: King's Landing? Game of Thrones author George R.R. Martin is part of a group buying the historic Santa Fe Southern Railroad.
The dinosaurs never had a chance. Researchers found the asteroid that wiped them out hit at the "deadliest possible angle."
A new reason to go fur-free. Sickened workers at a Dutch mink farm may be the first example of animal-to-human transmission of Covid-19.
We (almost) have the technology. Scientists have created a lickable screen that tricks the tongue into tasting flavors and built a bionic eye that's more powerful than a real one.
---
Our best wishes for a productive day. Please send any news, comments, sanitized screens, and bionic eyes to hi@qz.com. Get the most out of Quartz by downloading our app on iOS or Android and becoming a member. Today's Daily Brief was written by Tripti Lahiri and edited by Isabella Steger.