Good morning, Quartz readers!
Here's what you need to know
More fallout from China's Hong Kong security law. As China's parliament moved to advance a national security law for Hong Kong, the city's special status is in question. The UK, US, Australia, and Canada issued a joint rebuke, while the UK said it would extend visa rights to Hong Kong British national passport holders, and US President Donald Trump is holding a press conference on China later today. Meanwhile, Hong Kong's public broadcaster is under review, which is seen as a threat to its independence.
Around Asia, coronavirus measures return mixed results. Following a spike in cases, Seoul will reimplement strict social distancing measures through June 14, while Manila plans to ease up starting June 1. In Japan, government data shows fewer overall deaths in the first quarter of 2020 compared to last year despite the pandemic.
ByteDance further distances itself from China. Luring a Disney exec to become the next TikTok CEO was just the beginning as ByteDance grows its massively profitable businesses outside of its home country. Still, US teens think praising China on TikTok is a good way to game the algorithms (Quartz member exclusive ✦). And a rival Chinese video app is about to launch (paywall) in the US.
Everybody wants a piece of India's Jio. Abu Dhabi state fund Mubadala and Twitter are in talks to invest about $1 billion each in parent company Reliance Industries, while Google and Microsoft are also reportedly considering joining Facebook and multiple US private equity firms in taking out sizable stakes.
US economic data remains bleak. One in four US workers has now filed for unemployment benefits (but that's partly due to how the government supports workers), also revisions show that GDP dropped by an annual rate of 5% in the first quarter, and pending home sales tanked last month.
English soccer is back. Mark your calendars for a Premier League kickoff on June 17.
---
Charting America's return to the saddle


Thousands of people are getting back on their bikes after an extended hiatus. Across the US, market research firm NPD reports sales of bicycles and shop services shot up 44% in March, and bicycle trips on trails rose 57% throughout March and April, according to the Rails-to-Trails Conservancy.
It's the third great bicycle boom in American history (✦), and it's poised to reconfigure the layout of American cities. A recent decline in bicycle injuries on the mean streets of New York City also holds out hope for a safer path forward.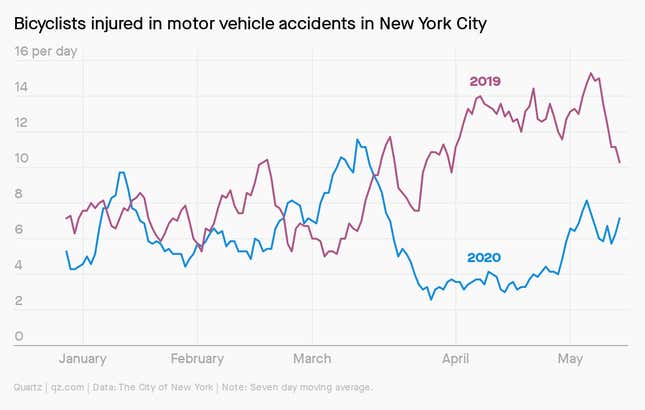 ---
For members: Quality control at Netflix
Netflix has a bad reputation for quantity over quality. So, Quartz decided to look at data from review aggregation site Metacritic to see whether that reputation was accurate and how its competitors fare in comparison.
The data show that the critical reception of Netflix shows has declined sharply since 2017. But that's not true for its competitors. Amazon's median show, for instance, improved from a 68 in 2017 to a 74 last year while HBO's increased from an already robust 77 in 2017 to an 80 in 2019.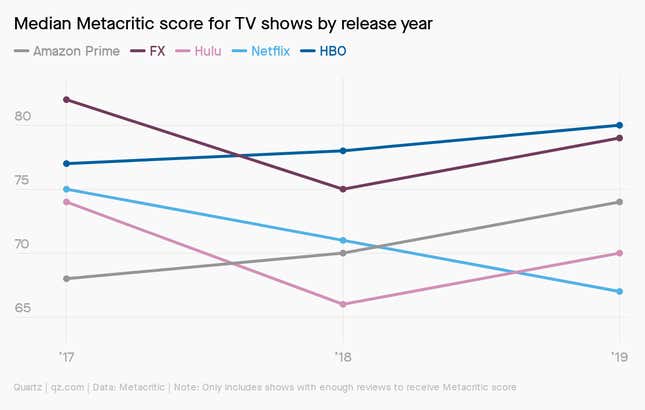 ✦ Netflix is winning the streaming war. But an even bigger struggle over global entertainment is just beginning. Get access to this field guide and a lot more when you become a Quartz member. (Try a seven-day free trial.) ✦
We asked: Is coronavirus accelerating automation?
Call it a freaky Friday because today Quartz is the one asking questions. Special projects editor Alexandra Ossola spoke with PW Singer, a security expert and one of the authors of the new book Burn-In, a techno-thriller that leans heavily on reality. Singer sees signs that the pandemic is hastening some of the global changes they uncovered in their research, including greater automation and the deep privacy concerns that come with it (✦).
These are selected excerpts from the full QZ&A.
QZ: How are mass surveillance and AI going past what sci-fi imagined?
Singer: We have fields like telemedicine that in a matter of weeks jumped ahead to where we thought we would be in 10 years. Robotics are being deployed into roles like policing curfews, to cleaning subways and hospitals, to delivering groceries.
QZ: So how do we slow job losses from automation?
Singer: There will be areas where we decide that automation shouldn't go, or has gone too far. We should talk and decide those rather than allowing tech companies to beta test on society. In short, we have to stop thinking of this all as science fiction and instead begin to understand the real-world applications and dilemmas of AI that we're going to face.
✉️ Do you have a burning question about how coronavirus is changing the world?
---
We're obsessed with jai alai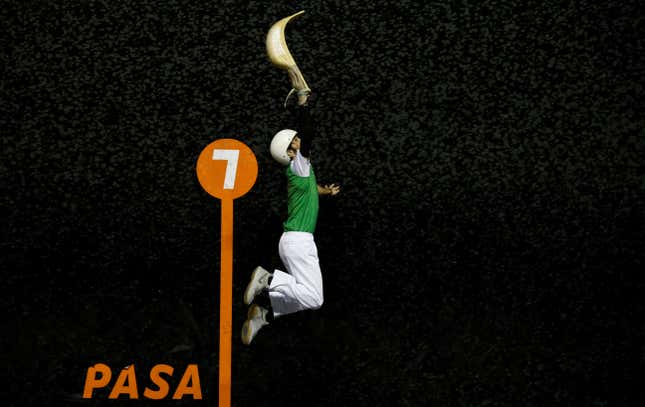 The sport that could have been. There was a time when "the world's fastest sport" seemed to be on the cusp of breaking out around the world. Jai alai (pronounced "high-lie") exploded out of the Basque region of Spain and France in the 20th century, but international interest has since waned with talent concentrating into just a few fiercely competitive leagues. Relive the glory days with the Quartz Weekly Obsession.
---
Surprising discoveries
Martin Scorsese made a lockdown short. The BBC video details how he quickly went from the relief of getting a break to the anxiety of isolation.
Switzerland's next phase of reopening includes sex work. The country's health minister said that "a concept of protection seems possible," but recognized the decision might seem "bizarre."
You can buy an entire Swedish village for $7.2 million… The rural oasis built around a natural underground spring contains 70 buildings on 62 acres.
…or a piece of Grimes' soul. The concept art is part of the singer's debut art exhibition; the price is set at "best offer."
The US military is building robotic tunneling earthworms. They're designed to dig underground routes for resupplying combat troops.
---
Our best wishes for a productive day. Please send any news, comments, villages for sale, and pieces of pop stars' souls to hi@qz.com. Get the most out of Quartz by downloading our app on iOS or Android and becoming a member. Today's Daily Brief was brought to you by Michael Coren, Nicolás Rivero, Adam Epstein, Dan Kopf, Alex Ossola, Max Lockie, and Liz Webber.