Good morning, Quartz readers!
Here's what you need to know
Minneapolis is on fire. On a third night of anger at the killing of George Floyd by a white cop, protesters set several buildings alight, including a police station. Protests have also spread to other cities. Trump called them "thugs," but Twitter restricted his post for "glorifying violence".
Meanwhile, the US president is taking on China and already had a bone to pick with Twitter. He could put an end to the US-China trade deal today, because of a new national security law in Hong Kong. And yesterday, his latest executive order targeted social media companies.
Boeing and Renault are cutting thousands of jobs. Nearly 7,000 employees of the US aerospace giant are being let go, while the French carmaker is getting rid of 15,000 staff worldwide. And one in four American workers are claiming unemployment benefits.
The CDC recommended major changes to America's offices. As Covid-19 infections continue to rise in parts of the country, and the national death toll hits six figures, the Centers for Disease Control and Prevention suggests temperature checks, mandatory masks, and distant desks, among other measures.
Liverpool is set to win a first soccer championship in 30 years. The English Premier League voted to return on June 17, following a similar, successful comeback for the sport in Germany, and the NHL's announcement in the US this week. When you walk through a storm…
For members: Quality control at Netflix
Netflix has a bad reputation for quantity over quality. So, Quartz decided to look at data from review aggregation site Metacritic to see whether that reputation was accurate and how its competitors fare in comparison.
The data show that the critical reception of Netflix shows has declined sharply since 2017. But that's not true for its competitors. Amazon's median score, for instance, improved from 68 in 2017 to 74 last year, while HBO's increased from an already robust 77 in 2017 to 80 in 2019.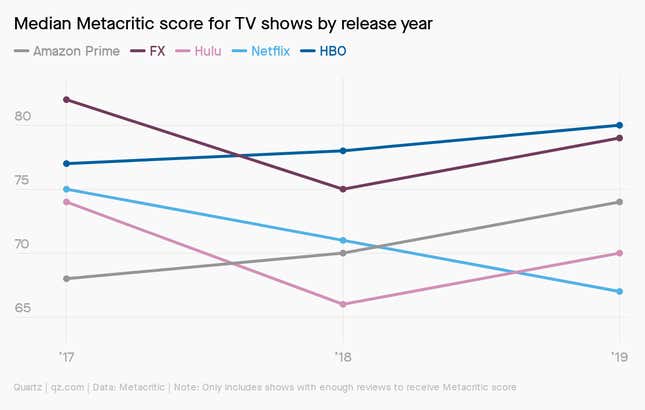 ✦ Netflix is winning the streaming war. But an even bigger struggle over global entertainment is just beginning. Get access to this field guide and a lot more when you become a Quartz member. (Try a seven-day free trial.) ✦
We asked: Is coronavirus accelerating automation?
Call it a freaky Friday because today Quartz is the one asking questions. Special projects editor Alexandra Ossola spoke with PW Singer, a security expert and one of the authors of the new book Burn-In, a techno-thriller that leans heavily on reality. Singer sees signs that the pandemic is hastening some of the global changes they uncovered in their research, including greater automation and the deep privacy concerns that come with it (✦).
These are selected excerpts from the full QZ&A.
QZ: How are mass surveillance and AI going past what sci-fi imagined?
Singer: We have fields like telemedicine that in a matter of weeks jumped ahead to where we thought we would be in 10 years. Robotics are being deployed into roles like policing curfews, to cleaning subways and hospitals, to delivering groceries.
QZ: So how do we slow job losses from automation?
Singer: There will be areas where we decide that automation shouldn't go, or has gone too far. We should talk and decide those rather than allowing tech companies to beta test on society. In short, we have to stop thinking of this all as science fiction and instead begin to understand the real-world applications and dilemmas of AI that we're going to face.
✉️ Do you have a burning question about how coronavirus is changing the world?
---
We're obsessed with jai alai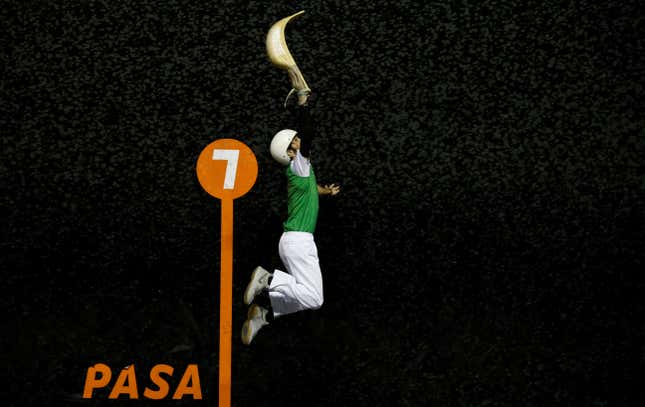 The sport that could have been. There was a time when "the world's fastest sport" seemed to be on the cusp of breaking out around the world. Jai alai (pronounced "high-lie") exploded out of the Basque region of Spain and France in the 20th century, but international interest has since waned with just a few fiercely competitive leagues. Relive the glory days with the Quartz Weekly Obsession.
---
Surprising discoveries
Martin Scorsese made a lockdown short. It's about how he quickly went from the relief of getting a break to the anxiety of isolation.
Tabletop games are having a renaissance. We're mostly stuck at home, and there's often nothing better to do.
Switzerland's next phase of reopening includes sex work—but not sports. The country's health minister recognized the decision might seem "bizarre."
You can buy an entire Swedish village for $7.2 million. The rural oasis built around a natural underground spring contains 70 buildings on 62 acres.
The US military is building robotic tunneling earthworms. They're designed to dig underground routes for resupplying combat troops.
---
Our best wishes for a productive day. Please send any news, comments, a commemorative Liverpool jersey, and a stern note from Twitter to hi@qz.com. Get the most out of Quartz by downloading our app and becoming a member. Today's Daily Brief was brought to you by Hasit Shah,  Max Lockie, and Liz Webber.