Good morning, Quartz readers!
Here's what you need to know
UK travel quarantine rules take effect... Starting today, everyone arriving in the UK must self-isolate for 14 days, and face a fine of £1,000 ($1,270) if they fail to do so. Freight workers and medical professionals providing essential care are exempt.
…and Boris Johnson announces tougher foreign investment rules. The British prime minister is expected to tighten laws to prevent foreign takeovers that could threaten national security. Companies found in breach of those rules could see their directors jailed, fined, or disqualified.
New Zealand has no active cases of Covid-19. The country will move at midnight down to alert level one—meaning a return to mostly normal lives—after its last remaining coronavirus patient recovered, marking the first time since Feb. 28 that the country has had zero active cases. Meanwhile, Brazil ordered health officials to stop publishing case numbers, and wiped an official site of data.
Minneapolis vowed to dismantle its police department… Nine of the 12 members of the Minneapolis city council said yesterday that they support ending policing as the the city currently knows it, with the council president acknowledging that incremental reforms have failed. Meanwhile, presumptive Democratic presidential nominee Joe Biden will meet George Floyd's family.
…and protesters in Europe toppled statues. The momentum of the Black Lives Matter protests continued to reverberate around the world, with activists in Belgium targeting statues of King Leopold II to denounce his brutal colonization of the Congo. In the UK, protesters toppled a statue of prominent 17th-century slave trader Edward Colston.
AstraZeneca woos Gilead for a potential merger. A combination of the two companies, both of which are pursuing a Covid-19 vaccine, would be the biggest health care deal in history.
---
The Week Ahead
Monday: New York begins to reopen. Germany publishes April industrial production data. The Federal Reserve of New York releases its monthly survey of consumer expectations.
Tuesday: George Floyd is laid to rest. Japan and the UK hold trade talks.
Wednesday: The US Fed concludes a two-day meeting of its open markets committee with a news conference by chair Jerome Powell. The US releases consumer price index numbers, and Brazil announces inflation data.
Thursday: NetEase lists on Hong Kong stock exchange. Spain's top soccer league resumes. Toyota holds a virtual shareholders meeting.
Friday: California resumes film, TV, and music production. Italian soccer resumes with Coppa Italia semi-finals.
---
Charting online commerce
Amazon isn't the only e-commerce company thriving. Amazon shares have climbed more than 30% this year. But some online retailers are faring even better.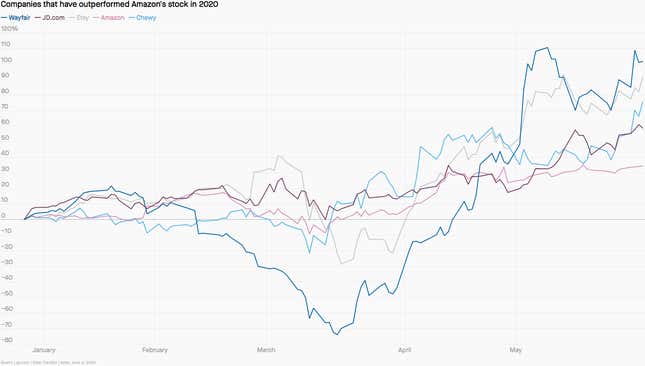 Shares of Wayfair, the online furniture and home goods seller, have doubled in price in 2020. Etsy, a platform that specializes in handmade products, said its marketplace grew 100% in April, and its stock has gained more than 90%. "One big driver of the strong growth in April was fabric face masks," Etsy CEO Joshua Silverman said in an earnings call on June 2.
Chewy, an online company for pet products, has jumped about 75% this year, while US shares for Chinese e-commerce giant JD.com have rallied about 60%.
---
For Quartz members: China is hungry like the wolf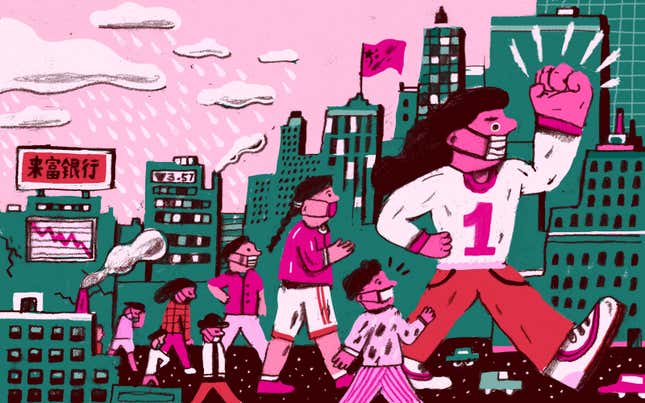 "Wolf Warrior" diplomacy refers to a more aggressive approach to international relations undertaken recently by some members of the Chinese diplomatic corps. It takes its name from a 2015 Chinese action-adventure movie.
The 2017 sequel, Wolf Warrior II, depicts a muscle-bound Chinese former special-forces soldier who saves his compatriots and African locals from US-led mercenaries. The movie is unabashedly patriotic in tone, as captured by its tagline: "Whoever attacks China will be killed no matter how far the target is."
Read more about how this aggressive new diplomacy is undergirding China's changing influence in this week's member-exclusive field guide.
✦ To gain access to all the stories, presentations, field guides, workshops, and more that is available exclusively to Quartz members, try a seven-day free trial. ✦
Surprising discoveries
A years-long treasure hunt in the Rocky Mountains has come to an end. A bronze chest filled with gold and jewels, hidden over a decade ago by a famous art collector, was finally found in the wilderness.
Archaeologists discovered a massive ancient Mayan structure. The 1,400-meter-long (0.86 mile) construction used for astronomical observations is the largest and oldest type ever found.
Banksy unveiled new artwork in support of Black Lives Matter. The piece by the anonymous artist depicts a framed black figure, with an American flag overhead being lit on fire by the candle beneath it.
Deep sea creatures build homes out of their own snot. Scientists had previously thought the intricate structures made of mucus by giant larvaceans were the animals themselves.
Black holes spit out energy, too. As the collapsed stars suck in any matter that comes near them, they also squirt out hot, electrified gas—not unlike soap bubbles.
---
Our best wishes for a productive day. Please send any news, comments, treasure chests, and snotty sea creatures to hi@qz.com. Get the most out of Quartz by downloading our app on iOS or Android and becoming a member. Today's Daily Brief was brought to you by Marc Bain, John Detrixhe, Katherine Ellen Foley, Oliver Staley, Mary Hui, and Isabella Steger.