Good morning, Quartz readers!
Here's what you need to know
Trump demanded that TikTok be sold to a "very American" company. The US president gave a Sept. 15 deadline for an American firm like Microsoft to buy the Chinese social media app and suggested the US Treasury should get a cut of the purchase price. His earlier comments on the subject prompted an angry response from Beijing. Separately, Snapchat sought to capitalize on the confusion by announcing a competing music feature on its platform.
China's Xiao-i filed a $1.43 billion copyright suit against Apple. The AI firm alleges that Apple's Siri voice assistant infringes on a patent it was granted in 2009. The dispute stretches back to 2012, when Xiao-i unsuccessfully sued Apple over a voice recognition patent.
Global manufacturing is slowly rebounding. A survey showed China's manufacturing is expanding at a record rate, while American businesses reported their third straight month of growth. In Japan and South Korea, manufacturers reported slower declines, suggesting their recovery could start soon.
Governments reimposed lockdowns to contain coronavirus. Residents of Manilla and its surrounding provinces are barred from leaving their houses; Melbourne shut nonessential businesses; the governor of Okinawa bucked Japan's national government and declared a new state of emergency; and Vietnam imposed lockdowns in several new epicenters that cropped up after months without local transmission.
Zoom found a way to outsource its censorship in China. The company will now sell its videoconferencing services to Chinese users via local intermediaries, who will take on the responsibility (✦ Quartz member exclusive) of complying with Beijing's censorship requests. Meanwhile, Thailand threatened to slap Facebook with fines for not complying with censorship requests fast enough.
---
Making it work at work
For those of us who transitioned to remote work when the pandemic started, it's been a steep learning curve. And it feels like just as we've settled into our new routines, we're dealing with a new set of obstacles, from some (but not all) employees returning to much-changed offices, to the possibility of schools not reopening as initially planned. Luckily, the Quartz at Work team has advice on:
👩‍💼 How to lead effectively, no matter where your team is
🔥 Combating workplace burnout with small changes
🤝 Cultivating workplace culture when no one is in the office
---
Charting the Main Street recovery
To understand the effects of Covid-19, economists have been looking more closely at real-time data, from credit and debit card transactions to foot traffic at different retailers. For example, small-business data from Homebase, a free employee scheduling tool, show that after recovering somewhat from their nadir in March, working hours started dropping again in July.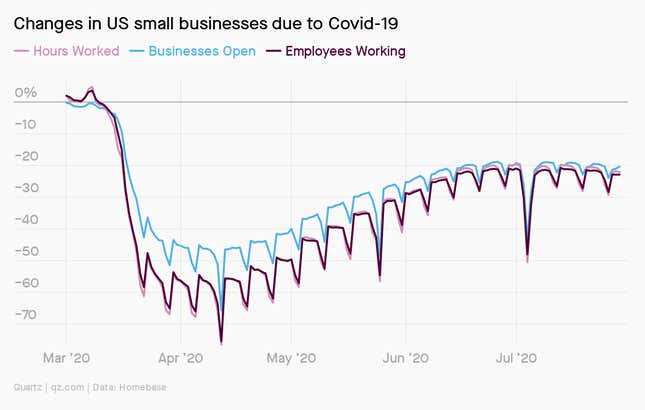 These types of new data sources allow the US Federal Reserve to gauge in real time how the economy is reacting to changes, such as economic stimulus funds or the spike in coronavirus cases.
---
✦
For members: What would it take to become the Starbucks of weed?
Curaleaf, the US's biggest cannabis company, with a market capitalization of about $3.2 billion, just keeps getting bigger. The Wakefield, Massachusetts-based firm operates grow houses, dispensaries, and brands turning out tinctures, vapes, edibles, topicals, and flower (as the industry refers to dried cannabis). It has been steadily acquiring other cannabis companies in an effort to become, as CEO Joe Lusardi puts it, "the first true national cannabis brand with the widest distribution in the country."
Quartz asked Lusardi about the significance of being deemed an essential business in the early days of the coronavirus pandemic. His response:
I've been in this industry for a decade and fighting for acceptance all along the way. For the [Trump] administration to recognize that these products were essential—that, effectively, people can't live their lives without them—was a massive validation. No question of how important cannabis is in people's lives.
Read the full Q&A in our latest field guide to cannabis at a crossroads.
✦ Access all of our articles, presentations, field guides, and workshops by signing up for a Quartz membership.
---
You asked about test result delays
Why does it take so long to get Covid-19 test results?
In some parts of the US, it can take up to two weeks to receive the results from a Covid-19 test. Not only is this incredibly frustrating, but it also makes it difficult—if not downright impossible—to track the spread of the virus. So what happened?
A lack of available authorized tests back in March led the US Food and Drug Administration to give tests and treatments a temporary clearance to get them on the ground as soon as possible. The US FDA has since granted emergency use authorization to about 150 tests that can detect genetic material from SARS-CoV-2. Now the problem is that because there are so many tests in use, labs are struggling to confront shortages for the more specialized ones.
While each of these new SARS-CoV-2 detection tests works similarly, there are slight differences in the equipment they require. The second there's a shortage in one piece of equipment required for one test—like a specific plastic tube—then the whole testing platform comes to a halt.
---
Surprising discoveries
2020's summer blockbuster is a movie from 2014. Reopened theaters are recycling content, and Interstellar is a hit again.
Bored astronauts made prank calls from the SpaceX lander. The crew had time to kill after splashing down in the Gulf of Mexico.
A high-tech mask can translate speech into eight languages. It can also amplify your voice or take dictation.
Hong Kong researchers 3-D printed coral reefs. They hope their clay imitations will help real coral reestablish itself in damaged habitats.
A drug smuggling cat escaped a Sri Lankan prison. The felonious feline had been caught with contraband tied around its neck.
---
Our best wishes for a productive day. Please send any news, comments, clever prank call ideas, and multi-functional masks to hi@qz.com. Get the most out of Quartz by downloading our app on iOS and becoming a member. Today's Daily Brief was brought to you by Karen Ho, Jackie Bischof, Katherine Ellen Foley, Nicolás Rivero, and Liz Webber.