Good morning, Quartz readers!
Here's what you need to know
Jammu and Kashmir, one year on. As the region continues to face economic hardship (✦ Quartz member exclusive), coronavirus restrictions on gatherings and the presence of extra security personnel thwarted demonstrators' plans for a "black day" to commemorate the anniversary of the end of Jammu and Kashmir's special status. Meanwhile, Pakistani prime minister Imran Khan again invoked Kashmir's right to self-determination, and China's foreign ministry said any change to the area's status quo would be "illegal and invalid."
India reportedly banned more Chinese apps. The 47 new apps from companies like Xiaomi and Baidu are mostly clones of already banned apps. Also, Facebook launched its TikTok clone Reels in more than 50 countries including the US, while actual TikTok banned deepfakes, expanded its fact checking, and added tools to flag misinformation.
A US cabinet official is headed to Taiwan. China is not pleased about the upcoming trip for health secretary Alex Azar, who will be the highest ranking US official to visit the island since 1979. Meanwhile, Hong Kong activist Agnes Chow was convicted for her role in a June 2019 protest, and Malaysian police said 1MDB fugitives are hiding out in Macau, Hong Kong, and Shenzhen.
Samsung revealed a new foldable phone. The electronics giant also showed off next generation Note phones, tablets, smart watches, and wireless earbuds at its virtual Galaxy Unpacked event.
---
Disney will make a stan out of you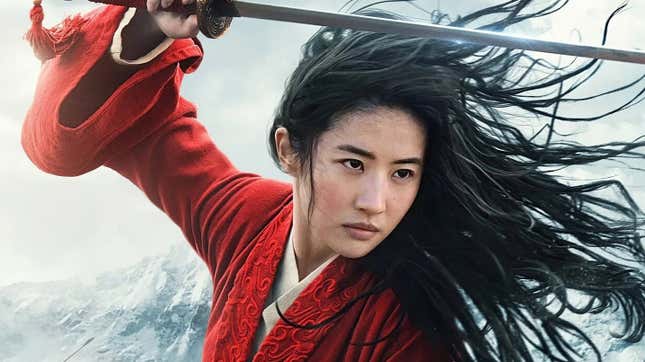 Mulan tells the story of a 15th-century Chinese warrior who wants to get down to business and defeat the Huns before anyone figures out she's a female in disguise. It may not portray its hero as quite the empowered woman she is in Chinese folklore, but Disney is betting viewers will pay a hefty premium to stream the highly anticipated live-action remake of its 1998 film on top of their Disney+ monthly subscription fees.
In countries where theaters are open and Disney+ is not available, like China, Mulan will still be shown on the big screen. The move surprised most observers, who assumed the movie, which reportedly cost Disney $200 million to produce (and untold millions more to advertise), was too big to move to streaming in lieu of a global theatrical release. But a marquee feature like Mulan also leads to more Disney+ signups, and right now, streaming is where the money is for the Mouse.
---
Charting India's trade surplus
India became a net exporter in June for the first time in 18 years, with exports of goods and services outweighing imports by $800 million. However, the surplus has been generated not by surging exports, but by weak domestic consumption, and assisted by the low global price of oil.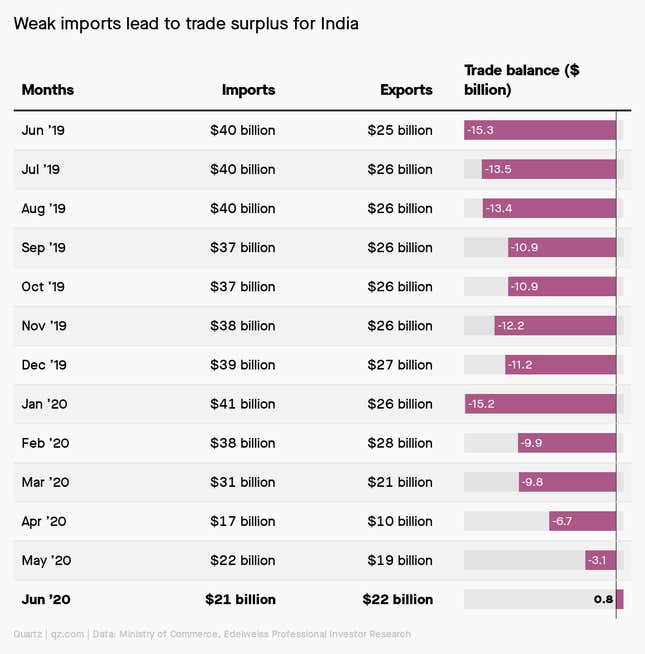 ✦
For members: It's electric!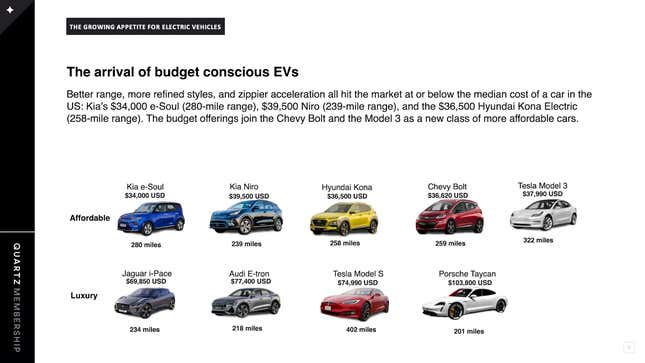 🚗 If you drive a car, will your next one be electric?
Percentage of respondents who said yes in a 2018 survey:
🇨🇳 55%
🇳🇴 29%
🇬🇧 25%
🇯🇵 23%
🇩🇪 22%
🇺🇸 19%
Electric vehicles are a bright spot for an industry that's experiencing some dark days, and automakers are betting big on the future of that particular class of cars. So far, demand is highest in China and Europe, but experts estimate that EVs and hybrids will together make up about 40% of the global market by 2030.
Our latest presentation for Quartz members covers the past, present, and future of the electric vehicle industry, including how the Covid-19 pandemic has affected it. Go even farther down the road by checking out our field guide on EVs from last year.
✦ Access all of our articles, presentations, field guides, and workshops by signing up for a Quartz membership.
---
We're obsessed with hairdressers
Salons may be closed, but our hair still grows, causing people around the world to realize just how essential they actually consider hairdressers to be. But the services they provide go beyond cuts and colors. Many play the role of part-time therapist to their clients, while the salons and barbershops in which they operate have a rich history as important community spaces and vital entry points into entrepreneurship for working-class and minority communities. When these spaces close, we lose more than haircuts. Stop fretting about your split ends for at least the time it takes to read the Quartz Weekly Obsession.
Want to get obsessed with us once a week? Hit the button below to get the Weekly Obsession delivered straight to you, for free.
---
Surprising discoveries
Only 17% of the studies published in top economics journals are by women. That's despite women making up 30% of first-year PhD students in the US.
New York turns on the tap for boozy ice cream. Officials say it will benefit the state's dairy and craft alcohol industries.
Feeling stressed? Hug a llama. "Caesar the No Drama Llama" is offering his therapeutic services at protests in Portland, Oregon.
Penguin poop was spotted from space. Scientists identified new colonies of Emperor penguins by looking at satellite images with telltale reddish-brown stains on Antarctic snow.
A long-lost family cat was found 12 years later. The feline, which vanished while on a family holiday in Scotland, was located after an animal charity scanned its microchip.
---
Our best wishes for a productive day. Please send any news, comments, tipsy scoops, and comfort llamas to hi@qz.com. Get the most out of Quartz by downloading our app on iOS and becoming a member. Today's Daily Brief was brought to you by Adam Epstein, Prathamesh Mulye, Walter Frick, Marc Bain, Liz Webber, and Susan Howson.