Good morning, Quartz readers!
Here's what you need to know
The US is building its own great firewall… The state department unveiled a so-called "Clean Network" program in response to threats from "malign actors" such as China, paving the way to blocking  Chinese carriers from US telecommunications networks and shutting out Chinese cloud services providers. Meanwhile, Facebook for the first time took down a post from president Donald Trump, citing coronavirus misinformation.
…while TikTok builds a data center in Ireland. The $500 million (£375 million) facility will store videos, messages, and other data generated by the app's European users. Separately, ride-hailing giant Uber is buying Autocab, the British taxi booking software company.
The Bank of England announces its latest policy decision. It's expected to hold its lending rate steady at 0.1%, but may tweak its previously optimistic projections of a V-shaped economic bounce-back amid risks of a resurgent second wave of the pandemic.
Lebanon begins three days of mourning. Several port officials have been placed under house arrest over the deadly Beirut blast, which early investigations have linked to 2,750 metric tons (3,301 tons) of confiscated ammonium nitrate stored in a port warehouse. French president Emmanuel Macron is due to arrive there today for meetings with Lebanese leaders.
---
Disney will make a stan out of you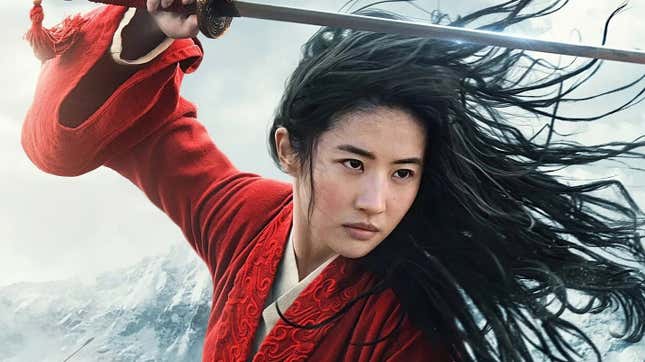 Mulan tells the story of a 15th-century Chinese warrior who wants to get down to business and defeat the Huns before anyone figures out she's a female in disguise. It may not portray its hero as quite the empowered woman she is in Chinese folklore, but Disney is betting viewers will pay a hefty premium to stream the highly anticipated live-action remake of its 1998 film on top of their Disney+ monthly subscription fees.
In countries where theaters are open and Disney+ is not available, like China, Mulan will still be shown on the big screen. The move surprised most observers, who assumed the movie, which reportedly cost Disney $200 million to produce (and untold millions more to advertise), was too big to move to streaming in lieu of a global theatrical release. But a marquee feature like Mulan also leads to more Disney+ signups, and right now, streaming is where the money is for the Mouse.
---
Charting India's trade surplus
India became a net exporter in June for the first time in 18 years, with exports of goods and services outweighing imports by $800 million. However, the surplus has been generated not by surging exports, but by weak domestic consumption, and assisted by the low global price of oil.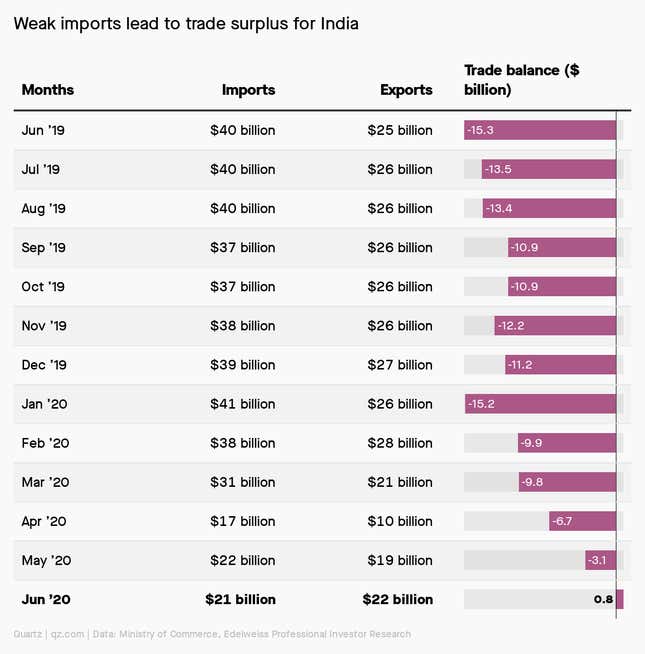 ✦
For members: It's electric!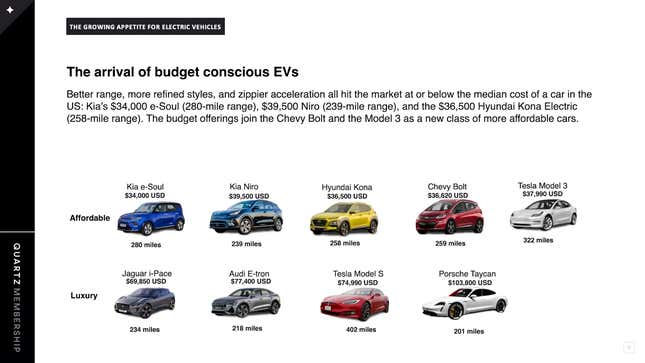 🚗 If you drive a car, will your next one be electric?
Percentage of respondents who said yes in a 2018 survey:
🇨🇳 55%
🇳🇴 29%
🇬🇧 25%
🇯🇵 23%
🇩🇪 22%
🇺🇸 19%
Electric vehicles are a bright spot for an industry that's experiencing some dark days, and auto makers are betting big on the future of that particular class of cars. So far, demand is highest in China and Europe, but experts estimate that EVs and hybrids will together make up about 40% of the global market by 2030.
Our latest presentation for Quartz members covers the past, present, and future of the electric vehicle industry, including how the Covid-19 pandemic has affected it. Go even farther down the road by checking out our field guide on EVs from last year.
✦ Access all of our articles, presentations, field guides, and workshops by signing up for a Quartz membership.
---
We're obsessed with hairdressers
Salons may be closed, but our hair still grows, causing people around the world to realize just how essential they actually consider hairdressers to be. But the services they provide go beyond cuts and colors. Many play the role of part-time therapist to their clients, while the salons and barbershops in which they operate have a rich history as important community spaces and vital entry points into entrepreneurship for working-class and minority communities. When these spaces close, we lose more than haircuts. Stop fretting about your split ends for at least the time it takes to read the Quartz Weekly Obsession.
Want to get obsessed with us once a week? Hit the button below to get the Weekly Obsession delivered straight to you, for free.
---
Surprising discoveries
Max the police dog did good on his first shift. He kicked off his career by successfully locating a missing mother and her baby on the edge of a steep ravine in Wales.
An American couple replaced their Norwegian flag with a vimple. They were accused of being racists after the flag outside their inn was mistaken for the Confederate one.
A rare mutant honeybee is both male and female. A beekeeper in the US noticed one bee had radar-dish eyes typical of males, even though its abdomen, stinger, and wings were clearly female.
Only 17% of the studies published in top economics journals are by women. That's despite women making up 30% of first-year PhD students in the US.
Feeling stressed? Hug a llama. "Caesar the No Drama Llama" is offering his therapeutic services at protests in Portland, Oregon.
---
Our best wishes for a productive day. Please send any news, comments, mutant honeybees, and inoffensive vimples to hi@qz.com. Get the most out of Quartz by downloading our app on iOS and becoming a member. Today's Daily Brief was brought to you by Mary Hui, Isabella Steger, Liz Webber, and Susan Howson.