Good morning, Quartz readers!
Here's what you need to know
Biden named Harris. Former US vice president Joe Biden named California senator Kamala Harris as his running mate to face off against US president Donald Trump in November elections. Harris will be the first Black and the first South Asian woman to appear on a presidential ticket.
Russia is rolling out its unproven vaccine. President Vladimir Putin announced the approval of the vaccine, which has yet to go through Phase 3 trials that would confirm both safety and effectiveness. Meanwhile, Mexico said it will conduct late-stage trials for vaccines from Johnson & Johnson and China's CanSino Biologics and Walvax Biotechnology Co.
Jimmy Lai and Agnes Chow were released on bail. The Hong Kong media mogul's two sons were also bailed out after supporters sent shares of his media company soaring 1,100%.
Hyundai and Aptiv gave new details on their self-driving car joint venture. They plan to increase employee headcount to 1,000 this year for the newly named Motional with a car ready for external testing by 2022.
TikTok has une autre problème. France is investigating data privacy issues, including the company's communications with users and the safety of minors. In the US, TikTok is hiring lobbyists in the run-up ahead of a potential sale driven by president Donald Trump's executive order.
Airbnb plans to go public this year. The Wall Street Journal reports the home-sharing company will file its IPO paperwork this month, although the ongoing pandemic could shift its timeline yet again. Meanwhile, the US's sole remaining Blockbuster video rental store will be available to rent on Airbnb for a limited time in September.
---
Quartz at Work
Want to build a more inclusive workplace? There is no perfect model for an antiracist company, and building one won't be easy or quick, but there are lessons available to help correct structural inequalities and create more inclusive workplaces. Join us on August 13th from 11-12pm EDT for our second free workshop on how to build an antiracist company.
Here are a few articles to think about before you join the conversation:
📈 Tips from a career coach on how to manage up as a woman of color.
🙄 When bad bosses get promotions, that's a sign of a toxic workplace.
🙅‍♂️ The top reason white men give for not getting involved with diversity and inclusion.
---
Charting India's digital payments boom
United Payment Interface—a digital platform regulated by India's central bank used to instantly transfer funds—clocked its highest-ever volumes in July, according to the National Payment Corporation of India (NPCI).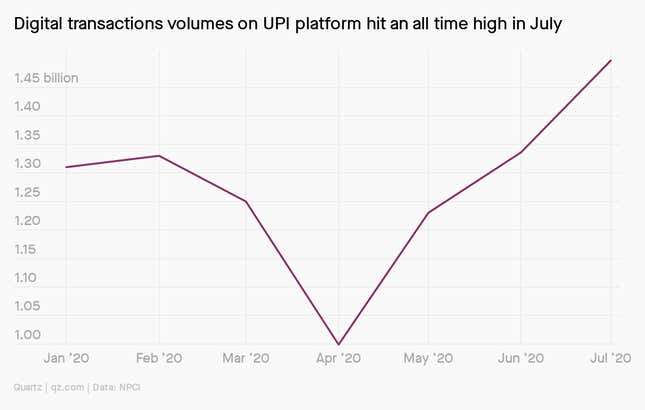 Now, Facebook-owned WhatsApp is set to take India's fintech space by storm as the NPCI cleared the messaging app's payment features to go live. It all means bad news for India's existing neo-banks.
---
Do Quartz members crave office life?
The things we miss about our collective workspaces are often intangible: Chance conversations, jokes, shared complaints, and shared lunches. The way an employee experiences a firm and the way a firm tries to present itself come together to form a "company culture."
Recently, we asked Quartz members what they miss most about office life (if anything), here's what they had to say: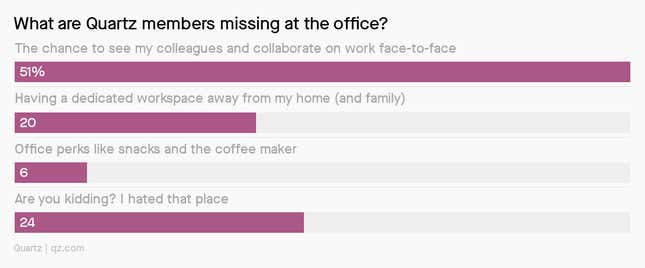 Read more about reimagining the office in our latest field guide.
Ready to support quality journalism and go about your day paywall-free? Become a Quartz member, now at 40% off your first year. Already a member? Enjoy all our field guides with our thanks.
---
You asked about eyeballs
If Covid-19 is airborne transmitted, then can it enter the body through the eye?
We regret to inform you that coronavirus can definitely enter through the eye—whether through a tiny aerosolized particle or a larger, sneezy droplet. The question is how frequently does it happen? And does it lead to infection when it happens? Unfortunately, we simply don't know those details yet, because it's hard to trace an infection's origin once it has spread throughout the body.
Earlier this month, director of the US National Institute of Allergy and Infectious Diseases, Anthony Fauci, told ABC News that shielding the eyes "might" be recommended at some point and that "if you have goggles or an eye shield, you should use it."
---
Surprising discoveries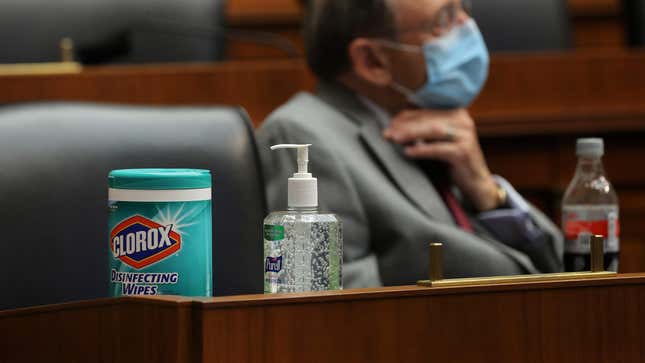 You can do better than Clorox wipes. Shortage or no shortage, making your own is cleaner, greener, and cheaper.
Google Androids are now seismometers. A new feature lets the device detect P-waves and send an alert to a server that verifies whether an earthquake is actually happening.
A badly done sweepstakes can destroy lives. A botched Pepsi bottle cap contest in the Philippines in 1992 was the deadliest marketing disaster in history.
An aquarium is putting wishing well coins back in circulation. Staff drained a waterfall and gathered up 100 gallons of coins to help keep it afloat.
A giant anime conference will go on, so long as everyone stays clean. Those who don't smell like they're maintaining personal hygiene will be turned away from the Detroit venue.
---
Our best wishes for a productive day. Please send any news, comments, clean costumes, and winning bottle caps to hi@qz.com. Get the most out of Quartz by downloading our app on iOS and becoming a member. Today's Daily Brief was brought to you by Liz Webber, Katie Palmer, Prathamesh Mulye, Susan Howson, and Max Lockie.