Good morning, Quartz readers!
Here's what you need to know
The UK officially plunges into recession. Official statistics are expected to show a 21% contraction in the economy between April and June, following 2.2% fall in the first quarter. It will be the first time the UK has recorded two consecutive quarters of GDP decline since the 2008 financial crisis.
New Zealand delayed its election process. Prime minister Jacinda Ardern suspended the dissolution of parliament until next Monday, as the country scrambles to trace the source of a new coronavirus outbreak—the first reported cases in 102 days. Auckland imposed a three-day lockdown starting today.
Israel's coalition government faces a countdown. Parliament is expected to approve an extension beyond the Aug. 25 deadline to reach a budget deal, giving the fractious alliance more time to reach a compromise before another election is triggered. The opposition will also introduce a bill barring anyone indicted of a crime—prime minister Benjamin Netanyahu's situation—from seeking the premiership.
Joe Biden named Harris. The former US vice president named California senator Kamala Harris as his running mate to face off against president Donald Trump in November's elections. Harris will be the first Black and the first South Asian woman to appear on a presidential ticket.
TikTok spied on user data by skirting a Google safeguard. The Wall Street Journal found that the video-sharing app collected unique identifiers from millions of Android devices by concealing its tactic under an added layer of encryption. Separately, a White House document suggests TikTok could be banned from US app stores and selling ads on its platform.
Quartz at Work
Want to build a more inclusive workplace? There is no perfect model for an antiracist company, and building one won't be easy or quick, but there are lessons available to help correct structural inequalities and create more inclusive workplaces. Join us on Aug. 13 from 11-12pm EDT (3-4pm GMT) for our second free workshop on how to build an antiracist company.
Here are a few articles to think about before you join the conversation:
📈 Tips from a career coach on how to manage up as a woman of color.
🙄 When bad bosses get promotions, that's a sign of a toxic workplace.
🙅‍♂️ The top reason white men give for not getting involved with diversity and inclusion.
---
Charting India's digital payments boom
United Payment Interface—a digital platform regulated by India's central bank used to instantly transfer funds—clocked its highest-ever volumes in July, according to the National Payment Corporation of India (NPCI).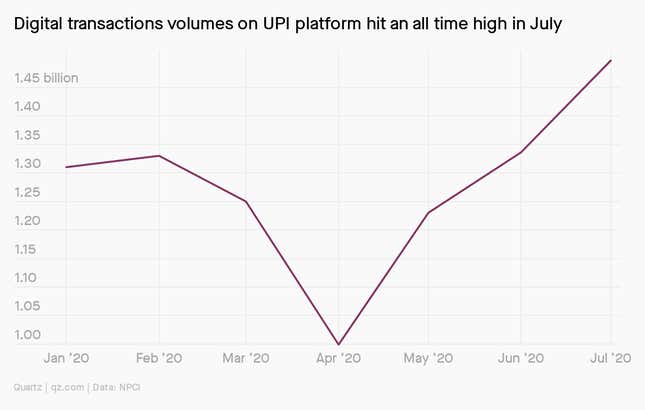 Now, Facebook-owned WhatsApp is set to take India's fintech space by storm as the NPCI cleared the messaging app's payment features to go live. It all means bad news for India's existing neo-banks.
---
Do Quartz members crave office life?
The things we miss about our collective workspaces are often intangible: Chance conversations, jokes, shared complaints, and shared lunches. The way an employee experiences a firm and the way a firm tries to present itself come together to form a "company culture."
Recently, we asked Quartz members what they miss most about office life (if anything), here's what they had to say: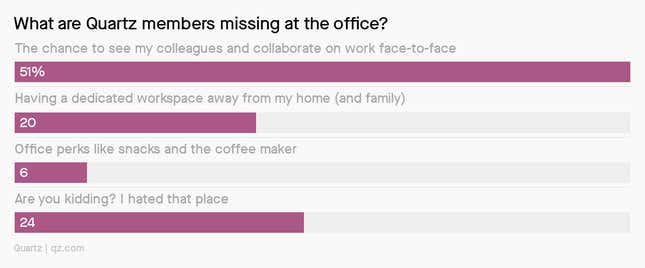 Read more about reimagining the office in our latest field guide.
Ready to support quality journalism and go about your day paywall-free? Become a Quartz member, now at 40% off your first year. Already a member? Enjoy all our field guides with our thanks.
---
You asked about eyeballs
If Covid-19 is airborne transmitted, then can it enter the body through the eye?
We regret to inform you that coronavirus can definitely enter through the eye—whether through a tiny aerosolized particle or a larger, sneezy droplet. The question is how frequently does it happen? And does it lead to infection when it happens? Unfortunately, we simply don't know those details yet, because it's hard to trace an infection's origin once it has spread throughout the body.
Earlier this month, director of the US National Institute of Allergy and Infectious Diseases, Anthony Fauci, told ABC News that shielding the eyes "might" be recommended at some point and that "if you have goggles or an eye shield, you should use it."
---
Surprising discoveries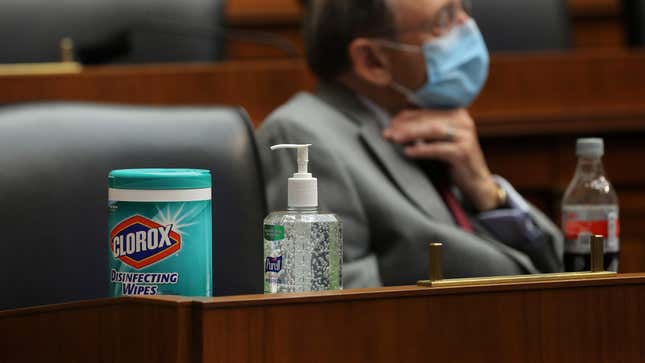 You can do better than Clorox wipes. Shortage or no shortage, making your own is cleaner, greener, and cheaper.
Hong Kongers drove a stock up 1,100% to protest a news mogul's arrest. They snapped up shares in Next Digital, a media company owned by Jimmy Lai that publishes the fiercely independent Apple Daily.
A badly done sweepstakes can destroy lives. A botched Pepsi bottle cap contest in the Philippines in 1992 was the deadliest marketing disaster in history.
An aquarium is putting wishing-well coins back in circulation. Staff drained a waterfall and gathered up 100 gallons (380 liters) of coins to help keep it afloat.
Mississippi won't have a giant mosquito on its state flag. A design featuring the insect was mistakenly shortlisted in the selection process to replace the current flag, which features a Confederate emblem.
---
Our best wishes for a productive day. Please send any news, comments, DIY wipesx, and winning bottle caps to hi@qz.com. Get the most out of Quartz by downloading our app on iOS and becoming a member. Today's Daily Brief was brought to you by Mary Hui, Isabella Steger, Liz Webber, Susan Howson, and Max Lockie.