Good morning, Quartz readers!
Here's what you need to know
Thai protesters called for government reform. In the country's biggest demonstrations since a 2014 coup, 10,000 people marched in Bangkok calling for new elections and a revised constitution that would rein in the monarchy. Student-led protests—which began in February, but dwindled during the pandemic—resurfaced in July, and have been held almost every day since.
New Zealand extended lockdowns to battle a new coronavirus outbreak. The country now has 49 confirmed cases—shortly after it had celebrated 100 days without local transmission. Meanwhile, China saw community spread decrease as an outbreak in Xinjiang eased; India's Covid-19 fatality rate fell even as its case count rises; and Indonesia announced it would keep tourists out until it finds a vaccine.
India restored 4G internet in parts of Kashmir. The districts of Ganderbal and Udhampur got access to high-speed internet on Sunday after India's supreme court ruled that an indefinite web blackout is illegal. The government continues to limit internet speed for the rest of Kashmir.
The US is considering ratcheting up pressure on more Chinese companies. Following his threat to ban TikTok, president Donald Trump said he is looking at banning other Chinese tech companies like Alibaba.
India's opposition says Facebook favors the ruling party. The Congress party called for an investigation of the social media giant spurred by reporting from the Wall Street Journal that suggested Facebook bends its rules to help prime minister Narendra Modi's BJP party.
---
What to watch for this week
Monday: Lebanese prime minister Hassan Diab is expected to call for early elections. The UK and the EU will begin another round of trade talks.
Tuesday: OPEC+ is expected to extend current oil production cuts as continues to depress demand. Lebanon will hear the verdict on the 2005 assassination of prime minister Rafik Hariri.
Wednesday: The EU, UK, and Canada release inflation data. Nvidia reports earnings.
Thursday: Alibaba reports earnings, revealing whether Chinese ecommerce sales have rebounded from the trough of the pandemic.
Friday: Europe gets an update on manufacturing activity amid looser Covid-19 restrictions, with the UK, France and Germany reporting flash PMIs. And the UK and Canada check in on consumer spending with retail sales.
---
Obsession interlude
Every Quartz Obsession has its million-dollar question. For 🧯 The Climate Economy, it's this:
Will the disruption of the pandemic hobble or turbo-charge climate efforts?
Economic disruption cratered demand for fossil fuels—some of which might never return. A recent report projected that oil demand won't bounce back to pre-pandemic levels until at least 2022. Oil companies, sensing the decline, have written down their asset value by tens of billions of dollars. More coal-fired power plants are shutting down than are opening.
At the same time, the clean energy industry has lost hundreds of thousands of jobs. Many countries are investing in emissions-heavy sectors like airlines and power plants, and the business model for some promising emissions-reductions technology is being upended.
We'll be keeping track of trends making the planet more livable, or pushing it closer to the brink: from racial justice in flood-prone housing markets, to the crumbling budgets of fossil fuel-addicted governments, to disposable wipes (they're not really disposable!).
Here's how to read more:
---
Charting the booming US IPO market
Even amid a global pandemic, 2020 is on pace to be the best year for US IPOs since the dot-com bubble. Listings slowed to a trickle in the first quarter, but are roaring back to their highest year-to-date levels since 2000.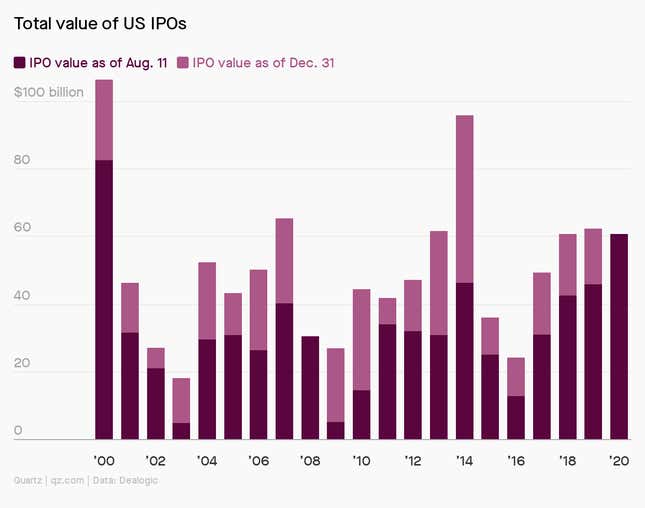 If 2020 maintains its feverish IPO pace, it'll be thanks in large part to expected listings from buzzy tech firms like Palantir, DoorDash, and Airbnb. The year has already seen B2B software company ZoomInfo raise nearly $1 billion, followed by offerings from insurance tech firm Lemonade and Apple software manager Jamf in July. It may be another sign that the US is building up its next dot-com bubble.
---
Surprising discoveries
A global glove boom minted Malaysia's fifth billionaire. Rubber baron Wong Teek Son is now worth $1.2 billion—although an end to the pandemic could reverse his fortunes.
Facebook forgot some drilling equipment on the ocean floor. An undersea cable subsidiary abandoned tools, broken pipes, and thousands of gallons of drilling fluid off the coast of Oregon.
A lucky Chinese phone number sold for $300,000 at auction. The number ends in five eights—which in Mandarin sound like the word for "prosperity."
A rare flower could derail the first lithium mine in the US. A swath of Nevada desert rich in lithium and boron is also home to Tiehm's buckwheat, which grows almost nowhere else.
An Amazonian frog engages in cannibalistic love triangles. Each male mates with two females, who sometimes try to eat each other's offspring to give their kids an advantage.
---
Our best wishes for a productive day. Please send any news, comments, buckwheat blooms, and bigamist amphibians to hi@qz.com. Get the most out of Quartz by downloading our app on iOS and becoming a member. Today's Daily Brief was brought to you by Nicolás Rivero and Ana Campoy.