Good morning, Quartz readers!
Here's what you need to know
Covid-19 cases climb in India. The country registered more than 78,000 new cases in 24 hours, the worst single-day spike in the world. The virus is now spreading into rural parts of the country, including a secluded island where 10 members of a remote tribe tested positive.
Japan's PM race is heating up. Chief cabinet secretary Yoshihide Suga joins at least six other officials hoping to succeed prime minister Shinzo Abe, who is stepping down due to poor health. Others who have expressed interest in the role include the country's foreign and defense ministers.
China may need to approve a TikTok sale. Beijing added AI technologies that include content-recommendation algorithms to the list of products that can't be exported without government approval, Bloomberg reported. The development could require ByteDance to get Beijing's sign-off before selling TikTok's US operations to Microsoft, Oracle, Walmart, or anyone else.
Belarus saw massive protests… Tens of thousands took to the streets to protest president Alexander Lukashenko, who has been the subject of demonstrations since an Aug. 9 election widely believed to have been rigged. More than 140 people were arrested over the weekend, and authorities withdrew the accreditation of more than a dozen reporters.
… as demonstrations continued in the US. A man wearing the hat with the logo of a right-wing group was shot and killed during clashes between Black Lives Matter protesters and Trump supporters in Portland, Oregon, on Saturday. In Washington DC, thousands rallied for racial justice on Friday, the 57th anniversary of the March on Washington at which Martin Luther King Jr. delivered his "I Have a Dream" speech.
---
What to watch for this week
Monday: Lebanon names a new PM; India reports quarterly GDP; Apple splits its stock; so does Tesla. Earnings: Zoom.
Tuesday: Universal Covid-19 testing begins in Hong Kong; euro zone releases monthly inflation figures; London Tech Week begins (virtually); the US, Canada, and Europe provide manufacturing updates; Brazil reports GDP. Earnings: H&R Block.
Wednesday: Pope Francis resumes public appearances; France releases a coronavirus recovery plan. Earnings: Macy's, Guess, Lands' End.
Thursday: Hong Kong media tycoon Jimmy Lai gets a trial verdict; Taiwan's iQiyi ban begins; the US reports weekly initial jobless claims; India's finance minister meets with lenders; Jamaica has a general election. Earnings: National Beverage Corp, Smith & Wesson, Broadcom.
Friday: The US and Canada publish employment reports; Mulan premiers on Disney+.
---
Charting back-to-school season in India
Indian parents are clocking the stress that the pandemic and online classes are causing their kids. Nearly 80% of parents in India's metros and smaller cities said they would not send their children to school this year, according to a survey published by edutainment company SP Robotic Works.
Answers varied by the respondents' source of income. Noted the survey, "The response from different cohorts is also rooted in their appetite for risk and the need to explore other avenues of income during these turbulent times."

---
Obsession Interlude: Future of Finance
What does it mean to be obsessed with the future of finance? We asked senior reporter John Detrixhe to explain it to us like we're 5:
The future of finance looks a lot like its past—but ever bigger and faster. Take Robinhood, the brokerage app that has helped power a stock market boom. Almost every generation seems to get a brokerage built around the technology of its time. In Merrill Lynch's day, brokers talked face to face with their customers. In Schwab's it was by phone, and now it's by app.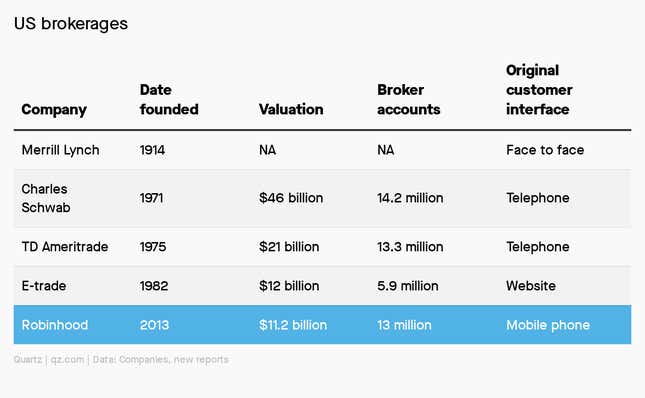 The evolution shows that whizzy tech doesn't always wipe out the old guard. Upstarts occasionally break in, while a handful of dominant players have shown remarkable adaptability and staying power.
Have these changes made the world a better place? There have been plenty of scams and fiascos, as well as booms and busts, over the past 100 years. Yet trading and investing have also gotten cheaper, more popular, and more accessible thanks to tech and new regulations. Which suggests there's lots of promise in our financial future, but the perils will never go away.
Forecasts will all become clear—or clearer, anyway—when you keep tabs on our Future of Finance obsession.
---
What's the tea on bubbles?
Speaking of perils, does now feel like a good time to buy stocks? Many around the world are thinking yes. In China, regular people are packing into brokerage houses to buy shares. Americans are feverishly refreshing their Robinhood and TD Ameritrade brokerage apps, while newbie traders in India are enamored with penny stocks. A growing number of Brits, too, are taking a fancy to shares.
It's too soon to call this an outright bubble—a confounding surge in prices before the crash—but research suggests we should be vigilant. A survey of studies indicates that bubbles are partly caused by standard economic stuff like easy credit and government policy, but they can also spring from the stories we tell each other, as well as the hormone-induced high some people get from trading. Read more in our field guide to the next bubble.
✦ Invest in the safest asset class around—a Quartz membership—and enjoy the added benefit of supporting our journalism. With 40% off your first year, this is one trade you won't want to miss out on.
---
Surprising discoveries
A unicorn beach inflatable took a child out to sea… The three-year-old was rescued by a ferry's crew, who saw the mystical animal floating towards them and took action.
… And a unicorn-esque dinosaur fossil is the world's most adorable. Scientists agreed that, while the sauropod embryo's skull raises a lot of unanswerable questions, it's awfully cute.
"Nonfiction" doesn't necessarily mean "fact." Most nonfiction books aren't fact-checked, unless the author is willing to pay for it.
Reaction videos are boosting sales of older music. One set of twin YouTubers has introduced Phil Collins's 39-year-old "In the Air Tonight" to an appreciative new audience.
A cricketer's smash hit broke his own windshield. Kevin O'Brien's trademark six flew out of the Pembroke Cricket Club's ground and into the parking lot during a tournament match in Dublin.
---
Correction: Saturday's weekend edition attributed an essay on Chinese dissidents supporting Trump to Mary Hui. It was written by the inimitable Jane Li, to whom we apologize for the error.
Our best wishes for a productive day. Please send any news, comments, unicorn news, and newsletter-reading reaction videos to hi@qz.com. Get the most out of Quartz by downloading our app on iOS and becoming a member. Today's Daily Brief was brought to you by Manavi Kapur, John Detrixhe, Jackie Bischof, Susan Howson, and Kira Bindrim.