Good morning, Quartz readers!
Here's what you need to know
Tech CEOs testify before the US Senate. Facebook's Mark Zuckerberg, Google's Sundar Pichai, and Twitter's Jack Dorsey are expected to defend the protections their companies enjoy under Section 230, which shields publishers from being held responsible for information—and misinformation—on their platforms.
Voting dominates the headlines. An estimated 70 million Americans have already voted in the US presidential election, including 48 million by mail-in ballot, a method Trump has inaccurately derided as conducive to widespread fraud. Meanwhile, opponent Joe Biden has criticized Trump for failing to support Belarusians in their contested elections, and Tanzania selects its president and parliament under social media and text messaging restrictions.
Mike Pompeo visits south Asia. With US-China relations a major theme of the US election, the secretary of state is visiting Sri Lanka, Indonesia, and the Maldives, where he is expected to warn officials that they shouldn't trust Beijing—but that Washington is "a friend and a partner."
Philadelphia protests continue. The city saw a second night of unrest after police shot and killed a Black man, Walter Wallace Jr., on Monday. The officers involved say Wallace was threatening them with a knife but his family says the police knew he was in the midst of a mental health crisis.
President Emmanuel Macron addresses the nation. France is at the center of Europe's second wave of coronavirus cases, and yesterday reported its highest single-day death toll since April. It is also in the midst of a rift with the Islamic world over the murder of a French schoolteacher, and an ensuing debate over the right to satirize religion.
Boeing will show no sign of recovery. Absent a vaccine or reliable treatment, the outlook isn't great for travel—or plane orders. The aerospace giant's revenue is expected to dip under $14 billion for the third quarter, 30% down from the same period last year.
Charting US voter income levels
Rich places don't necessarily vote the way rich people do. It's a confusing dichotomy, but it played out in the 2016 general election, and looks like it will have a role in the upcoming one as well.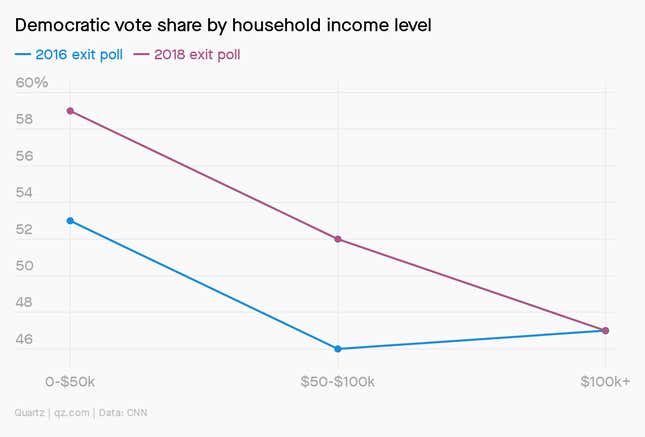 How can Republicans do better among the richest Americans but worse in the richest counties? And how do Democrats do so well in the very richest places, when their strength is among low-income Americans? The high rates of Democratic voting in the poorest counties is the only fact that, on the face of it, makes sense. Dan Kopf will help you untangle it all.
---
Communication conundrums
Getting another human to understand what you want from them is hard, even in the best of conditions. Quartz at Work has advice for all your 2020 communication problems:
😷 Here are three ways to get your point across while wearing a face mask.
📹 It's not just about your face—the secret to better Zoom calls is zooming out.
📣 While it's vital for Black employees to be heard, here's how to make sure your company isn't "fronting."
---
Mental health in the workplace. Join us on Oct. 29 from 11am-12pm US eastern time for our free virtual workshop on how to manage mental health at every level of your organization. Our experts will guide you on how to effectively support your employees' states of mind—whether you're an individual contributor or in middle- or upper-management. Hope to see you there.
---
A safe space for European data
For our latest field guide on the internet's fragmentation, we imagined hypothetical news events taking place in 2025, as a way of unpacking the stakes of present-day battles between tech giants, politicians, and internet freedom fighters that are directly shaping our online future.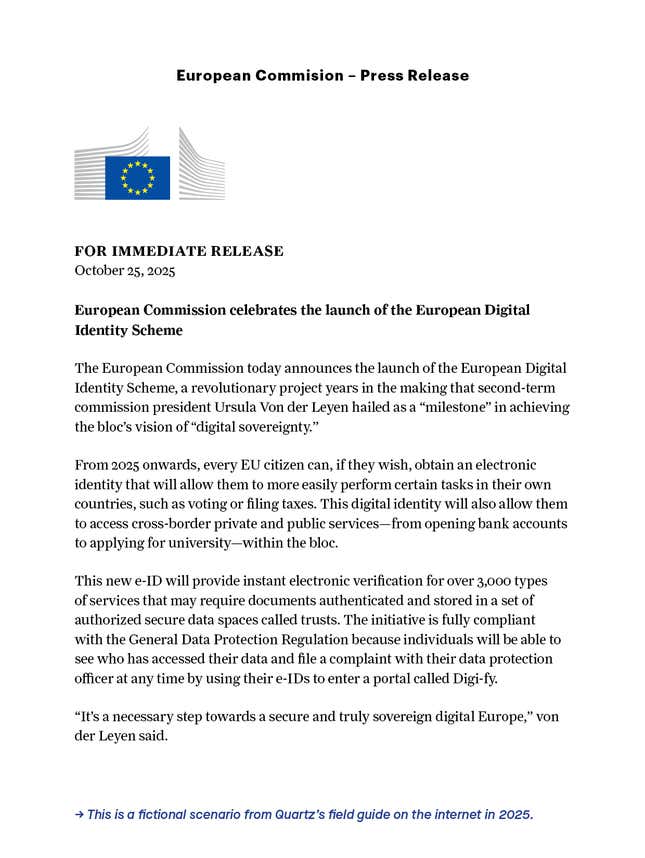 We may look back on the pandemic as having created a historic opportunity for Europe to forge a bloc that's more unified digitally. With offline activities hammered by lockdowns and travel restrictions, the EU saw momentum grow around digitizing public services, including the creation of a voluntary, pan-European method for electronically identifying people, called e-ID.
This nascent initiative has the potential to be transformative for the EU's roughly 450 million citizens—and our fictional example above imagines its success. Read more in our guide to the splinternet.
✦ Let's unify ourselves into one big happy Quartz bloc. Use code QZTWENTY for 20% off a year of membership, and discover all we have to offer.
We're obsessed with GPS
Guidance from above. GPS, or Global Positioning System, is simple in concept, but underpinned by complicated technology and mechanics to prevent chaotic traffic pile-ups. A space-age defense secret turned consumer appliance, GPS continues to shape how we get around. But as the system becomes more accurate, it might actually be making our navigation less efficient. Plug in the coordinates for the Quartz Weekly Obsession.
---
Surprising discoveries
A Connecticut town is aiming for an abstract record. An artist who also tried to make the world's largest t-shirt is challenging Westport to create the largest abstract painting in the world.
A gigantic skeleton is this year's most popular Halloween decoration. The fittingly grim object of desire is sold out at Home Depots across the US.
Empty pawn shop shelves show the pandemic's silver lining. With restaurants closed and families housebound, some in the US are paying off debts and recovering personal valuables.
Escape room thieves were presented with a riddle… A clue was the only thing they found when they finally broke open the antique prop safe.
…and heists are now targeting medical gloves. Thieves made off with $1 million in protective equipment meant for US hospitals.
---
Our best wishes for a productive day. Please send any news, comments, in-stock Halloween decorations, and masked communication tips to hi@qz.com. Get the most out of Quartz by downloading our iOS app and becoming a member. Today's Daily Brief was brought to you by Annabelle Timsit, Jackie Bischof, Tripti Lahiri, Mary Hui, Susan Howson, and Liz Webber.