Good morning, Quartz readers!
Here's what you need to know
Europe's two biggest economies report GDP. Germany's probably grew around 6% for July to September, but its recovery bump will slow due to Europe's second wave. The country's GDP is forecast to shrink by 5.5% for the year. France's numbers also won't yet show the impact of a new national lockdown from today, which could cause a GDP decline of as much as 4% in the ongoing quarter.
Malaysia's former prime minister threatened France. Twitter removed a tweet by 95-year-old Mahathir Mohamad saying that Muslims have a right to "kill millions of French people for the massacres of the past" after the second beheading on French soil in the last month took place in Nice yesterday. France's digital secretary has asked the platform to suspend Mahathir's account.
Donald Trump and Joe Biden swing through swing states. The last weekend of campaigning before the US election on Nov. 3 will see both candidates in Wisconsin and Minnesota. The US president will also drop in on Michigan, while his Democratic rival takes in Iowa.
Google gets its day in court. The first hearing in the US Department of Justice's antitrust case against Google is scheduled for today. In France, Apple is facing a challenge from advertising companies who say privacy-enhancing features coming to the iPhone are anti-competitive. Meanwhile, both firms had another 📈  quarter; so did Amazon and Facebook.
New Zealand is set to legalize euthanasia. The country's election commission announced that 65% of voters favor legalizing assisted dying for the terminally ill, with safeguards, according to early results on a referendum that was part of this month's general election. But they appear to have rejected recreational marijuana.
Lawyers for Meng Wanzhou can argue the US tricked Canada. A Canadian court's ruling paves the way for her defense to try to show that the US left out information that would have weakened its case when it requested that Canada arrest Huawei's chief financial officer. A series of hearings regarding abuse of process must be completed before the extradition hearing scheduled for next April.
---
India's clash of the retail titans
Two of the world's wealthiest men are vying for a larger share of India's retail market, and things are heating up. The contest pits Jeff Bezos's Amazon against Mukesh Ambani's Reliance Retail Ventures, with India's Future Group as the prize.
This is how we got here:
August 2019: Amazon indirectly buys a 3.6% stake in Future Retail by acquiring a 49% stake in its subsidiary, Future Coupons. The deal provides Amazon with the opportunity to purchase a stake in Future Retail should the Future Group decide to sell.
March 2020: Future Group CEO Kishore Biyani writes to Amazon India, saying that the pandemic had led to a significant deterioration of Future Retail's market capitalization.
August 2020: Mukesh Ambani's Reliance Retail says it will acquire the retail, wholesale, logistics, and warehousing operations of Future Group for 24,713 crore rupees ($3.4 billion).
Oct. 7, 2020: Amazon sends a legal notice to Future Group, alleging the Indian retailer breached the terms of its contract.
Oct. 25, 2020: Amazon gets an interim stay on Future Group's deal with Reliance from an arbitrator in Singapore.
Oct. 26, 2020: Reliance Retail says its deal with Future Group is fully enforceable under Indian law, and Future Group says it intends to move forward with the deal.
What happens next? Niharika Sharma offers some clues.
---
Charting US real GDP
The US economy grew at record-breaking speed in the third quarter. The headline figure was +33.1%, the seasonally adjusted, annualized rate of GDP growth from July to September. But keep in mind that 33.1% annualized growth does not mean that the economy grew 33.1% or will grow 33.1%. It means the economy grew 7.41%.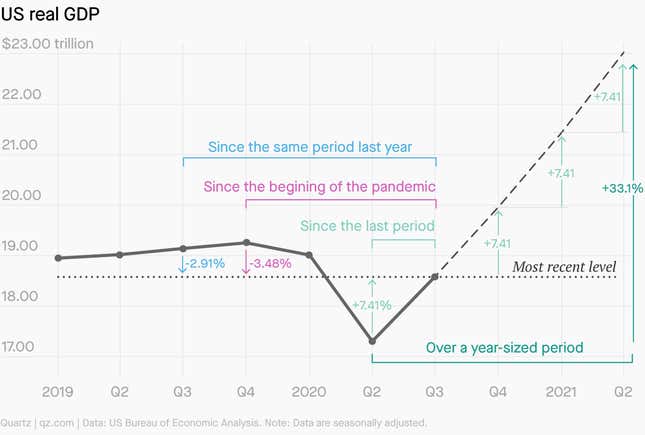 To be clear, US GDP growing more than 7% a quarter for the next three quarters in a row is not anywhere close to happening. In fact, US economists are already worried about a double-dip recession.
---
INDIA'S SUPER APP INSPIRATION
Until it was banned on June 29, 2020, TikTok had been downloaded 500 million times in India—its largest market outside China. Seeing an opening, several existing Indian players have made a push to occupy the vacuum left behind.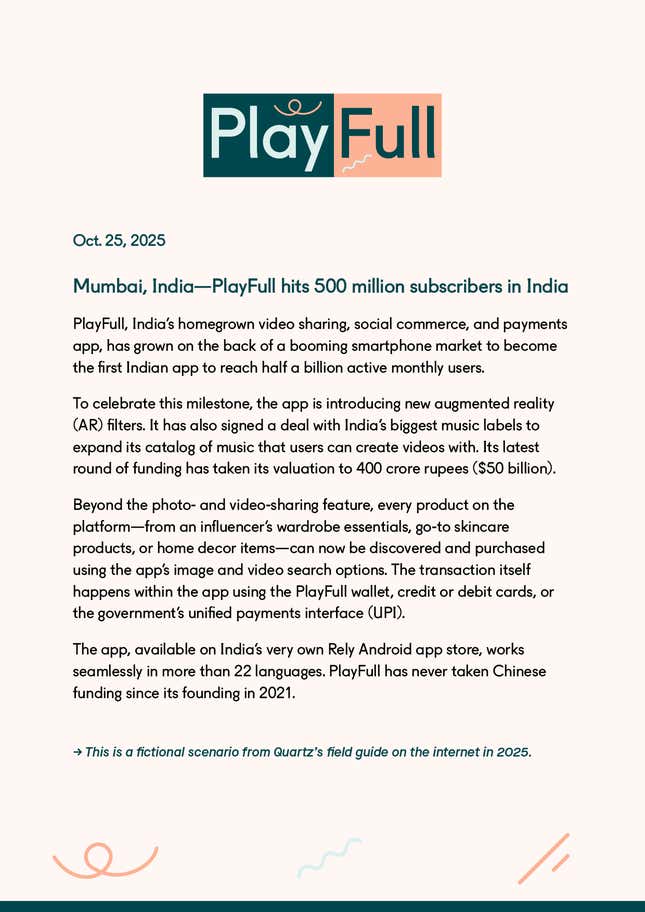 Many in India harbor the dream of a homegrown success story after having watched China succeed in building national tech champions with platforms that dominate at home and abroad. Our fictional example imagines what an Indian tech sector split from Chinese support and involvement might look like. Read more in our guide to the splinternet.
✦ Start working on your own success story with a Quartz membership—you'll get access to all our field guides, presentations, and more. Use code QZTWENTY for 20% off the first year.
You asked about compulsory voting
Should voting be required in a democracy?
Wait a minute, isn't this where we usually talk about coronavirus? Can't pull a fast one on Daily Brief readers! As the US election looms (and, most likely, lingers), we're pivoting to politics for the next few weeks.
While 2020 has already seen a record number of early voters in the US, turnout in American elections tends to be lower than in most developed countries; it was 56% for the last presidential contest in 2016. Some have called for the US to take a cue from the 27 countries that currently require voting. The real question is, are those countries better off?
Not surprisingly, compulsory voting does increase turnout. Elections in which citizens are required to vote also have less money involved in the process, and voters have more confidence in the outcome. However, countries with compulsory voting must invest more money in voting infrastructure and logistics to make sure every voice is heard. Alexandra Ossola breaks down more of the pros and cons.
---
Surprising discoveries
It's purple! Twenty-six years young and Yahoo has just launched its first-ever smartphone…
…while TikTok parent ByteDance also has a new tech product. It's a lamp.
He must have been high. A man in southwestern China was arrested on drug charges after throwing cash out of his high-rise apartment's window.
Hello, old friend. Is what a gorilla you haven't seen in a while might say, according to new research into primate friendships.
Thai protesters rolled out the red carpet. Increasingly elaborate anti-monarchy demonstrations have grown to include a parody fashion show.
---
Our best wishes for a productive day. Please send any news, comments, Netscape smartphones, and long-lost gorilla pals to hi@qz.com. Get the most out of Quartz by downloading our iOS app and becoming a member. Today's Daily Brief was brought to you by Tripti Lahiri, Mary Hui, Liz Webber, and Max Lockie.