Good morning, Quartz readers!
Here's what you need to know
The US House of Representatives voted to impeach Donald Trump, again. The US president is the first to be impeached twice—but majority leader Mitch McConnell said he won't call back the Senate for a trial before president-elect Joe Biden takes office. Meanwhile, Airbnb cancelled all bookings in Washington DC for inauguration week.
Japan put its Asia business travel bubble on hold. No foreign visitors will be allowed into the country until Tokyo's state of emergency ends Feb. 7.
Italy's former prime minister followed through on his threat. Matteo Renzi pulled his party out of the ruling coalition, all but ensuring the government's collapse.
Alibaba, Tencent, and Baidu are safe from a US investment ban. However, the government will reportedly bar Americans from investing in nine other companies with ties to China's military.
Foxconn and Geely are teaming up. The Taiwanese chipmaker and Chinese carmaker plan to provide production and consulting services to the global auto industry.
Amazon is launching an online learning platform in India. Amazon Academy will help ready students for an entrance exam used by many of the country's engineering colleges.
---
What to watch for
World Health Organization team members will arrive in China today on a trip to investigate the origins of Covid-19 and its journey from animals to humans. Many hope the trip, which has been negotiated with Beijing for months, will shed more light on a pandemic that has killed nearly 2 million people. Here's what we knew about Covid-19 this time a year ago:
Dec. 30, 2019: Wuhan health authorities inform hospitals about an unusual kind of pneumonia that appears linked to a local seafood market.
Dec. 31: Wuhan health authorities issue a statement about 27 cases of "unknown pneumonia." The WHO country office spots the statement and seeks more information.
Jan. 4, 2020: The WHO issues its first public communication on the new virus, in a tweet.
Jan. 9: The WHO says China determined this is a new form of coronavirus.
Jan. 11: A 61-year-old man is the first to die of the disease. And China shares a preliminary genetic sequence of the new virus.
Jan. 13: The first overseas Covid-19 case is confirmed in Thailand.
Jan. 20: China confirms the virus transmits between humans.
Jan. 23: The first Covid-19 lockdown is imposed on Wuhan and three other cities.
---
Charting the most popular shows
Netflix and Disney each enjoyed success with new original shows in 2020, from Tiger King to The Mandalorian. But no series was nearly as popular as one that hasn't had a new episode in eight years.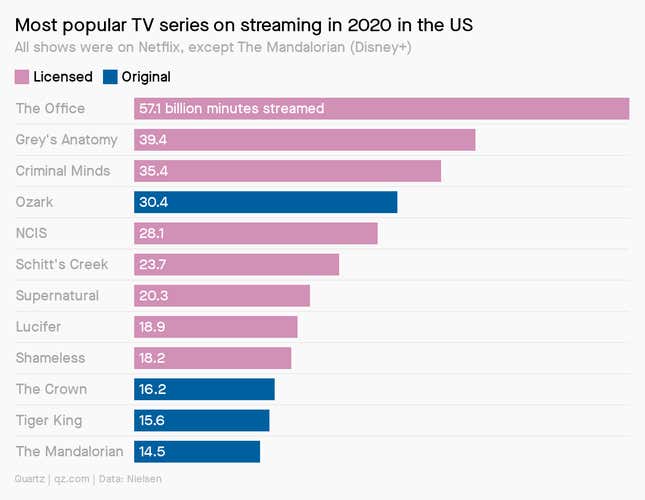 Most data suggest that new original shows and movies are what entice consumers to sign up for a streaming service, while older, library titles (which are often licensed from other companies) like The Office are what keep users subscribed in between splashy new releases. But when Michael Scott and co. depart Netflix for NBCUniversal's Peacock, any sudden uptick in new subscribers could poke holes in that theory.
In case you're wondering, Friends fans, the Nielsen data only included Netflix, Disney+, Hulu, and Amazon, so HBO Max shows could conceivably have won out. Could you be any more relieved?
---
So your startup didn't survive 2020…
Five entrepreneurs who shut down businesses in the last year have advice.
Be brutally honest. Know when it's time to throw in the towel completely instead of a last-ditch pivot.
Mourn if you need to. Your venture was something about which you cared deeply—and your friends and family know this.
Lean on your network. You now have a whole new level of experience which could make you perfect for a role at another company.
There are many paths to glory. Founding a company isn't the only way to achieve success and acclaim.
Try again. This doesn't have to be the last the entrepreneurial world sees of you.
✦ Give yourself a little gift for making it through a difficult year—whether or not your company still exists. Try a Quartz membership free for seven days.
---
Surprising discoveries
An Elon Musk tweet sent mixed Signals. Shares of tech company Signal Advance soared after the Tesla founder lauded the similarly named messaging app.
Step 1: Plan a fake climate conference. Step 2: Invite a pro-democracy Hong Kong lawmaker so he can escape persecution.
Walt Disney World exiles Covid-19-positive guests to Fort Wilderness. The resort's standalone cabins ensure those infected are isolated from others.
Bystanders may be less likely to do CPR in the pandemic. Instructors worry the fear of infection could result in a decline in the lifesaving tactic.
Brown tree snakes are doing a brand new dance now. They figured out how to climb a pole using "lasso locomotion."
---
---
Our best wishes for a productive day. Please send any news, comments, new snake moves, and magical quarantine locations to hi@qz.com. Get the most out of Quartz by downloading our iOS app and becoming a member. Today's Daily Brief was brought to you by Jane Li, Tripti Lahiri, Adam Epstein, Liz Webber, and Susan Howson.