Good morning, Quartz readers!
Here's what you need to know
Indian farmers doubled down on repeal. Union groups rejected a government proposal to suspend controversial agriculture laws for 18 months.
Facebook's in the hot seat in India over WhatsApp's privacy policy. A parliamentary panel grilled executives on why the update was needed and what it means for users.
The US will join Covax. It's reversing course on participating in the World Health Organization's partnership to supply Covid-19 vaccines to low-income countries. Meanwhile, European officials said shipments of Pfizer's vaccine to their countries have been cut in half.
India starts selling vaccines abroad. Brazil and Morocco will receive the first commercial exports of the Oxford-AstraZeneca jab produced by the Serum Institute of India today. Meanwhile, a fire that killed five at a Serum Institute facility will not interrupt vaccine production.
The EU Parliament questioned an investment pact with China. MEPs said the deal has dented the EU's credibility after China's recent actions in Hong Kong and called for sanctions on officials responsible for the crackdown there.
What to watch for
American social media companies usually give reasons when they ban high-profile users, and generally retain the right to moderate the content they host. Beyond that, a shuttered social media account doesn't preclude leaders from televised interviews or public appearances.
After Twitter confirmed its decision to suspend the Chinese embassy's account, many on China's Twitter-like Weibo mocked the US company. "What is freedom of speech? It is that the Weibo account of the US embassy in China can still voice its opinions, whereas the account of the Chinese embassy is locked by Twitter," posted one user.
Whether China and Twitter ever come to agree on a definition of free speech, Twitter's choice to silence an embassy and a lame duck president within the same month has made the debate over how governments and social platforms should deal with one another more important than ever.
---
Charting India's healthcare budget
While finance minister Nirmala Sitharaman navigates the obstacle course between fiscal deficit and economic stimulus, her announcements for India's healthcare sector will be closely watched.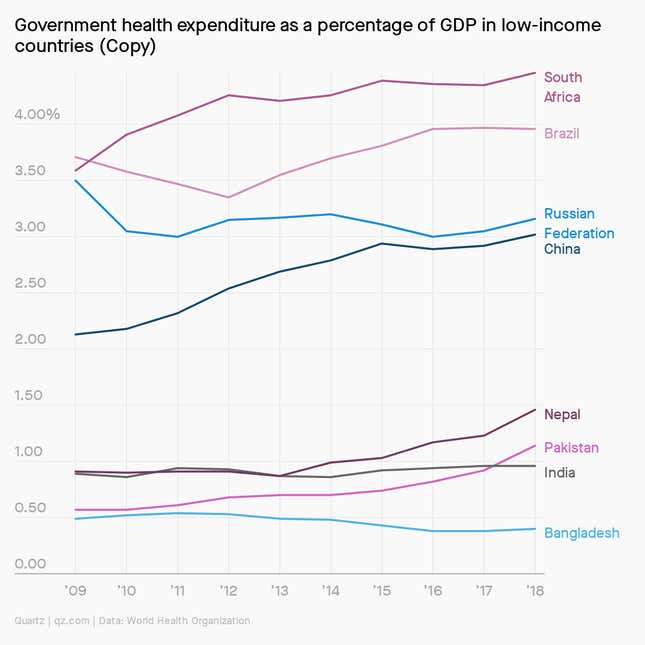 India's spending on healthcare is among the lowest in the world. A consistently low budget allocation was apparent from the stress of India's healthcare systems when the pandemic hit India in March 2020.
This is why experts believe that the upcoming budget for fiscal year 2021-22, to be announced on Feb. 1, should allocate significantly greater funds towards improving medical infrastructure in the country.
---
China's vaccine diplomacy champions homegrown vaccines
During the early months of the pandemic, China angled for goodwill with its "mask diplomacy," sending much-needed protective equipment to countries around the world. Now, as vaccines roll out globally, China's "vaccine diplomacy" has taken a decidedly negative turn.
Though much of China's efforts have revolved around championing the Covid-19 vaccines of three domestic pharmaceutical firms, in recent days state propaganda has sought to undermine public trust in the vaccine developed by US pharmaceutical giant Pfizer and Germany's BioNTech.
For its homegrown efforts, vaccines manufactured in China have proven less effective than their American counterparts by their own admission. The country has sent millions of doses of the Sinopharm and Sinovac shots to countries around the world, even though the latter's CoronaVac shot reported disappointing efficacy data earlier this month.
✦ A Quartz membership will never disappoint. Try it free for seven days.
You asked about second doses
What happens if you only get one dose of a Covid-19 vaccine?
Teaching your immune system to make antibodies is a bit like meeting a new friend: It takes a couple of introductions for the memory to really stick.
For your immune system, getting the first dose of a vaccine, is like meeting a new friend at a party: it may take a bit of time to get to know them. The second time you meet that same acquaintance, however, you can rely on your previous interactions as an introduction, and you may decide that you actually want to invest in a long-term friendship.
Similarly, your antibodies usually need to warm up before they're ready for a prime-time response: They'll kick into gear a couple of weeks after the first dose, but they'll really respond to an incoming threat after the second.
Right now, the vaccines that are available from Pfizer-BioNTech, Moderna, AstraZeneca, Sinopharm (in China), and Sputnik (in Russia), require two doses; those who got the vaccine in clinical trials received two doses, and any estimates of efficacy are based on that dosing schedule. Pfizer-BioNTech released some data that showed that its vaccine was about 50% effective at blocking symptomatic Covid-19 after one dose, but single-dose efficacy for other vaccines isn't yet available. Janssen's vaccine only requires one dose, but it's still in late-stage clinical trials.
The US Food and Drug Administration, which has authorized only the Moderna and the Pfizer-BioNTech vaccine strongly recommends administering vaccines by the schedules in which they were tested. The US Centers for Disease Control and Prevention, however, notes that if you have to wait longer than the three or four weeks to get a second shot, it's probably okay; just don't go below the recommended amount of time.
---
Surprising discoveries
Newly discovered fossils could be from the largest dinosaur yet. Good thing it only ate plants.
The White House put out a coded message. A job opportunity for programmers is (well, was) hidden in the HTML for whitehouse.gov.
Borrowing dogs lets Dutch residents out at night. Posing as a dog owner on a sanctioned walk is just one of their creative ways to skirt a new curfew.
Forgive me, Father, for stealing these ancient coins. A priest helped a penitent thief return 208 artifacts pilfered from an Italian museum.
A woman made soup with her pet koi. She said she didn't want to waste the fish after they died unexpectedly.
---
---
Our best wishes for a productive day. Please send any news, comments, tk, and tk to hi@qz.com. Get the most out of Quartz by downloading our iOS app and becoming a member. Today's Daily Brief was brought to you by Katherine Ellen Foley, Mary Hui, Manavi Kapur, Jordan Lebeau, and Liz Webber.