Good morning, Quartz readers!
Here's what you need to know
Russia saw its biggest opposition protests in years. Police arrested a record 3,500 people as protesters rallied across the country in support of jailed opposition leader Alexei Navalny.
Germany rolls out an antibody-based drug to fight Covid-19. Amid a vaccine shortage, the country will be the first in the EU to use the monoclonal antibody medication, produced by the US company Regeneron.
The White House is pushing for a $1.9 trillion pandemic relief plan. However, US president Joe Biden faces headwinds as Republicans argue the package is too expensive. Meanwhile, the House will send its article of impeachment against former president Donald Trump to the Senate; the trial will begin the week of Feb. 8.
The WHO warns rich countries not to hoard vaccines. A report set for publication today cautions that stalled vaccine rollouts in poorer countries could cost richer economies $2.4 trillion.
The UK launches a global climate coalition. It will team up with countries including Egypt, Bangladesh, and the Netherlands to promote measures like early storm warning systems and drought-resistant crops.
Greece and Turkey hold their first direct talks in years. The meeting in Istanbul will address the two countries' standoff over territorial claims in the eastern Mediterranean.
China flew more warplanes into the Taiwan Strait. The military exercises drew swift criticism from the US, which urged Beijing to engage in dialogue with Taiwan's democratically elected government.
What to watch for
This year's iteration of the World Economic Forum in Davos won't look or feel like any of the years before it. Here's a quick primer on the 51st annual meeting:
🤝 This year's theme of rebuilding trust couldn't be more timely
🍊 Donald Trump's Davos days are probably over…
👀  …But China, Japan, Germany, and India leaders will have a presence
🏚  We'll all be tuning in online…
🌍  …But there are events planned in 430 cities worldwide
👻  Davos (the place) is as sleepy as ever
---
Charting AI's impact on corporatespeak
A new corporate principle is: Never say you're restating anything. The machines will hold it against you.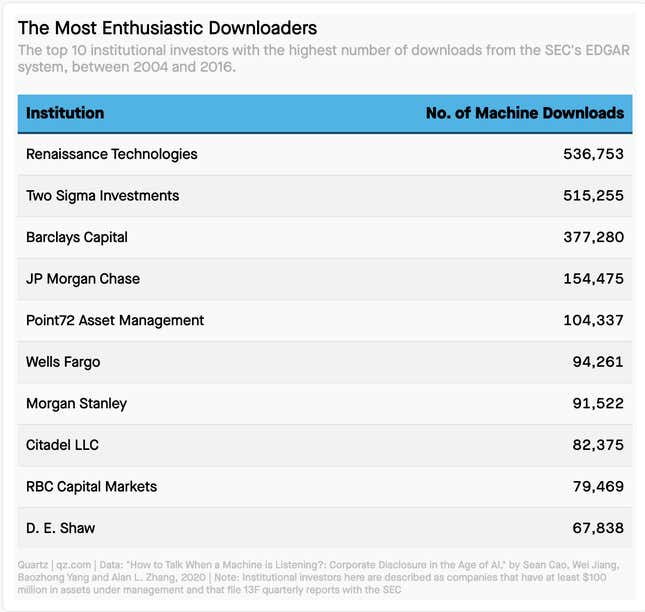 Companies are phasing out "restatement" along with a long list of words deemed to have negative connotations by financial algorithms as more investors deploy AI to analyze corporate statements, explains Samanth Subramanian.
Machine downloads of firms' SEC filings quickened in this century: from fewer than half a million downloads daily in 2005, to just under 10 million in 2011, to 165 million in 2016.
---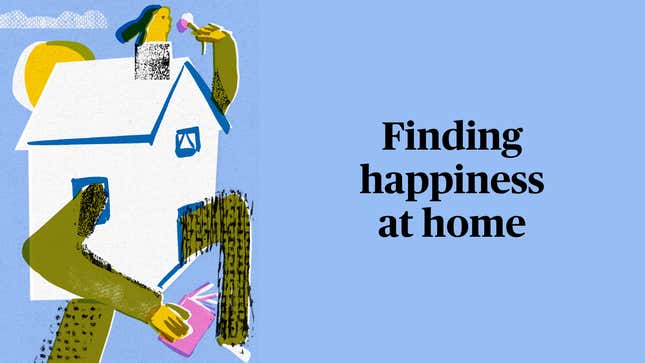 Our living spaces can affect our moods, our psychological well being, and our work performance. We know this intuitively because we've experienced it. Maybe you work more creatively in a coffee shop than in a silent room, or favor a particularly sunny desk in the library, even if you couldn't explain why. Now that we're all home a lot more than we used to be, we're paying attention to how we can better make our space work for us, writes Alex Ossola.
Our latest field guide explores the science-backed ways to make our home and gardens into the warm, relaxed, and productive places we all want them to be, especially when so much of the world seems like it's anything but.
✦ A Quartz membership will never disappoint. Try it free for seven days.
Surprising discoveries
Most bitcoin-related crime fell last year. Except for ransomware attacks—which rose dramatically.
"Covid sucks :)" A patron of a Colorado bakery left a simple note with a $1,400 tip on his $20 bill for the entire staff.
Dutch authorities detained Tse Chi Lop. Nicknamed Asia's El Chapo, the leader of the Sam Gor Syndicate had alleged ties to billions of dollars of trafficked drugs.
Chile accidentally spam texted its citzens. The government messaged the entire country's residents to evacuate coastal regions due to a tsunami risk after an earthquake, but only research stations in Antarctica were at risk.
Try these airbag jeans. Designed for motorcyclists, the airbags lining the trousers will inflate if the rider falls off their bike.
---
---
Our best wishes for a productive day. Please send any news, comments, massive tips, and puffy denim to hi@qz.com. Get the most out of Quartz by downloading our iOS app and becoming a member. Today's Daily Brief was brought to you by Mary Hui, Tripti Lahiri, Ana Campoy, Katherine Ellen Foley, and Jordan Lebeau.