Good morning, Quartz readers!
Here's what you need to know
China blocked Clubhouse access… The audio-only social media app gave mainland Chinese and Hong Kongers the chance to share their perspectives, but the moment of free speech is now over.
… And arrested a Chinese-born Australian journalist. CGTN anchor Cheng Lei has been charged with supplying state secrets overseas.
Tesla put its money behind bitcoin. Elon Musk's automaker bought $1.5 billion worth of the cryptocurrency, and announced plans to accept it as payment.
Benjamin Netanyahu pleaded not guilty. The Israeli prime minister is accused of bribery, fraud, and breach of trust after pushing $300 million in regulatory benefits to a telecommunications company controlled by a close friend.
South Africa searched for a new plan. As doubts arose as to the AstraZeneca vaccine's efficacy against the new Covid-19 variant, the country has suspended the AstraZeneca vaccine's administration and said it will focus on the Janssen jab.
Myanmar's military cracked down on protesters. Recent orders banned public meetings and instituted a strict curfew in the nation's largest cities.
Donald Trump was accused of another abuse of power. The US House of Representatives accused the former president of improperly influencing CDC pandemic testing guidelines.
What to watch for
The US senate begins Trump's second impeachment trial. His legal team filed its pretrial brief on Monday, indicating that its defense would rest largely on the idea that the case is purely unconstitutional political theater.
What are the actual consequences for an impeached ex-president who is found guilty at a Senate trial?
No more holding federal office. Though he's well on his way to becoming a kingmaker.
No security briefings. The current administration could decide to limit Trump's access to classified information.
A clear message to future presidents. Otherwise, the thinking goes, the lame duck period could become a free-for-all.
The trial will probably be a brief one, as the Senate has other work to do, and Trump will most likely be acquitted again, unless more Senate Republicans have a sudden change of heart.
---
Charting Tesla and bitcoin's relationship
Bitcoin soared to a record high after Tesla said in a filing that it had invested $1.5 billion in the crypto asset. The $800 billion electric company also said it would start accepting bitcoin as a form of payment soon.
It's like two finance bubbles getting hitched: Tesla has been the subject of intense speculation by retail traders, and bitcoin has had multiple booms and busts since it was created in 2009.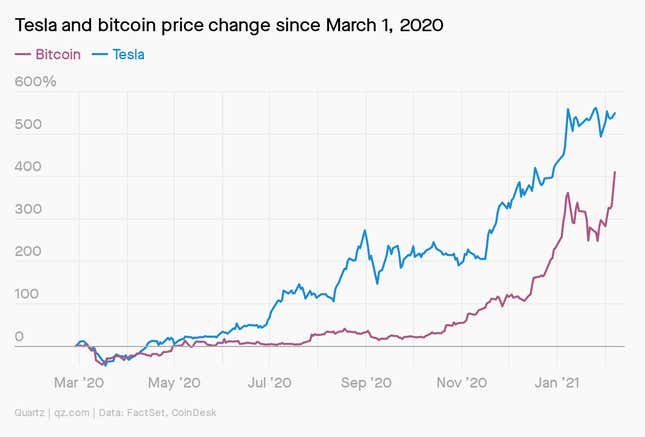 ---
The virtual workplace's billion-dollar question
Do collaboration tools actually make us more productive?
The pandemic has fueled a burgeoning market for digital tools designed to help colleagues collaborate at a distance. They certainly come with their own dangers—distracted employees and blurred lines between work and home. A workplace needs the right culture to make sure they stay useful.
"A lot of it depends on how technologies are used, how they're adopted, and the organizational culture you develop around them," said Jennifer Gibbs, a communication professor at the University of California, Santa Barbara.
Read more about the pros and cons of workplace tools in this week's field guide on the future of the digital workplace.
✦ Take advantage of just how productive Quartz has been lately, and get the full experience with a membership. Try it for a week, free.
Surprising discoveries
SpaceX set a new record. The Crew-1 squad became the longest running crew launched from a US spacecraft.
Mars is getting crowded. China, the United Arab Emirates, and the US will, separately, descend on Mars to study its atmosphere in the search for signs of past life.
Four Seasons Total Landscaping hits the silver screen. Production on a documentary about the site of Rudy Giuliani's post-election speech is expected to wrap later this month.
Asia's two biggest tech figures send each other drawings. Masayoshi Son and Jack Ma have struck up an adorably analog pandemic correspondence.
French workers can now legally eat at their desks. The tragically tasteless and wholly un-French practice does tend to help contain virus spread.
---
---
Our best wishes for a productive day. Please send any news, comments, drawings, and sad desk salads to hi@qz.com. Get the most out of Quartz by downloading our iOS app and becoming a member. Today's Daily Brief was brought to you by Jordan Lebeau, John Detrixhe, Alex Ossola, and Susan Howson.