Good morning, Quartz readers!
Here's what you need to know
Hackers targeted India's power grid last year. A report claimed Chinese meddlers seeded the system with malware during a heated border dispute.
A rare protest broke out in Hong Kong. After a new law saw 47 activists charged, hundreds took to the streets in a way that called 2019 to mind.
Nicolas Sarkozy was sentenced to three years. The former French president was charged with corruption and influence peddling.
US Democrats moved past minimum wage. The Biden administration will continue the push for its $1.9 trillion stimulus package without raising the minimum wage to $15 an hour.
What's the best currency for global trade? Bitcoin might be it, according to Citi.
The US won't share doses with Mexico… Though expected to meet with Mexican president Andrés Manuel López Obrador, president Joe Biden will not fulfill his counterpart's request.
… and Russians don't want their homegrown vaccine. 60% believe the pandemic was created as a biological weapon. Meanwhile, Côte d'Ivoire and Ghana have begun their rollouts.
What to watch for
As the crisis in Myanmar becomes more and more violent, foreign ministers from the Association of Southeast Asian Nations (ASEAN) will virtually meet today with representatives from the military in an attempt to free detained officials.
A brief timeline of the last month:
Feb. 1: A day before the newly elected government is to be sworn in, the military takes control of the government and detains state counsellor Aung San Suu Kyi and president Win Myint.
Feb. 3: The military files charges against the detained leaders over offenses such as not following Covid-19 protocols and owning hand-held radios.
Feb. 4: Public demonstrations begin, growing quickly to large-scale protests.
Feb. 13: The military lifts restrictions against search and seizure by security forces, which then arrest several prominent activists.
Feb. 26: Myanmar's UN ambassador appeals to the international body to stop the coup, and is fired the next day.
Feb. 28: At least 18 protesters are killed in a conflict with police.
---
Charting India's bitcoin concerns
While everyone from Citi to Elon Musk is impressed with Bitcoin, India's bank doesn't seem moved. Sure, there is a grain of truth to the claim that cryptocurrencies are rivals of central banks as they are unable to control them like sovereign money—but crypto is also a lot more volatile.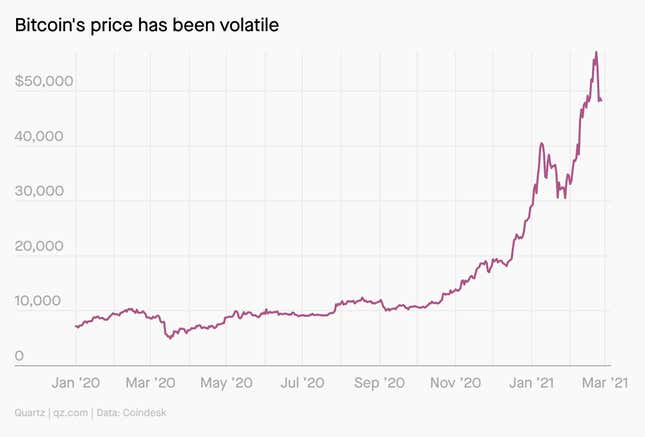 Reserve Bank of India (RBI) governor Shaktikanta Das expressed "certain major concerns about cryptocurrency" and its anonymity, along with its impact on financial stability to the Indian government, which is considering a bill that would ban private digital currency.
---
🍿 Private movies, post-pandemic?
Like the experience of watching movies on large theater screens without all of the other people who enjoy watching movies on large theater screens? Beleaguered US theaters have been recouping some of their pandemic-caused losses by renting out auditoriums to moviegoers.
The practice has already made its mark, as Tom & Jerry raked in $14.1 million at the US box office over the weekend. While those numbers would have been paltry pre-Covid, it's the second largest opening since the pandemic began last year.
As theaters have been forced to get creative, options like space rentals could prove attractive to families looking to get out of the house while entertaining children, or friends looking to meet while maintaining social distance. Though crowded theaters in a post-pandemic world will still have to figure out how to allot private theaters, the practice could be here to stay.
✦ Grab a Quartz membership and some popcorn while you sit back and peruse Adam Epstein's in-depth coverage on how Covid-19 has been a plot twist for the entertainment industry. Try unlimited access for a week, on us.
---
Surprising discoveries
Please, no more. Japan has requested China stop anal swab tests on Japanese citizens, citing the procedure's pyschological discomfort.
A New York City-sized iceberg broke off of Antarctica. Experts are waiting to see what it does next.
The "Lamborghini of chariots" was unearthed from Pompeii's ashes. The vehicle's intact state and fancy detailing revved archaeologists' engines.
Did airplane food need repurposing? In-flight meals meant for the Japanese skies are showing up as bento boxes.
The sunken beer caper. A brewery tried a unique idea. And then thieves made off with it.
---
---
Our best wishes for a productive day. Please send any news, comments, big ice cubes, and extremely vintage rides to hi@qz.com. Get the most out of Quartz by downloading our iOS app and becoming a member. Today's Daily Brief was brought to you by Adam Epstein, Susan Howson, and Jordan Lebeau.