Good morning, Quartz readers!
Here's what you need to know
The European Union presents a semiconductor strategy… Called 2030 Digital Compass, the plan sets a goal for the bloc to produce one-fifth of cutting-edge chips globally by the end of the decade.
…and the European parliament votes on a carbon border levy plan. The policy would impose carbon costs on the import of polluting goods. Industry groups are making a final lobbying push to adjust the proposal.
Hundreds of trapped Myanmar protesters were allowed to leave. Security forces let peaceful demonstrators exit a cordoned off area in Yangon, after the UN demanded their release without violence or arrests.
Brazil's ex-president "Lula" could stage a comeback. A supreme court judge quashed criminal convictions against leftist leader Luiz Inácio Lula da Silva, setting him up to challenge president Jair Bolsonaro in 2022.
The Pfizer/BioNTech jab neutralized a Covid-19 variant in Brazil. Results of a lab study published yesterday showed the vaccine was effective against a highly contagious variant of the coronavirus.
US  health authorities said vaccinated people can gather. Indoor dining and other unmasked activities are back on the table for the fully inoculated, according to the Centers for Disease Control and Prevention.
Donald Trump lost his last election challenge. The US Supreme Court rejected the former president's bid to appeal a lower court ruling over mail-in ballots, and also rejected a case on qualified immunity for police officers.
---
What to watch for
The US is selling a bunch of government bonds. On Wednesday, the Treasury plans to auction $38 billion of notes that will come due in 10 years. The government frequently sells bonds to the public—that's what happens when a country has $22 trillion of debt—but this offering is notable because a recent Treasury's auction of seven-year notes flopped. Investors' lack of enthusiasm for US government debt, which is a benchmark for everything from mortgages to car loans and credit cards, rippled through the financial system.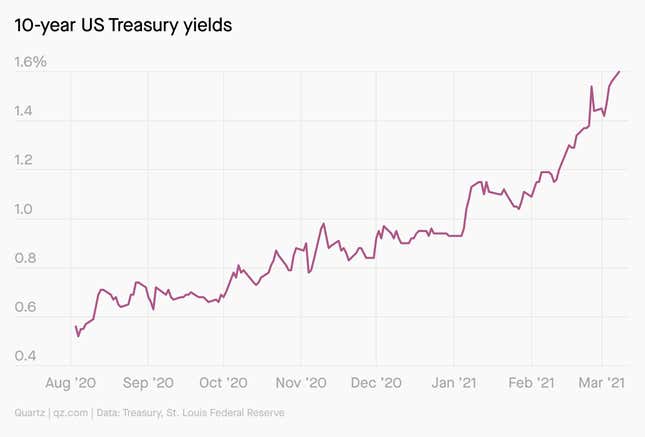 Treasury bonds are a haven for traders when there's a crisis. But with stimulus checks and vaccines forthcoming, ultra-safe bonds look less appealing. That could force the government to offer higher interest rates to drum up demand for its securities. Traders are closely watching this week's bond auction, to see how investors are responding to an economy that's revving up and growing inflation concerns, explains John Detrixhe.
If the auction is poorly received (again), investors may worry that interest rates are going to climb even higher, forcing the Federal Reserve to reassure the market that it will contain the rise in Treasury yields.
---
Charting Amazon's power purchasing…
Tech companies may be making science-based decarbonization targets and turning to renewable energy sources to power operations, but they'll still need more power than on-site solar panels or wind turbines can manufacture.
Power purchase agreements allow companies to buy a set number of megawatts from an outside provider. Globally, 23.7 gigawatts' worth of PPA contracts were signed last year, up nearly 20% over 2019, and Amazon was responsible for more than one fifth.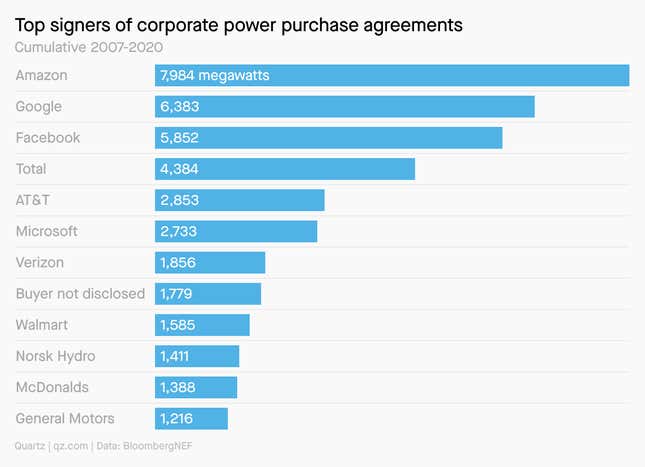 ---
… And competing for its customers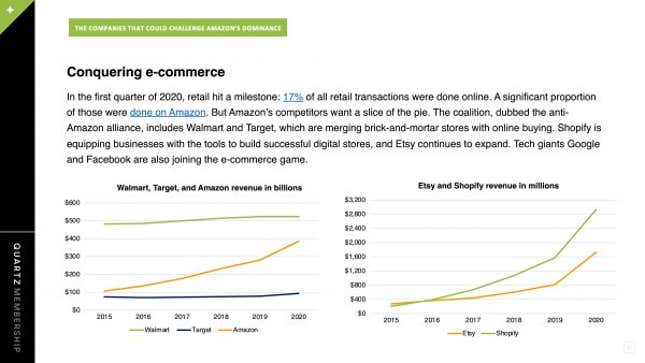 The companies that could challenge Amazon's dominance. Buying stuff online got way more popular during the pandemic, and Amazon got a lot of that business. But other companies—including brick-and-mortar retailers, online shops, and tech giants—want to give Amazon a run for its money. Our latest presentation lays out how Walmart, Target, and Etsy compete.
✦ Quartz presentations are available for members, who also have access to our field guide on Jeff Bezos's legacy—along with everything else we've ever published, two dedicated emails per week, and a lot more. Try it for a week for free.
Surprising discoveries
Raccoons aren't handling the pandemic well. Sightings and raccoon-related injuries are up in Toronto, but it's probably humans' fault.
A toy pirate ship crossed the Atlantic. The little vessel avoided Davy Jones' locker all the way from Scotland to Miami, Florida.
A New Yorker was sitting on an extra apartment. The source of a draft turned out to be three extra rooms.
These sea slugs are survivors. They can decapitate themselves and survive without organs.
Jack Dorsey is selling a tweet. The Twitter CEO's first post is now a NFT, and bids are rolling in.
---
---
Our best wishes for a productive day. Please send any news, comments, hearty clippers, and found real estate to hi@qz.com. Get the most out of Quartz by downloading our iOS app and becoming a member. Today's Daily Brief was brought to you by Mary Hui, Tripti Lahiri, Susan Howson, Alex Ossola, and Jordan Lebeau.