Good morning, Quartz readers!
Here's what you need to know
Coupang could raise $4 billion in a blockbuster debut. The SoftBank-backed South Korean e-commerce retailer's New York IPO today will likely be the largest by a foreign company since Alibaba's.
Russia throttled Twitter. The country slowed down the social media site for not removing banned content.
Facebook filed motions to dismiss US antitrust lawsuits. The company said the government is looking for a "do over" in challenging its WhatsApp and Instagram acquisitions after the fact.
The UN Security Council won't call what happened in Myanmar a coup. Russia, China, India, and Vietnam succeeded in watering down a statement condemning violence by the military.
China votes on overhauling Hong Kong's electoral process. The new rules, which are all but certain to be approved today, effectively give Beijing direct say over who gets to run for elections.
The US House of Representatives passed the $1.9 trillion stimulus package. President Joe Biden is expected to sign the bill Friday. Separately, the Senate confirmed Merrick Garland as attorney general.
An EU watchdog said TikTok may be sending user data to China. The company asserts European data is transferred to the US.
---
What to watch for
A year ago today, the World Health Organization finally declared that a new respiratory disease had become a serious global crisis. "Pandemic is not a word to use lightly or carelessly," said WHO director-general Tedros Adhanom Ghebreyesus.
Things were looking pretty dire, even then. There were, Ghebreyesus said, "more than 118,000 cases in 114 countries, and 4,291 people have lost their lives," and then he offered practical advice to counter any further threat:
1️⃣  Prepare and be ready.
2️⃣  Detect, protect, and treat.
3️⃣  Reduce transmission.
4️⃣  Innovate and learn.
Because most countries failed to effectively follow these steps, those case numbers seem laughably small a year later, when the number of reported Covid-19 cases nears 118 million and deaths top 2.6 million. But with more vaccines being administered every day, the pandemic looks as if it can, in fact, end. Will the world take Ghebreyesus's "innovate and learn" to heart?
To keep track of all major pandemic-related economic developments—from European economies to retail, China, and airlines—we recommend making the Quartz coronavirus living briefing part of your routine.
---
Charting digital lending plans
Corporate executives are talking more than ever about "buy now pay later"—the slick digital lending that is a hit with Gen Z and millennial shoppers. The question is: Will it disrupt the $8 trillion credit card industry? And will these loans encourage a new generation to borrow more than they can afford?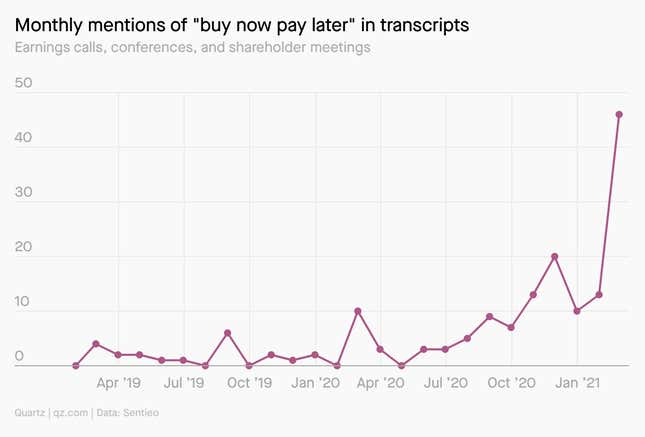 ---
What would you pay for a virtual sofa?
Last month, a line of "virtual furniture" earned its creator nearly half a million real dollars on Nifty Gateway, one of several online auction sites for blockchain-backed digital assets. To be clear, nobody can actually sit in this furniture—nobody made of flesh and blood anyway. But lucky owners can use their new assets to decorate their virtual worlds and gaming environments.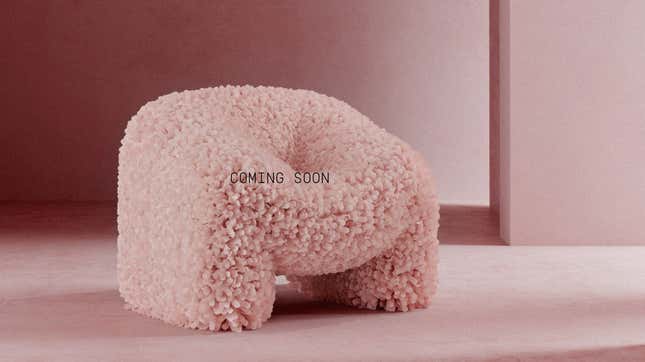 Non-fungible tokens, or NFTs, are changing the art and design industries. Some say it's the great democratization of art, but some say NFTs are literally destroying the planet. Anne Quito will let you make the call.
✦ Anne's covering the ways the businesses of art, design, and architecture are evolving. Read her stories and everything else on our site with a Quartz membership, especially designed to gracefully scale paywalls. Try it out for a week, free.
---
Handpicked Quartz
👶 Biden's rescue plan says childcare is too important to leave to the market
👟 Nike and Adidas are locked in a digital arms race
🦠 China's Covid-19 success is slowing down its vaccine rollout
💉 Is India ignoring the science behind increasing the interval between two Covid-19 vaccine doses?
👑 The Meghan and Harry interview is a must-see for anyone in HR
Surprising discoveries
"Make your company great again!" with a Donald Trump Buddha statue. That's the company's sales pitch, anyway.
Earth has an inner-inner core. Scientists believe they have found evidence of a hidden layer.
Global shark populations have dropped 70% since 1970. Conservationists say fisheries need to step up to prevent species of the predator from going extinct, which, believe it or not, isn't good.
A commodities trader bought $36 million of painted rocks. The company thought it was purchasing copper.
Pollen can make you more susceptible to Covid-19. Even if you aren't allergic to the stuff.
---
---
Our best wishes for a productive day. Please send any news, comments, shiny rocks, and shark feelings to hi@qz.com. Get the most out of Quartz by downloading our iOS app and becoming a member. Today's Daily Brief was brought to you by Hasit Shah, John Detrixhe, Anne Quito, Susan Howson, and Liz Webber.