Good morning, Quartz readers!
Here's what you need to know
The EU sanctioned China for the first time since Tiananmen Square. The bloc sanctioned four communist party officials and one state-run conglomerate for perpetrating human rights violations against Uyghur Muslims in Xinjiang.
China kept Michael Kovrig's trial under wraps. Like with Michael Spavor's case last week, Beijing has kept a firm hold on news around the Canadian diplomat's trial, causing growing concern.
Saudi Arabia proposed a ceasefire to end the war in Yemen. The country's top diplomat offered a political agreement with Iran-backed Houthi rebels.
AstraZeneca earned high marks in a new late-stage trial. The jab proved 79% effective at stopping symptomatic cases and was not correlated with an increased risk for blood clots.
A top investment banker quit because of his ties to Jeffrey Epstein. Leon Black left Apollo Global Management, the investment firm he co-founded and chaired, amid mounting scrutiny of his relationship with the disgraced sex offender.
Japan will set new, more aggressive climate goals. After its original 2030 emissions targets were panned for lacking ambition, the government is working on announcing new goals as soon as April.
---
What to watch for
Today, Chinese video-sharing platform Bilibili will finally reveal the share price of its upcoming listing on the Hong Kong stock exchange. Expectations for its value have ballooned from $1 billion to $2 billion to $3 billion since rumors of the listing began circulating in October. Part of the hype has to do with Bilibili's unique feature set and business model, which include:
📹 Mixing amateur, pro, and livestreamed video: The site focuses on anime and gaming content. Like YouTube, most uploads are free user-submitted videos. But, like Netflix, there's also anime from professional studios that requires a paid subscription. And, like Twitch, the site also hosts livestreams of influencers playing video games.
🙀 Bullet comments: Users can leave comments that display right on top of the video, crawling across the screen in a chaotic stream that can blot out the video itself.
💸 Direct tipping: Right next to the "like" and "share" buttons below videos, there's a button to send money directly to the creator.
Bilibili, which is already listed on the US Nasdaq exchange, is one of several Chinese firms pursuing "homecoming listings" on Chinese exchanges under pressure from US regulators. Search giant Baidu will hold its own listing on the Hong Kong market today.
---
Charting renewable energy spending
Oil companies are tightening their belts. In its latest earnings call, Saudi Aramco reported a 44% decline in net profits in 2020 thanks to the pandemic. With global oil demand unlikely to bounce fully back until at least 2022, the company said it will shave up to $10 billion off its capital spending plans this year. Exxon announced a similar spending cut earlier this month.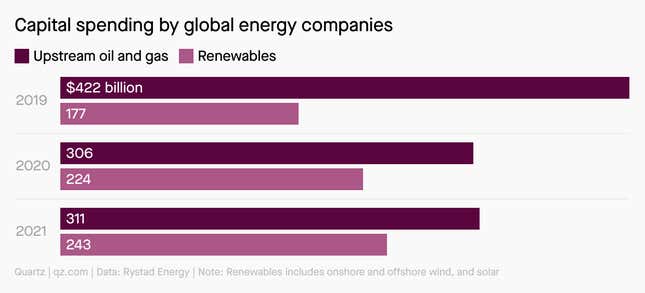 Meanwhile, spending on solar and wind farms is setting new records and catching up fast. Oil and gas spending will likely rise a bit with the post-pandemic economic recovery, but the gap between it and renewables will continue to narrow as oil companies contend with the long-term contraction of their market.
---
Dads are starting to get it
It's happening: Working dads are starting to grasp that when you're maxed out at home, it's not easy to be a star around the office.
A recent Boston Consulting Group survey showed that in the US, men who were parents were slightly more likely than women to agree with statements like "I am worried about my future in my company." Considering that it's still women who shoulder the heavier caregiving load, a senior partner at BCG commented, it's a little ironic. "I don't think they have had to deal with this before," Matt Krentz says of men. Now that they see it, he adds, "they are worried about their own careers."
Concern about your career can be a sign of burnout. Lila MacLellan breaks down how companies can help their employees avoid it.
✦ Check out Quartz At Work's recent panel on how to avoid burnout, and if your sure-to-be extensive reading on our coverage of the subject leaves you burned out on paywalls, try out a Quartz membership for free.
---
Handpicked Quartz
🤔 Can a new vaccine prevent opioid overdoses?
👚 A Beijing diplomat's feisty words to the US in Alaska now adorn patriotic merchandise
🌍 The Covid-19 pandemic has created Africa's next big investment opportunity
🎖 India's military is one of the strongest in the world—but its soldiers are among the worst paid
---
Surprising discoveries
Human feet keep washing up on Canada's Pacific coast. Scientists have finally gotten to the bottom of the mystery, which has nothing to do with serial killers.
Krispy Kreme will give vaccinated customers a free doughnut every day this year. Confusingly, the US doughnut chain is also offering anti-vaxxers a freebie once a week.
Designers want women to step back into the working world in baggy suits. The oversized garments are meant to offer a soft transition from sweats to businesswear.
A Donald Trump wax figure got beaten up too badly to be displayed. Visitors to a San Antonio tourist spot scratched and punched the statue so much it was pulled for repairs.
Swans are menacing English mailboxes. No word on whether there's an Untitled Swan Game in the works to memorialize their residential bullying.
---
---
Our best wishes for a productive day. Please send any news, comments, doughnuts, and yards and yards of suiting fabric content to hi@qz.com. Get the most out of Quartz by downloading our iOS app and becoming a member. Today's Daily Brief was brought to you by Tim McDonnell, Lila MacLellan, Nicolás Rivero, and Susan Howson.