Good morning, Quartz readers!
Here's what you need to know
The US could face "impending doom." CDC director Rochelle Walensky issued a warning over rising coronavirus cases and hospital admissions; Europe is already experiencing a third wave.
The WHO publishes its Covid-19 origins report. The "most likely" explanation is animal-to-human transmission in China; a lab leak is considered "extremely unlikely."
Canada suspended the AstraZeneca vaccine for under-55s. There are concerns over blood clots, although no Canadians have suffered such serious side effects.
Ships are once again moving through the Suez canal. But the backlog will take days, if not weeks, to clear.
The Archegos whodunnit is still playing out. Banks were unable to agree on a way to contain the hedge fund's meltdown, the Financial Times reports, but some got out of the way fast, says the Wall Street Journal.
Nike is suing Lil Nas X over a publicity stunt. The apparel giant alleges copyright infringement after the rapper released a pair of "Satan Shoes."
What to watch for
France has long struggled with Islamist terrorism, and 2020 provided little relief. President Emmanuel Macron argues that the solution is to better integrate Muslims into French society, notably by promoting a secular-friendly "Islam of France."
Today, Annabelle Timsit reports, French senators begin debating a controversial bill (link in French) that many believe will expand state powers to tackle Islamist terrorism. The bill comes as Macron is seeking to poach as many conservative voters as he can from the far-right politician Marine Le Pen, his likely rival in upcoming elections.
Some of the most high-profile items in the bill include:
✍🏻 The bill's name. Right-wing senators (link in French) reportedly want the text of the bill to more explicitly state that its goal is to "combat separatism."
🎒 No school from home. The bill bans homeschooling for children older than 3.
🖥️ Watch what you say online. The bill toughens the punishment for those who spread information, online or otherwise, about someone that "allows them to be identified or located," with the aim of putting them or their family in harm's way.
💰 Our money, our rules. As a condition of receiving public funds, community groups will need to promise to use the funds "in accordance with republican principles."
France's left views the bill as an example of unacceptable statist encroachment, while the right thinks it isn't strong enough (both links in French). Both sides have until April 8 to amend and debate the bill.
---
Charting women in investing
After Brittany Floyd lost her airline job and her side gig leading foreign tours, she had no intention of returning to a life of struggle. She read books and online forums before eventually downloading Robinhood, the popular brokerage app, and investing in stocks that aligned with her interests. She wasn't alone, Michelle Cheng reports.
In 2020, Fidelity reported a 9% increase in female customers, outpacing the 7% rise in male customers, while Robinhood saw the women on its platform quadruple in February. One reason could be that American women's income levels are picking up.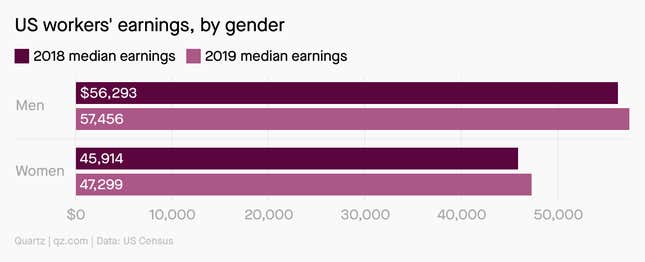 ---
Fracking companies are mining bitcoin
Gas flaring is responsible for at least 1% of global carbon emissions, wasting hundreds of millions of dollars of natural resources while endangering our environment at the same time. As flares made fracking companies easy targets for regulators, companies have begun to mine their own creative solutions.
One such fix? Bitcoin.
By turning waste gas into electricity with a generator, bitcoin miner Sergii Gerasymovych figured out he could keep his mining farm afloat while cleaning up a notoriously dirty industry. When Gerasymovych thought of his idea in 2018, companies laughed. Now, after the price of natural gas dropped during the pandemic and drilling ground to a halt, companies are listening, Tim McDonnell writes.
✦ Take a look at our deep dive into the world of cryptocurrency to discover how to speak fluent crypto. A Quartz membership is emission-free, requires no drilling, and will net you zero bitcoin.  Try it out for free.
---
Handpicked Quartz
😘  Bitcoin is wooing the millions of workers who send their earnings abroad
🦍 Godzilla vs. Kong proves the world wants to go back to the movies
🏀 From Norwegian salmon to basketball, a brief history of China's patriotic consumer boycotts
⚠️ WeWork's plans to go public expose the danger of SPACs
😓 McKinsey faces its moment of reckoning
---
Surprising discoveries
The "Goldilocks" black hole is just right. There are big ones and small ones, but perfect intermediate-sized ones are difficult to find.
Our hearts love gravity. Weightlessness—whether from being in space or on a transatlantic swim—makes a human heart shrink.
The Apophis asteroid will fly right by. Originally thought to collide with the Earth in 2068, the enormous rock will leave us alone for at least another 100 years.
A teenager invented color-changing sutures. The high schooler and her beet-based dye are headed for a patent.
Brood X is coming. Higher temperatures mean potential earlier emergence dates for the billions of cicadas who are about to blanket parts of the US (and if you want, you can eat them.)
---
---
Our best wishes for a productive day. Please send any news, comments, cicada recipes, and your highest achievement from your teenage years to hi@qz.com. Get the most out of Quartz by downloading our iOS app and becoming a member. Today's Daily Brief was brought to you by Hasit Shah, Mary Hui, Tripti Lahiri, Jordan Lebeau, and Susan Howson.