Good morning, Quartz readers!
Here's what you need to know
The UK explores its own central bank digital currency… The Bank of England and the British Treasury will examine the risks and benefits of the idea, part of the government's plan to take advantage of the regulatory freedoms after Brexit.
…and is investigating Nvidia's acquisition of Arm. National security concerns are driving a regulatory probe into the US company's proposed $40 billion purchase of the British chipmaker from Japan's SoftBank.
Delivery drone trials are coming to the UK. Regulators approved the testing of drone flights at industrial sites by remote pilots, which, if successful, could shake up the logistics industry.
HSBC's top executives in its London headquarters will hot-desk. The bank's CEO Noel Quinn said the firm is embracing a "hybrid working" model and plans to reduce its workspace by 40%.
Apple allowed Parler back into the iOS store. The social media platform, popular among members of the far-right, was removed following January's Capitol attack, but has since improved its moderation of hate speech and incitement.
Cuba's Communist Party welcomes a new leader. The appointment of Miguel Díaz-Canel, who is also Cuba's president, marks the ending of the country's Castro era.
Xi Jinping called for a fairer global governance system. The Chinese president said the world wants justice instead of hegemony at the annual Boao Forum, also known as Asia's Davos.
---
What to watch for
Today, Apple will unveil a slew of new products at its "Spring Loaded" event, but the company is also expected to announce a smaller, wonkier change to its operating system that may have a much bigger impact. App developers will soon have to ask users for permission to track their mobile device activity for advertising purposes—a tiny but mighty difference from the status quo, in which users have to find a privacy option in the settings menu to opt out of tracking.
Currently, few people take the trouble to opt out. But when Apple switches to opt-in tracking, the industry expects almost no one will voluntarily consent to give their data to advertisers. That blows a serious hole in the business models of many ad tech vendors, who have bitterly protested the move since Apple first hinted at it in June. Facebook declared that app developers who sell ads through its Audience Network could see their ad revenue from Apple products drop as much as 50%. That may be the price of giving consumers real control over their privacy.
---
Charting India's second wave
India, which reported fewer than 15,000 cases a day last month, has been seeing over 200,000 Covid-19 infections a day since April 15. Yesterday, the country reported 273,810 new infections and 1,619 deaths—both highest single-day spikes. That takes the active caseload tally up to nearly 2 million, writes Manavi Kapur.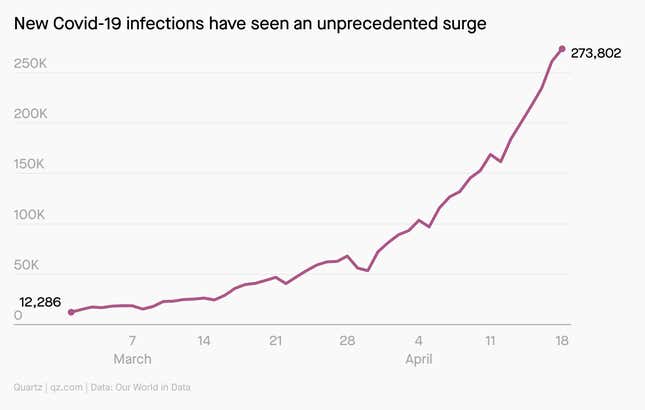 Across the country, this unprecedented and sudden rise in infections has brought India's health infrastructure to its knees, with hospitals overwhelmed and oxygen in short supply.
---
NFT questions, answered
Wherever NFTs go, questions follow. We've answered the ones below, and several more in the Quartz guide to NFTs.
🤷‍♀️  What is an NFT? It's a bit of data stored on a blockchain that signifies ownership of a digital file.
🎨  How do you create one? We tried it. It cost $250 and took about 10 minutes.
👣  What about the carbon footprint? The NFT we minted was on par with a flight from London to Rome in terms of carbon emissions. But proponents say that could soon improve.
👕  Where can I buy one? We've compiled a list of marketplaces, plus case studies on how NFTs work in art and fashion.
✦ You'll need a Quartz membership to take this deep—but easy to understand—dive into NFTs, and even deeper dives into a whole lot of other pertinent topics. Try it for free!
---
Handpicked Quartz
💉  Why Joe Biden's multibillion-dollar vaccine aid pledges are meaningless
⚽️  Europe's soccer elite is betting on a new type of sports fan
🏅  Two low-carbon concrete startups will split the $15 million Carbon X-Prize
😬  How to calm your anxiety about returning to the office
📈  Does the Coinbase IPO mark the peak for bitcoin?
🎥  MGM hopes for a James Bond rescue with No Time to Die
💼  It's time to revisit the job descriptions of managers
Surprising discoveries
McDonald's is adding a BTS special to menus in nearly 50 countries. Be prepared for a shortage of Chicken McNuggets, the K-pop band's favorite item.
Mr. Spock was terrible at making predictions. Events the supposedly logical Vulcan termed "impossible" actually happened 83% of the time.
What's cooler than being cool? A new white paint that reflects up to 98.1% of light—a potential game changer for sustainable design.
The UK has a garden gnome shortage. It's one more thing you can (partly) blame on the Suez Canal blockage.
A New Zealand coffin maker decided funerals can be more fun. Customers have been buried in a cream-filled doughnut, Lego bricks, and a piano.
---
Our best wishes for a productive day. Please send any news, comments, impossible predictions, and garden gnomes to hi@qz.com. Get the most out of Quartz by downloading our iOS app and becoming a member. Today's Daily Brief was brought to you by Jane Li, Mary Hui, Nicolás Rivero, Walter Frick, Liz Webber, and Susan Howson.