Good morning, Quartz readers!
Here's what you need to know
A jury found Derek Chauvin guilty on all counts. The former Minneapolis police officer will now await sentencing for the murder of George Floyd last year.
Apple unveiled a new slate of products. The new iPad Pros and fully redesigned iMac will feature Apple's M1 chip. Also announced at the Spring Loaded event: AirTag item trackers, Apple TV 4K, and, finally, a new season of Ted Lasso.
The EU re-greenlit Johnson & Johnson's vaccine. The bloc's regulatory agency recommends a blood clot warning label. Meanwhile, South Korea and the US are considering a surplus vaccine exchange.
Netflix's Q1 was a mixed bag. It fell well short of its goal of 210 million subscribers, but beat earnings predictions by a dollar a share.
Ukraine warned of Russian border troop escalation. The Ukrainian foreign minister called for more sanctions against Russia from the West, while Moscow encouraged US ambassador John Sullivan to go home.
Chad's president was killed. The country's military said the death of the recently re-elected controversial president Idriss Déby was the result of violence between soldiers and rebel insurgents.
Boeing's CFO is retiring early. Shares slipped on the surprise news, despite the embattled aircraft manufacturer also announcing it would be extending its CEO's retirement age.
Procter & Gamble is raising prices. Diapers, tampons, and other household staples are being hit by a raw material shortage industry-wide.
---
What to watch for
The Shanghai Auto Show's opening day offers two glimpses into the future: Its hundreds of booths depict an automotive world defined by electric vehicles and self-driving technology, and the show itself is an example of the large-scale in-person events that have returned in China.
It's just as interesting by the numbers:
$4,230: The sticker price of the Hongguang Mini
605: The range in kilometers of BYD's Han, named after China's eponymous dynasty
3: Separate firms, Alibaba, SAIC, and Zhangjiang Hi-Tech Group, that collaborated to create the Shiji IM Air Concept vehicle.
33: Sensors on the Nio ET7's autonomous driving model
10%: EV car sales in China during March, a first
2023: The year by which Xpeng predicts the EV market will enter a phase of rapid expansion
$87 billion: XPeng's market value, which has been helped as of late by enthusiastic investors and grand promises it  will soon produce 1 million electric cars a year, despite the fact that it has never delivered a single vehicle.
---
Charting data security trust in India
The Indian government's track record with data security is abysmal, yet citizens have a lot of trust in it.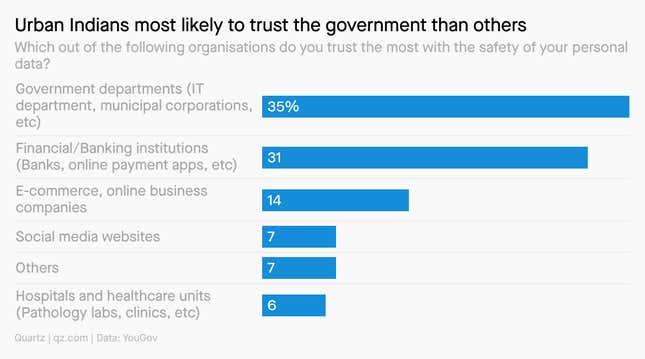 According to a YouGov online survey, as many as 35% of urban Indian respondents in a recent survey said they trusted government departments the most with the safety of their personal data. In comparison, just 14% said they trusted e-commerce sites, while only 7% have faith in social media platforms.
---
A new era for amateur stock traders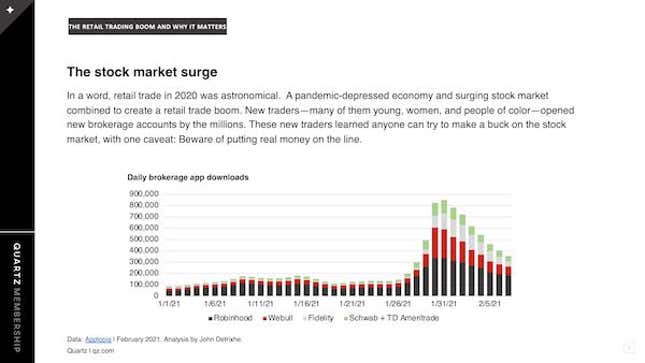 It's not just GameStop—retail trade is booming. With fewer barriers to entry and more time and cash on hand, a slew of non-professional traders are betting on the stock market. But some worry that the volatility they're causing is bad news in the long run. Get into this and more in our most recent presentation: The retail trading boom and why it matters.
✦ Whether you've made enough to retire from crypto and IPOs, or the first portion of this sentence was gibberish to you, a Quartz membership can help you make sense of the market. Try it for free!
---
Handpicked Quartz
🎮Why Amazon keeps failing at video games
🚴Why it's so hard to get a new bike right now
⚽️Soccer's controversial European Super League is already falling apart
💼How to manage up and across in the workplace
💻Boris Johnson's canceled India trip is a reminder that statecraft is impossible over Zoom
🚘Tesla stole the spotlight at China's premier auto show for all the wrong reasons
---
Surprising discoveries
Venmo will let you buy and sell crypto. You won't be able to use bitcoin to pay your friend back for 🍕 just yet, though.
Reddit's got a new audio feature. The social media industry is taking Clubhouse very seriously.
There's a new power washing simulator. It's as satisfying, if not more so, than popping virtual bubble wrap.
The Swiss blew up a snowman. OK, the pitchfork-wielding Boeoegg is destroyed with fireworks every year, but only this year did he meet his end on Devil's Bridge.
Amazon is getting into barbering. Londoners can try out new looks with augmented reality, commit to them with real-life stylists, and, of course, order products instantly.
---
---
Our best wishes for a productive day. Please send any news, comments, dirty houses, and Amazon haircut appointment requests to hi@qz.com. Get the most out of Quartz by downloading our iOS app and becoming a member. Today's Daily Brief was brought to you by Niharika Sharma, Nicolás Rivero, Jordan Lebeau, and Susan Howson.