Good morning, Quartz readers!
Here's what you need to know
Tesla's earnings accelerated at a record pace. The electric automaker saw a 74% rise in revenue compared to the same quarter last year, with a record net income of $438 million, blowing past expectations.
The US will share 60 million AstraZeneca doses with other nations. India most likely tops the list, once a safety check has been completed. Meanwhile, the EU is taking AstraZeneca to court over not hitting delivery commitments.
The digital yuan could rival Alipay and WeChat. China's sovereign digital currency is seen by many as a bid to break up the reigning fintech duopoly—and it may work.
Credit Suisse will probably shake up its board. Key members, such as the current risk committee chairman, may not be re-elected after losing $5.5 billion in the Archegos collapse.
Chloé Zhao's Oscar news was censored in China. Mentions of the Best Director winner are being erased from Weibo. Meanwhile, South Korea roundly celebrated Youn Yuh-jung's Best Supporting Actress win.
A North Carolina city declared a state of emergency over police killing. The impending public release of video footage of police officers killing Andrew Brown last week has tensions at a high.
---
What to watch for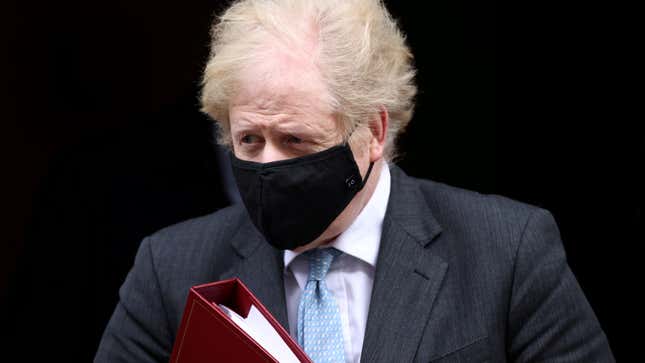 Brexit is still not 💯, totally, completely done yet. We know. We can't believe it either.
Somehow, there are still i's to be dotted and t's to be crossed. Today, the European Parliament finally votes to ratify the EU-UK Trade and Cooperation agreement that's already been approved by the Brits, and has been implemented all year—it governs the flow of goods and services between the former partners.
Why does this matter? Technically, Parliament could decide to throw a very late spanner in the works. The deadline for ratification is only four days away, and there is scope for mischief and gamesmanship.
But most likely it'll go through, and Brexit will continue to trundle along until the next dispute.
---
Charting sub-Saharan Africa's biggest problem
The Covid-19 pandemic is widening the income gap between sub-Saharan Africa and the rest of the world, according to the International Monetary Fund, risking greater differences in living standards between countries. This is particularly concerning for a region where millions have already been pushed into poverty by the pandemic.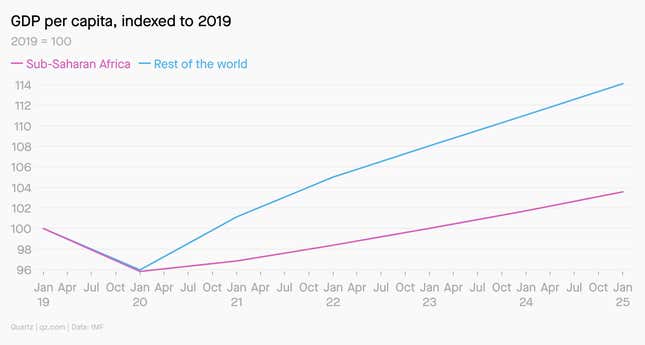 Sub-Saharan Africa's projected growth of 3.4% this year is the slowest in the world. While this projection is an improvement on last year's contraction of 1.9%, it's still below the global growth projection of 6%.
---
This personality test may give you an identity crisis
At least, that's what happened to us. Quartz's Sarah Todd writes about billionaire Bridgewater founder Ray Dalio's new project, PrinciplesYou.
What distinguishes it from other personality tests, Dalio says, is its comprehensiveness. The qualities it measures are based in part on the Big Five test (the gold standard among scientists who study personality), which assesses people on five traits: extroversion, agreeableness, conscientiousness, open-mindedness, and neuroticism. It also draws from psychological research including Grant's work on "givers" and "takers," and measures qualities that Dalio discusses in Principles, like humility and toughness.
Sarah and some of her Quartz colleagues took the 40-minute test, gathered to discuss, then learned that, no matter whether the guinea pigs found the results accurate, maybe the discussion itself is the key.
✦ Personality tests—useful guide or capitalist tool? We've written about it all. Whatever your Myers-Briggs letters, we know you'll put a Quartz membership to good use. Try it free for a week.
---
Handpicked Quartz
🙈 Even the Oscars are sick of Zoom
😕  The Oscars failed its one job: to make viewers interested in the movies
🆘  Indians are disappointed with Biden's response to their Covid-19 crisis—and rightly so
🏭  How steelmakers and startups are stepping up to fight India's oxygen crisis
🍏  Apple's privacy update shows the massive power of small design changes
✅  Tokyo says that the Olympics is proceeding. Here's what athletes will have to do.
📰  Is business journalism a good career choice?
Surprising discoveries
A man dated 35 women at once to get extra birthday gifts. He has since been arrested on suspicion of fraud.
Fans finally voted off an unwilling boy band reality show singer. The Russian contestant had originally signed on to the Chinese program as a translator.
Dolphins form teams with their friends. And they learn each other's "names," or signature whistles.
Kanye West's 2008 Grammys sneakers set a record. The pair of Nike Air Yeezy 1 sold for $1.8 million.
A woman's 20-year overdue VHS rental came back to haunt her. She was charged with felony embezzlement for never returning Sabrina the Teenage Witch.
---
---
Our best wishes for a productive day. Please send any news, comments, surplus presents, and expensive sneakers to hi@qz.com. Get the most out of Quartz by downloading our iOS app and becoming a member. Today's Daily Brief was brought to you by Hasit Shah, Sarah Todd, Carlos Mureithi, Susan Howson, Liz Webber, and Jordan Lebeau.