Good morning, Quartz readers! We apologize for today's delay.
Here's what you need to know
A Hamas official expects a ceasefire this week. Moussa Abu Marzouk predicted an end to the hostilities "on the basis of mutual agreement" in a matter of days even as cross-border attacks continue. Germany's foreign minister is expected in the region today for truce talks.
Spain is facing a child migrant crisis. Madrid wants help relocating unaccompanied minors after deploying its army to turn away 8,000 migrants who crossed from Morocco to Ceuta.
The CEO of TikTok's parent steps down. Bytedance co-founder Rubo Liang will take over from Zhang Yiming at the end of the year. The move is the latest in a string of C-suite shakeups at Chinese tech firms amid harsher regulatory scrutiny.
The EU has conditions for its new investment accord. It's expected to urge China to remove sanctions on European politicians and diplomats if Beijing wants an investment pact with Brussels to be approved.
Oatly goes public. The Swedish plant-based milk maker priced at $17 a share, the high end of its range, ahead of its debut on the Nasdaq today.
China and Russia pledged more cooperation. The two countries' leaders agreed to closer ties on nuclear energy and climate change at a ceremony launching the construction of nuclear reactors in China.
---
What to watch for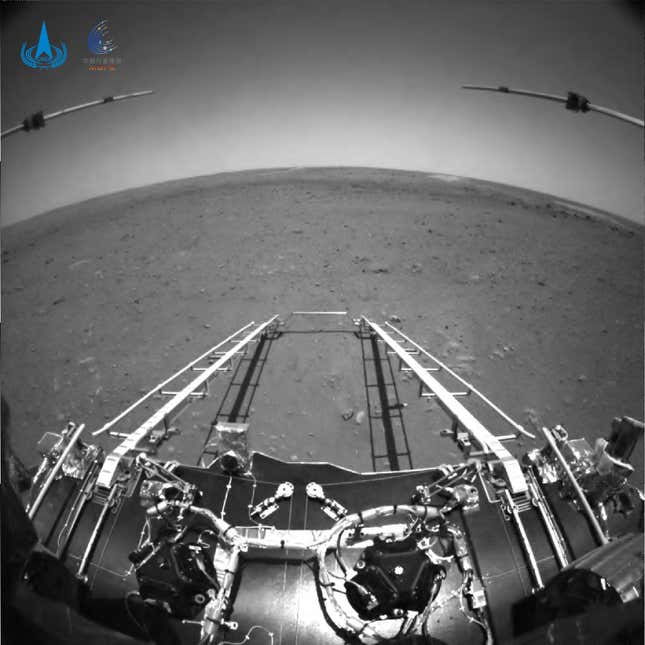 China is flexing its space muscles. Over the weekend, China became the second nation after the US to land and continuously operate a robot on the surface of Mars, releasing the first images snapped by its cameras on May 19. Now, its Zhurong rover will begin exploring the Red Planet, hunting for ice and performing geological analysis. There's action closer to home as well: In April, China launched Tianhe, the first module of its space station, an orbital habitat that, when finished, will be about one-third the size of the International Space Station.
Soon, China will launch an uncrewed supply vehicle to Tianhe, where it will deliver propellants and supplies ahead of the real main event in June: sending its first crew to the station. All told, it will take nine more launches to complete, including the addition of two more modules, with initial construction expected to finish in 2022. The US space program remains the technology leader, but China's engineers and scientists are working to make sure that won't be true for long.
---
Charting higher education enrollments in the US
In most economic downturns in the US, enrollment in community college goes up. But the reverse has happened during the pandemic. President Joe Biden's recent efforts to push community college enrollment could help reverse the trend.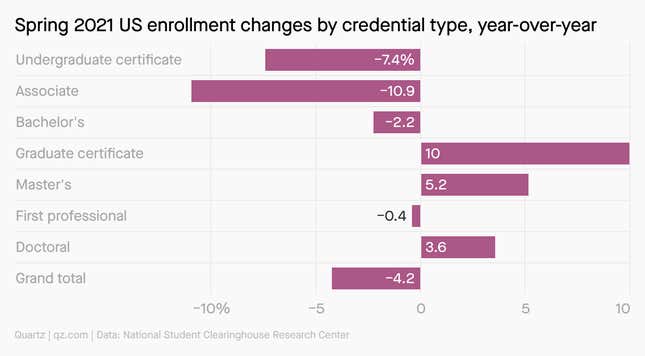 Some 9.8 million people are still unemployed in the US, and workers will need to figure out how to get new and different jobs. Community colleges could be one pathway for that—particularly, if tuition is free.
---
The biggest global vaccine effort is falling apart
In 2020, the World Health Organization and several non-profits set up Covax, an effort to send vaccines to developing countries. By mid-May 2021, it was well short of its goal. The Serum Institute of India (SII) made an announcement earlier this week that it wouldn't be shipping any vaccines to Covax until the end of the year, which sets the program even farther behind. Money, it seems, is easier to find than vaccines. Here's a look, by the digits:
2 billion: Number of doses Covax had aimed to deliver, worldwide, by the end of 2021
68 million: Number of doses Covax has delivered to date
200 million: Number of doses SII had committed to ship
92: Number of lower-income countries to which Covax intended to send vaccines
$8.3 billion: Amount Covax says it's now attempting to raise, with $6.6 billion already procured
✦ A Quartz membership will help you keep tabs on the race to vaccinate the world as well as India's ongoing Covid-19 crisis. Not yet a member? Try it for free—then use code "RETAILWEEK" to take 40% off.
---
Handpicked Quartz
🏦 What Bank of America's new $25 minimum wage means for everyone else
🛒 Facebook is trying to emulate China's e-commerce model
💸 Mobile money is helping Airtel Africa and its rivals bounce back from Covid-19
💉 India's decentralized vaccine policy is a recipe for inequality
🤝 The WarnerMedia-Discovery merger will set off a scramble of entertainment consolidation
🏢 The legacy of "inside-out" office design
🎥 The Rock accounts for a third of Hollywood's lead roles for Asians and Pacific Islanders
Surprising discoveries
The second-cheapest wine on a restaurant menu is actually a good deal. Researchers found it's a myth that such bottles have the highest markup.
Someone bid $2.6 million for a seat on a Blue Origin spaceship. The auction lasts through June 12, so the final price could be much higher.
Taking LSD really does free your mind. The drug lets the brain make unexpected connections by weakening its means of filtering information gained from past experiences.
An extortionist inspired by the DuckTales cartoon evaded German police for years. In the process, "Dagobert" became a folk hero.
Japan's Miyazaki prefecture launched a different kind of letter-writing campaign. The government-run program facilitates the exchange of handwritten love notes between potential mates.
---
---
Our best wishes for a productive day. Please send any news, comments, love notes, and cheap wines to hi@qz.com. Get the most out of Quartz by downloading our iOS app and becoming a member. Today's Daily Brief was brought to you by Leslie Nguyen-Okwu, Mary Hui, Tripti Lahiri, Samanth Subramanian, Michelle Cheng, Tim Fernholz, Liz Webber, and Susan Howson.