Good morning, Quartz readers!
Was this newsletter forwarded to you? Sign up here. Want a reason to forward it? Send this email to someone who always shows up first.
---
Naomi Osaka walked away from the French Open. The Japanese tennis star said she has been suffering "long bouts of depression," following criticism and a big fine over her decision to boycott press conferences.
Japan welcomed its first Olympic athletes. The Australian women's softball team arrived in Tokyo today.
The EU launches digital vaccine passports. Member states can issue the documents for anyone who's fully vaccinated, and they can travel freely within the bloc from July 1.
Peru has the highest per-capita Covid death toll in the world. Following an alteration to counting methods, the revised number of deaths is more than 180,000, up from just over 69,000.
Latin America's biggest soccer tournament is moving from Argentina to Brazil. The Copa America is just two weeks away, and is shifting locations because of Argentina's current Covid surge.
As WTO talks continue, vaccine patents are no closer to being waived. That's despite the US's recent change of heart—the EU and Switzerland, among others, still oppose the idea, Reuters reports.
A court in Australia upheld its travel ban. Citizens still can't leave unless there are "exceptional circumstances," and for a "compelling reason."
What to watch for
US president Joe Biden is set to visit Tulsa, Oklahoma today to commemorate the 100th anniversary of the Tulsa Race Massacre.
In 1921, Tulsa's Greenwood District was a haven from the Jim Crow South—its 35 blocks of Black-owned businesses came to be known as Black Wall Street. But starting on May 31, tensions with Tulsa's white residents turned violent. Hundreds of Tulsa's Black residents were killed in the ensuing conflict, and Greenwood was left in ashes.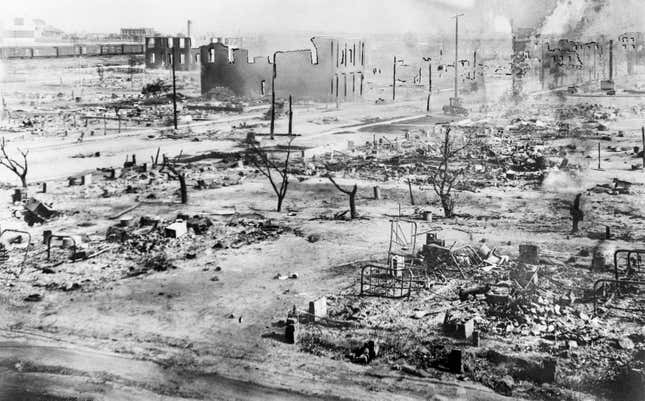 Biden's visit comes a week after the one-year anniversary of George Floyd's death, and amid sustained calls for meaningful change when it comes to racial injustice in America. Here's your antiracism to-do list:
---
Timing Covid comebacks
Seven countries—including the US and China—have already seen their GDP per capita return to pre-pandemic standing, according to a recent report from the Organization for Economic Cooperation and Development. But across the global economy, countries' recoveries depend on vaccine rollouts and public health policies.
When will everyone return to pre-pandemic GDP per capita? You can check out the full list of 46 countries here, and start marking your calendar:
Right about now:  🇰🇷  🇺🇸
End of this year:  🇩🇪  🇮🇳
Next summer:  🇬🇧  🇨🇦
After 2022:  🇲🇽  🇿🇦
---
Opportunity interlude
What's the one skill all business journalists should have?… other than the gift of side-eye. Business journalism offers a variety of opportunities to learn new skills, and reporters new to the field don't have to know everything going in. On June 2 from 12pm-1pm US eastern time, we'll host speakers including LA Times business editor Nour Malas and Washington Post reporter Tracy Jan to discuss the skills every business journalist should work on—and which ones they should master.
---
UnexSPACted quiz
Quick, without googling: What does SPAC stand for?
Special purpose acquisition company
Spending plenty above capitalization
Sensitive Ponzi accounting construct
Shaq positioning around close
If you guessed A, you'd be right (though we think C deserves consideration). SPACs aren't new, but they are trendy right now, and at some point someone somewhere is going to ask for your thoughts. Our latest presentation has you covered: It gets into how SPACs work, why they're hot these days, and what the trade-offs are with a traditional IPO. Also, Shaq does make an appearance.
✦ To steal these slides—and enjoy the rest of Quartz sans paywall—try membership free for a week.
---
Handpicked Quartz
✊  Journalists are exposing India's true Covid-19 death toll
💰  America's labor shortage is just a wage shortage
💉  About half of most vaccines get wasted
📈  This is the inflation the US was expecting
👂  Senegal is preserving its oral history in a podcast
🇨🇳  China's bitcoin mining crackdown is getting real
(Psst.☝️ We put the last one outside the paywall—it's that good.)
---
Surprising discoveries
Salon hair cuttings are used to mop up oil spills. Cotton or nylon tubes packed with hair, known as "hair-booms," can be placed on beaches to stop oil spills from spreading
Major League Baseball had its 2 millionth run. The first recorded run was on April 22, 1876, in a game between the Boston Red Stockings (now the Atlanta Braves) and the Philadelphia Athletics (RIP).
There are more boats on UK canals today than in the 18th century. Rising house prices and lingering travel restrictions have created a surge in popularity for houseboats.
The US invented basketball… but didn't qualify for an Olympic version. The American team was eliminated ahead of three-on-three's Tokyo debut.
Australian scientists discovered a "chocolate frog." The new species, with brown skin instead of green, was found in the lowland rainforest of New Guinea.
---
---
Our best wishes for a productive day. Please send any news, comments, SPAC definitions, and unexpected uses of human hair to hi@qz.com. Get the most out of Quartz by downloading our iOS app and becoming a member. Today's Daily Brief was brought to you by Hasit Shah, Sumnima Lama, Mary Hui, Tripti Lahiri, Amanda Shendruk, and Kira Bindrim.