Good morning, Quartz readers!
Was this newsletter forwarded to you? Sign up here. If you're already part of Quartz's fan club, start earning rewards by forwarding to someone else who might enjoy the Daily Brief. (More on that below.) 
---
Here's what you need to know
The US and EU agreed to suspend billions in tariffs over Boeing and Airbus. The 17-year-long dispute was about subsidies, but they've agreed to stop arguing (for five years) to jointly focus on China.
A federal court overruled the Biden administration on energy leases. Louisiana-based judge Terry Doughty said the government has no legal right, except with Congress's approval, to prevent federal land being used for oil and gas production.
Twitter could lose legal protection in India. For its apparent failure to comply with new government rules, the platform may no longer be immune from prosecution over users' posts, reports suggest.
The US Senate voted to make Juneteenth a holiday. The plan to annually mark the end of slavery on June 19, 1865, now goes to the House for likely approval.
MacKenzie Scott donated another $2.7 billion. Jeff Bezos's ex-wife said the money went to 286 "historically underfunded and overlooked" organizations.
Lina Khan joins the board of the Federal Trade Commission. The 32-year-old's confirmation shows the left's antitrust argument has won, Nicolás Rivero writes.
An environmental protester injured several people before a Germany vs France soccer game. A man parachuted into the Munich stadium, but misjudged his landing and caused debris to fall on spectators.
What to watch for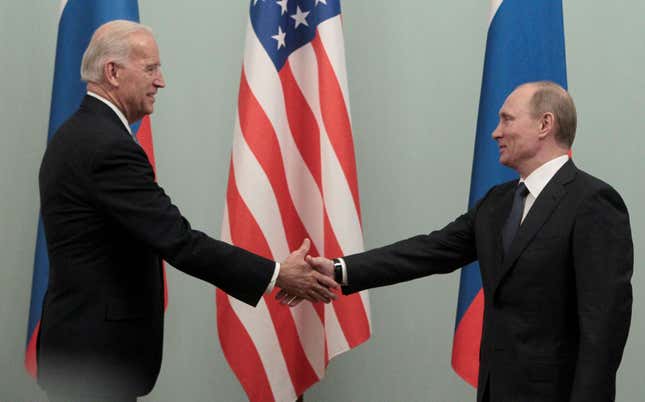 US president Joe Biden meets with Russian president Vladimir Putin today in Geneva, in the hopes of "restoring predictability and stability to the US-Russia relationship."
That's a tall order. Russia annexed Crimea in 2014 and interfered in both the 2016 and 2020 (pdf) US presidential elections. Meanwhile, in March Biden called Putin a "killer" (he could have been referring to any of the Russian government's many alleged assassinations of political opponents), which prompted the Kremlin to recall its ambassador. The US ambassador left Moscow in April, and Washington has expanded sanctions on Russia.
There are areas where Russia and the US stand to benefit if they cooperate—including climate change and security in the Arctic. But most observers have low expectations for the two leaders' meeting.
Case in point: They won't be giving the type of joint press conference that typically caps off meetings like these. (In 2016, Putin's joint press conference with Donald Trump following a meeting in Helsinki was a PR disaster for the former US president.) This time, Biden will give a solo press conference—the "appropriate format to clearly communicate with the free press the topics that were raised in the meeting," according to one American official.
---
Mapping US wind energy potential
Long-running efforts by US states to drive up green energy production mean the East Coast is poised for a rush of approvals of wind turbines fixed to towers driven into the Atlantic Ocean's floor. Future booms are also possible along the Gulf of Mexico, in the Great Lakes, and off the West Coast.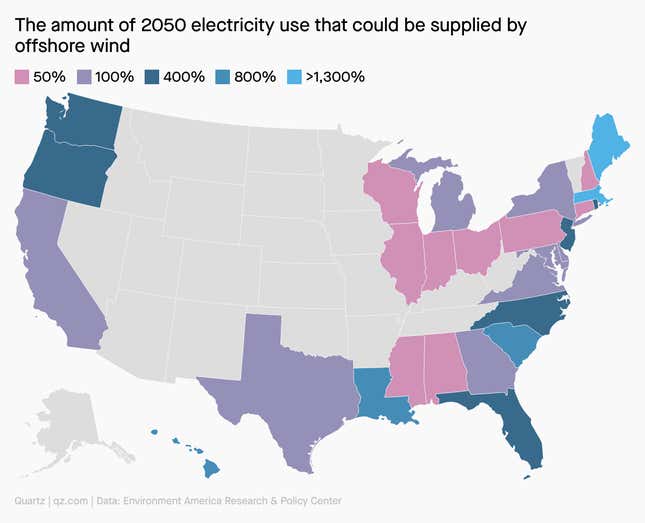 A Climate Central analysis (pdf) suggests if Joe Biden achieves his goal of "net-zero" greenhouse gas emissions by 2050, wind farms in Texas, Missouri, Iowa, and Illinois could each have more capacity installed by 2050 than the 118 gigawatts of total wind capacity currently operational in the US.
---
When 1 billion isn't enough
This week, the G7, a coalition of the world's seven wealthiest democracies, announced a major commitment to provide low-income countries with Covid-19 vaccines, including at least 700 million doses distributed before the end of this year. But as Annalisa Merelli notes, it falls far short of the global need:
11 billion: Doses the World Health Organization estimates the world needs, equitably distributed between all countries, to reach 70% of vaccine coverage
>90 million: Doses the Covax partnership—an international coalition to distribute vaccines to low-income countries—has shipped
1 billion: Total doses the G7 announced this week it will purchase and donate over the next 12 months
21%: Percentage of the world's population that has received at least one dose
6 billion: Doses the world, excluding wealthy countries and China, still needs to reach 70% immunity
✦ Members can access all of Quartz's coronavirus coverage paywall-free. Try it free for a week.
---
Handpicked Quartz
(Psst. 👇 We took the first story out from behind our paywall because we think everyone should read it.)
🇨🇳 China reacts to the conclusions of the NATO summit
😷 Many Indians are flouting Covid rules as Delhi and other cities lift lockdowns
💼 The biggest stereotypes about young, unemployed Africans
🤩 China is intensifying efforts to check the "chaotic" power of online celebrity fan clubs
🏭 What we know about safety concerns at a Chinese nuclear power plant
---
Surprising discoveries
A murdered student was awarded a posthumous PhD. University of Chicago faculty used Dropbox files to piece together the dissertation of Yiran Fan, who was killed during a January shooting rampage.
A runner blamed her burrito for a positive steroid test. Shelby Houlihan, a medal contender for the US, says her test picked up trace amounts of a banned substance in the pork she ate.
Galactic empires are possible. A computer simulation by astrophysicists shows how an alien civilization could expand among the stars.
A meme sold for $4 million. Doge, the iconic meme featuring a photo of a Shiba Inu dog, set an NFT record at auction.
So many Samoas. After the pandemic, the Girl Scouts have 15 million boxes of unsold cookies.
---
---
Our best wishes for a productive day. Please send any news, comments, iconic meme NFTs, and unsold Girl Scout cookies to hi@qz.com. Get the most out of Quartz by downloading our iOS app and becoming a member. Today's Daily Brief was brought to you by Hasit Shah, Annabelle Timsit, Clarisa Diaz, John Upton, Annalisa Merelli, Oliver Staley, and Liz Webber.