Good morning, Quartz readers!
For fans of the multilateral world order, this week has been the equivalent of Christmas, the Super Bowl, and Coachella rolled into one.
It started on June 11 with the G7 Summit in England, where among other things, the leaders of seven of the world's leading democracies agreed on a global minimum corporate tax rate and committed to "vaccinate the world" (pdf).
Three days later, the leaders of the North Atlantic Treaty Organization (NATO) countries met in Brussels, where they laid plans to build an infrastructure project to rival China's Belt and Road Initiative.
On June 15, US president Joe Biden held a summit with EU leaders in which he agreed to work on reversing the tariffs that Donald Trump imposed on European steel and aluminum in 2018. The two sides decided to "renew" their partnership and "set a joint…agenda for the post-pandemic era."
After that, European leaders got a breather, but Biden went on to Switzerland, where on June 16 he met with Russian president Vladimir Putin. The two leaders said they made progress on arms control, and (thankfully) reaffirmed "the principle that a nuclear war cannot be won and must never be fought."
What does it all mean, other than that the White House advance team probably needs a vacation? It's hard to say. Some will see it as the Triumphant Return of Multilateralism after an isolationist US president denigrated allies for fun for four years. Others will say it's too little too late. US allies are certainly more cautious about American promises now, and maybe that's not a bad thing: The safety net of US defense spending arguably prevented Europe from making good on its ambitions of sovereignty.
But there is too much riding on these meetings—climate change, war, the resilience of the global economy to future pandemics, and the recovery from this one—for it all to be hot air. Summits are a good thing, but only if they trigger action, not more summits. As Henry Kissinger warned, "When statesmen want to gain time, they offer to talk." —Annabelle Timsit
---
---
Five things from Quartz we especially liked
A green energy boom. Buoyed by federal support under president Joe Biden, an influx of offshore wind turbines are heading for the Atlantic. The striking visualizations in this story from Clarisa Diaz and John Upton offer a hopeful picture of what one expert calls a "once-in-a-generation economic opportunity to build a new industry"—not to mention an important win for the environment. —Sarah Todd, Quartz at Work senior reporter
Don't mention it. As a non-native English speaker I have always seen the job of bridging the "accent gap" as mine to bear. This piece by Anne Quito places the burden at the feet of those listening in. It's an important step towards rooting out racism in the workplace and definitely needs to be discussed more widely. —Priyanka Vora, audience editor
No blinking. We're about to see whether the US Fed can stick to its newfangled, more tolerant attitude towards inflation now that prices are rising. Staying the course carries big risks—like having to deploy damaging interest rate hikes if prices spin out of control—but abandoning it could derail the recovery before it fully takes off, Tim Fernholz writes. —Ana Campoy, deputy global finance and economics editor
Unequal pay makes a cameo. If you need evidence that the gender pay gap will taint the future, look no further than Cameo. Lila MacLellan and David Yanofsky analyzed the platform, which offers short celebrity videos for a fee, finding that women on average charge about half the price of men. The numbers are disheartening, not just because they point to persistent structural disparities but because, since celebrities can set their own price, it shows just how deeply women of all fields have internalized lower pay expectations. —Annalisa Merelli, reporter
The dogs of Westminster can teach us how to think like champions. What does it take for a pup to succeed at the Westminster Dog Show? Many of the same things humans need to be their best, explains Quartz's resident work expert and animal whisperer Sarah Todd. People, like pooches, need praise, effective stress coping mechanisms, and emotional support to achieve our goals. (Beef jerky rewards for good behavior are optional.) —Nicolás Rivero, tech reporter
---
Juneteenth has finally become a US holiday
But what does a federal holiday commemorating the day emancipation was announced in Texas mean in practice? Not much, since it doesn't make an observation of the holiday mandatory in all states (though 48 of them have opted to do so, and Hawaii is working on it), and even an official state holiday doesn't mean companies are required to observe in any way. Also, Hasit Shah tells us, as recognized Emancipation Days go, the US is a little late to the party.
---
One membership thing that made us 💃
What's most personal tends to be most universal. Hyperlocal content can still travel, but there's a freedom in telling stories without trying to second-guess a foreign gaze. —Candice Fangueiro, Showmax's head of content
African entertainment startups had their best funding year on record last year, raising a total of $13.9 million, almost 19 times what the sector had raised the previous year, and nearly 116 times what it had secured in 2018, according to a report by Disrupt Africa, a website for news on African tech startups. The money came mostly from local and foreign venture capital firms.
✦ Read more about the ascent of African entertainment in our latest field guide. At the very least, you're going to want the playlist. Like what you hear? Consider trying a Quartz membership.
---
We're obsessed with the Gini coefficient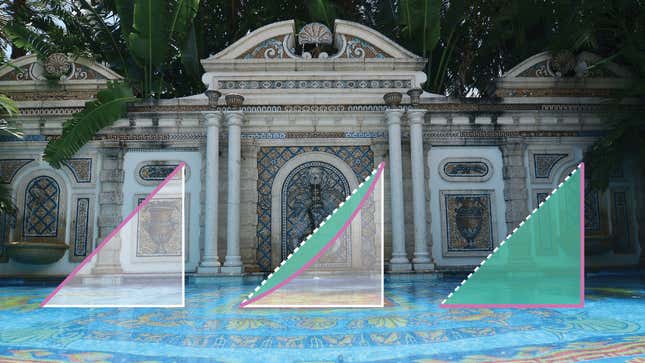 Unequal measures. In 2015, Greece, Thailand, Israel, and the UK were equally unequal. That is, all four countries had the same Gini coefficient, a common measure of income inequality. But just because the Gini coefficient is so well known doesn't mean it's a particularly useful measurement. Its appeal comes from its simplicity—a number between 0 and 1 that can encapsulate a complex distribution in a single figure. However, it has a number of serious limitations. The Quartz Weekly Obsession does the math.
Get the Weekly Obsession email sent to your inbox, for free!
---
Five things from elsewhere that made us smarter
Why you should commute. The pandemic gave many office workers a reprieve from a ritual often dreaded: the daily commute. But as Jerry Useem writes in the Atlantic, its absence also forced a reappraisal of the trek into work, and it turns out it has surprising psychological benefits that allow us to be happier both at home and in the workplace. —Oliver Staley, business and culture editor
Apartment museum. You know you have a major art collection on your hands when your insurance bill surpasses your mortgage. The New York Times' Sandra E. Garcia stokes our voyeuristic impulse with an insider tour of a "fairly humble" Manhattan two-bedroom that houses some of the most important contemporary African-American art pieces that real museums covet. —Anne Quito, design reporter
Beating their own drums. Since 2017, photographer Alice Mann has been documenting the all-female world of drum majorettes in her hometown of Cape Town, South Africa. Mann's portrayals are dreamy, intimate, and sporty—think Carnival by way of The Virgin Suicides—with a nostalgic core that hits regardless of prior familiarity with the subject matter (colloquially known as "drummies"). Writing for The Cut, Olivia Evans explores how Mann represents drummies and the role they play within their larger communities. —Alex Citrin-Safadi, art director
Back in the lab. There has been a resurgence of interest in the idea that the coronavirus emerged from a laboratory in China rather than spreading from animals to humans. Driven by partisan politics and pundit navel-gazing, speculation has reached a fever pitch, but an even-handed examination of the evidence by Justin Ling in Foreign Policy shows there is little meat to the theory. The origins of the coronavirus may be forever shrouded in mystery, but what we do know for sure still suggests a natural outbreak. —Tim Fernholz, senior reporter
The man behind Lupin. Omar Sy, the popular French actor, has reached new heights of international fame with the blockbuster Netflix series Lupin. The second season has just come out, and Quartz's Adam Epstein includes the show in the new golden age of French TV. This delightful profile by Lauren Collins in the New Yorker helps fans of Lupin—and of Sy—understand what made him the perfect choice to embody the series' titular charming gentleman thief. —Alex Ossola, membership editor
---
Our best wishes for a relaxing but thought-filled weekend. Please send any news, comments, French TV recommendations, and Westminster highlights to hi@qz.com. Get the most out of Quartz by downloading our app and becoming a member. Today's Weekend Brief was brought to you by Liz Webber and Susan Howson.