Good morning, Quartz readers!
Was this newsletter forwarded to you? Sign up here. Already a subscriber? Consider forwarding to your list of influential friends—you don't have to stop at just five.
---
Here's what you need to know
Bitcoin rallied in Asia after struggling with China's crypto clampdown. The People's Bank of China had told financial services providers to get tougher on cryptocurrency trading. 
The World Health Organization said vaccines are running out in poor countries. The WHO's Covax program has only delivered 90 million doses, and has faced serious supply issues.
The Indian government is trying to ban internet flash sales. It's targeting companies like Amazon and Flipkart to protect brick-and-mortar retailers, and put an end to tactics that favor big sellers.
The UK is starting talks to join the Asia-Pacific trade partnership. The agreement already includes Canada, Japan, and Australia, and covers 500 million people.
Steven Spielberg signed a major deal with Netflix. He once said the streaming platform's films, which will now include his own, should not be eligible for Oscars.
Student-athletes should be paid, the US Supreme Court said. There could be further challenges to the ban on compensation, with schools gathering huge revenues from TV and sponsors.
Carl Nassib became the first active NFL player to come out as gay. "Representation and visibility are so important," said the Las Vegas Raiders defensive end.
What to watch for
Today, US, European, Japanese, and Taiwanese industry groups will co-host a forum on the tech industry's supply chain woes. The event comes several months into a global semiconductor shortage that shows no sign of easing any time soon and is starting to hit consumers' wallets. One topic that will almost certainly be up for discussion: how to reconfigure the precarious "just in time" supply chains that have left the industry so vulnerable to the catastrophic disruptions it's currently experiencing.
To put the shortage in perspective:
100 billion: The record-breaking number of semiconductors sold worldwide in April
34.5%: The year-on-year increase in demand for Taiwanese chips as of May 2021
$2,500: Increase in Tesla Model 3 prices over three months due to the rising cost of chips
300%: Re-sale markup for high-end chips prized by bitcoin miners and hardcore gamers
1: Economic concept—the "bullwhip effect"—that explains how the chip shortage got so bad so fast
---
Charting why people tip
During the past year, many Americans tipped restaurant workers and delivery staff more than the standard 15-20%. Ofer Azar, an economics professor at Israel's Ben-Gurion University of the Negev who researches tipping, suggests that people who dug deeper into their wallets may have felt more aware of waiters' financially precarious positions.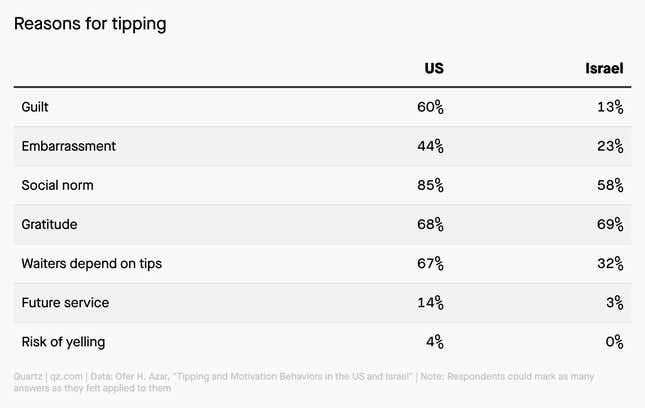 As Covid-19 restrictions have eased, customers have started eating out more often—but they've also been slightly less generous with their gratuities. What's the right amount to tip post-pandemic? Sarah Todd attempted to sort out the complicated etiquette with the help of a few experts.
---
Putting your best back-to-the-office foot forward
Remember shoes? We barely do. What's appropriate to wear on your feet could be an important part of returning to the office. Let's break down the shoe trends affecting your back-to-work look:
⛔ Out: high heels (sort of)
✅  In: sandals, flats, loafers, fashion sneakers, and, of course, Crocs
In short, comfort is king. The same goes for clothes. After the decades-long tyranny of suits and collared shirts, the return to the office is a chance to rethink what constitutes a professional appearance—perhaps making work attire both more comfortable and more equitable in the process.
✦ In fashion and beyond, there are a lot of tough choices to navigate in our new hybrid work world. The only obvious one: becoming a Quartz member is sure to keep you on your toes. Try it free for a week.
---
Handpicked Quartz
(Psst. 👇 We took the first story out from behind our paywall because it's that important.)
🔥 Climate models predicted heatwaves like America's record-breaking weekend
🦠 What we know so far about the "Nepal variant" or Delta Plus
🥇 The Olympic Games are the latest elite sporting event to allow spectators
⚔️ Racial bias makes white Americans more likely to support wars in non-white foreign countries
🙄 Only five Africans are on a new, influential list of top 1,000 climate scientists
---
Surprising discoveries
Thieves are stealing truckloads of pistachios in California. The nuts have a high resale value and are difficult to trace.
Hiccups could be cured by a special straw. According to one study, an L-shaped "suction and swallow tool" works a lot better than being startled by a helpful, amused onlooker.
Glowing bacteria can help identify landmines. Genetically engineered E. coli light up when they creep near a certain chemical.
Vaccine lotteries are becoming less effective. In the US, those who can be swayed by incentives already have been.
Some like it hot. This does not apply to the Texans whose thermostats were changed remotely to conserve energy.
---
---
Our best wishes for a productive day. Please send any news, comments, legal pistachios, and tiny luminescent organisms to hi@qz.com. Get the most out of Quartz by downloading our iOS app and becoming a member. Today's Daily Brief was brought to you by Hasit Shah, Nicolás Rivero, Sarah Todd, Susan Howson, and Liz Webber.