Good morning, Quartz readers!
Was this newsletter forwarded to you? Sign up here. Send it to a friend, and consider adding some patriotic rhymes.
---
Here's what you need to know
Hong Kong's Apple Daily newspaper ceases publishing on Thursday. The pro-democracy outlet, closely affiliated with protests against China, is shutting down early over concerns for staff safety.
Morgan Stanley will ban unvaccinated staff from its New York HQ. Last week, the bank's CEO James Gorman said: "If you can go into a restaurant in New York City, you can come into the office."
Amazon's MGM acquisition faces scrutiny in the US. The deal will reportedly be reviewed by the Federal Trade Commission, whose new chair, Lina Khan, is known for her critiques of the online retailer.
Around 5 million people became millionaires during the pandemic. There are now more than 56 million dollar millionaires in the world, according to Credit Suisse.
The EU started a new antitrust probe of Google's ad business. The tech company's most lucrative division is again under fire for allegedly stifling competition.
Britney Spears could appear in court over her controversial conservatorship. The pop star, 39, is scheduled to face a judge in LA today.
---
What to watch for
A group of 20 labor ministers from the world's biggest economies will wrap up their meeting on the coast of Sicily today with talks on supporting global employment and social protection. Here are the key points on the agenda:
🚺 Better working conditions and pay for women. Most G20 nations had made progress on increasing women's participation rates, but the pandemic has unraveled it. Women have been disproportionately hit harder when it comes to unemployment, and shoulder the largest burden of unpaid work.
💼 Social protection in a rapidly changing labor market. The G20 says the new work models should be both sustainable and inclusive, supporting the ongoing transitions towards both a digital and green economy. The group estimates that combating global warming will lead to an increase of 18 million jobs by 2030.
💻 Work models, business organization, and production process in the digital era. With AI and big data at the center of how work is changing, the G20 says it's essential that the use of algorithms are "people-centered" and help contribute to a sustainable and inclusive society.
Italy is expected to call for tougher rules governing "gig economy" workers, and the summit comes as the EU is set to propose a bloc-wide regulatory framework by end of year.
---
Charting Olympic revenue
As Tokyo gears up for the long-awaited 2020 Summer Games, sponsors are betting that the still very real threat of Covid-19 can't reduce the bang they're hoping to get for their buck. The International Olympic Committee measures revenue in quadrenniums (quadrennia?)—the four years it takes to complete a Summer/Winter cycle—and the 2021-2024 quadrennium is setting sponsorship records.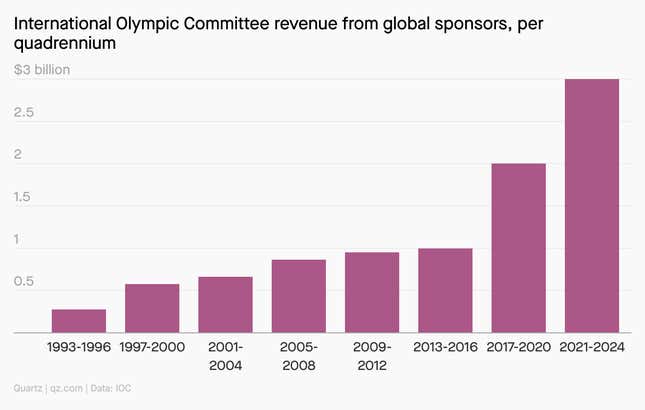 We're looking at these and a lot of other numbers surrounding the Olympics That Almost Weren't. During our sweet pre-pandemic innocence, we tracked hotel rooms and flight costs to help you get to the Games, but now, we have a better idea.
Sign up for our Need to Know: Tokyo Olympics newsletter, and we'll give you that gold-medal Quartz email service to which you've become accustomed. Subscribers can expect to hear from us daily once the Games start on July 23 in Tokyo.
---
India's oldest private airline is back in business
The decks have been cleared for India's oldest private airline Jet Airways, which has been laden with debt, to fly high again. Let's take a look at the numbers:
600: Number of domestic routes, plus 380 international routes, the airline flew before it ran into financial turbulence
26: Months Jet Airways has been grounded
20: Number of routes Jet will operate on once it's in the air again
$53.5 million: Startup capital offered by the airline's new owners—a consortium of investors including UK-based asset management firm Kalrock Capital and UAE-based businessman Murari Lal Jalan—with an additional $87 million its first operating year
4.96%: Increase in share price on the Bombay Stock Exchange once the revival plan was given approval for liftoff by the National Company Law Tribunal on Tuesday
✦ A Quartz membership provides something akin to business air traffic control, keeping you informed of the industries and companies to watch with dedicated members-only emails and workshops, plus of course, full access to all of our journalism. Try it free for a week.
---
Handpicked Quartz
(Psst. 👇 We took the first story out from behind our paywall because it's that important.)
⚡️ Why India wants to put an end to Amazon and Flipkart's flash sales
🎂China's rappers are writing patriotic rhymes for the Communist Party's 100th birthday
🤳 Biden is taking Trump's argument against TikTok seriously
📶 5G will take center stage at Reliance's 2021 annual shareholders meeting
💪 What Rohingya refugees can teach US governors about the importance of work
🐐 How goats helped a Malawian activist win a ban on single-use plastics
---
Surprising discoveries
Wingstop is getting into the thigh business. The soaring price of chicken wings has got the restaurant chain thinking about the rest of the bird.
A Spanish film festival is doing away with gendered acting awards. It will instead recognize the "best leading performance" and "best supporting performance."
NASA is studying baby squid for clues to human health problems in space. Dozens of the little cephalopods have been sent to the International Space Station.
The elephant just wanted a snack. A woman in Thailand discovered the unexpected late-night visitor in her kitchen—not for the first time.
A Pakistani counterterrorism unit wears in-line skates. Locals are skeptical of the attempt to make police seem friendlier.
---
---
Our best wishes for a productive day. Please send any news, comments, elephants in the room, and police vehicle ideas to hi@qz.com. Get the most out of Quartz by downloading our iOS app and becoming a member. Today's Daily Brief was brought to you by Hasit Shah, Jane Li, Niharika Sharma, Michelle Cheng, Susan Howson, and Liz Webber.