Good morning, Quartz readers!
Was this newsletter forwarded to you? Sign up here. Send it to a friend, or make it a meme.
---
Here's what you need to know
"Nike is a brand that is of China, and for China." CEO John Donahoe defended the company, which faces a backlash over recent statements about Xinjiang, in an earnings call—Nike bounced back to a first-quarter profit of $1.5 billion.
Rescuers are still searching for signs of life in a Miami building. 99 people are missing, and one confirmed dead, following the 12-story apartment block's collapse.
Derek Chauvin is sentenced. The former Minneapolis police officer was convicted in April of the 2020 murder of George Floyd, who became an international symbol of antiracism protests.
Shareholders ousted the scandal-hit Toshiba chairman. Osamu Nagayama was kicked out following company and government collusion to suppress the interests of foreign investors.
Google is sticking with third-party cookies a little longer. The company will delay the phaseout of the internet tracking technology in its Chrome browser until 2023, as the ad industry figures out how to replace it.
Microsoft showed off a new operating system. Windows 11 is billed as faster and more secure. It also will be able to run Android apps.
Joe Biden's bipartisan infrastructure bill already faces hurdles. Speaker Nancy Pelosi said the House won't vote on it until the Senate passes a broader infrastructure package through budget reconciliation.
Japan had more Olympics-related Covid cases than previously known. The Mainichi Shimbun reports four foreign arrivals have tested positive since February, not including the two from Uganda.
Despite such setbacks, the Games are still going ahead. For all the latest sports highlights, human stories, and related news (including an unexpected cancellation) sign up for our Need to Know: Tokyo Olympics newsletter.
---
What to watch for
We know you want to believe, but… The US Department of Defense will release an unclassified version of a report detailing its investigations into Unidentified Aerial Phenomena, a.k.a. UFOs. Don't expect much: Leaked versions of the report (and the history of these inquiries) don't have anything definitive to say about recent sightings of strange objects by US military aviators.
Some enthusiastic researchers link these accounts to theories of extra-terrestrial visitors and government cover-ups, but scientists who search for extra-terrestrial life are more dubious. Finicky remote sensors are one possibility, and there's a case to be made that pilots are seeing Russian or Chinese drones. There's no easy explanation, but presumably, the truth is out there.
---
Charting Nigeria's favorite social media platforms
Almost a week after the indefinite suspension of Twitter's operations by the Nigerian government took effect on June 4, accounts for the "Government of Nigeria" and individual government officials appeard on Indian microblogging platform Koo, which presents itself as a Twitter alternative with less stringent moderation policies.
As Koo leverages the country's Twitter ban vacuum, Nigerians, particularly the Arewa youth who are leading socio-political movements in the northern part of the country, are switching to the platform as a way of continuing online public conversations about their interests. But to compete with established social media heavy hitters, Koo will have to grow an enthusiastic user base that creates a critical mass of FOMO-inducing content.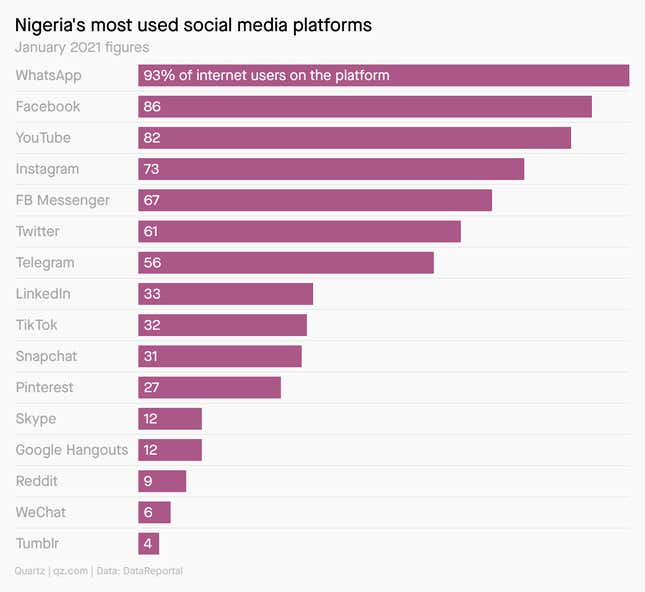 ---
A fossil fuel giant turns to renewable energy
After running one of the world's largest petroleum businesses for more than two decades, India's richest man Mukesh Ambani announced Thursday that he's steering his company, Reliance Industries, towards renewable energy with an investment of 75,000 crore Indian rupees ($10 billion) over the next three years.
Ambani said that his company plans to build four gigafactories. "Reliance will thus create and offer a fully integrated, end-to-end renewables energy ecosystem," he added.
Reliance's shift marks an important moment for the fossil fuel industry.
🌅 If a company so entrenched in fossil fuels is this serious about renewable energy, the era of oil is truly ending.
⚔️ Reliance is also most likely attempting to compete with China, which has five times the solar panel factories India does.
👀 It won't be the first time Ambani has been "inspired" by rivals.
✦ Quartz India is tracking the impact of Mukesh Ambani and Reliance Industries, both at home and on the global economy. Keep up with all our coverage with a Quartz membership— try it free for a week!
---
You asked about Delta variants
What is the Covid-19 Delta variant and how dangerous is it?
The Delta variant, which has now been detected in 80 countries after ravaging India during that nation's second wave, has certain significant mutations in the spike protein of the virus—the pointy elements that give it the shape of a crown (which is why it's called the coronavirus). These spikes are like hooks that have to find the receptors in a human cell to link with. Studies have shown that these spikes hook onto receptors called ACE-2. Once these spike proteins can unlock the cells, the infection spreads by replicating the genetic code of the virus.
Some key mutations in the Delta variant—such as the E484Q, L452R, and P614R—make it easier for the spikes in the virus to attach to ACE-2 receptors. This means it can infect and replicate faster, and even evade the body's natural disease-fighting immunity more efficiently. Its higher reproduction rate means a person with the Delta variant can infect more people.
But there is hope that those who are fully vaccinated are reasonably protected against serious disease. According to data from Public Health England, Pfizer's mRNA vaccine is 96% effective, and the AstraZeneca vaccine 92% effective against hospitalizations after two doses.
This also means that getting a large part of the population fully vaccinated is crucial for countries where the Delta variant is prevalent. Learn more about the Delta variant and the new Delta Plus variant, which has now been detected in nine countries.
---
Handpicked Quartz
(Psst. 👇 We took the first story out from behind our paywall because we can't stop thinking about it.)
⚡️ John McAfee's death is already an internet meme
💉 The growing list of companies that require employees to get vaccinated against Covid-19
🎧 Clubhouse's next moves in India will determine if it's the next Facebook or the next Foursquare
😢 Britney Spears says her conservatorship stopped her from having more children
🚀 NASA has always needed private companies to go to the moon
🤨 How India engineered its single-day Covid-19 vaccination "record"
---
Surprising discoveries
A "sustainable" bitcoin firm has raised money to mine crypto by burning waste coal. But it's only replacing one kind of pollution with another.
Buying all of the US's medical debt would cost less than $3 a person. That's because collection agencies are able to purchase the debt for pennies on the dollar.
The ground temperature in Siberia hit 118°F (48°C) this month. That is not the way we'd recommend celebrating the summer solstice.
Not all dinosaurs lived in the tropics. Some of them nested above the Arctic Circle.
A 3,000-year-old shark attack victim had 790 tooth marks. Maybe he needed a bigger boat.
---
---
Our best wishes for a productive day. Please send any news, comments, Twitter alternatives, and cold-loving dinosaurs to hi@qz.com. Get the most out of Quartz by downloading our iOS app and becoming a member. Today's Daily Brief was brought to you by Hasit Shah, Tim Fernholz, Agbaje Ayomide, Niharika Sharma, Manavi Kapur, Susan Howson, and Liz Webber.