Good morning, Quartz readers!
Was this newsletter forwarded to you? Sign up here. Is it a good idea to forward to a friend? Don't doubt yourself.
---
Here's what you need to know
China has eliminated malaria. Certification from the World Health Organization comes just over a decade after the Chinese government committed to eradicating local infections.
Analysts say China is constructing more than 100 nuclear missile silos. Satellite images of the country's western desert could point to a massive expansion of Beijing's arsenal, the Washington Post reports.
The Trump Organization faces criminal tax charges. While the company's namesake—you may remember him as a former US president—has been investigated in the past, this is a first for the organization.
Didi Chuxing's IPO didn't reach expected speeds. The Chinese ride-hailing giant's debut may have lost steam, but it's still one of the largest US IPOs in recent history.
Donald Rumsfeld died. The American politician was defense secretary for two US presidents and was the driving force behind the country's attacks on Iraq and Afghanistan after the events of 9/11.
Myanmar freed more than 2,000 detainees. Critics say that the move, which was made under pressure from Western countries, serves to distract from the ruling regime's continued crackdowns.
Kim Jong-un hinted at a Covid-19 crisis in North Korea. The country's leader didn't say exactly what the "crucial case" was, but blamed officials for not implementing health-related measures.
---
What to watch for
The EU's new vaccine passport scheme starts today. The EU Digital COVID Certificate proves that the traveler has been vaccinated against Covid-19, received a negative test result, or recovered from the disease.
But travelers can only use one of four approved vaccines:
BioNTech/Pfizer (Comirnaty)
Moderna (Spikevax)
AstraZeneca (Vaxzevria)
Johnson & Johnson (Janssen Covid-19 vaccine)
Covishield, which is biologically identical to Vaxzevria, but made in India and distributed widely there and in Africa, does not have market authorization in the EU. This means that millions of fully vaccinated Africans and Indians, who have taken the same vaccine as millions of Europeans, could remain locked out of the EU unless the rules change. On Wednesday, India put in a formal request for the bloc to accept vaccination certificates for recipients of Covishield and Covaxin, a homegrown jab made by Bharat Biotech.
---
Mapping US high-speed rail potential
The US trails the rest of the developed world in constructing high-speed rail service (or just rail service generally). But last week developers in Texas signed a $16 billion contract to begin work on a railway that could transport riders between Dallas and Houston in just 90 minutes.
Camille Squires looked at similar metro areas—those with 10-14 million total residents combined and located between 150 and 500 miles from each other (as the crow flies)—to identify other potential routes. Hey, if Texas can make it work…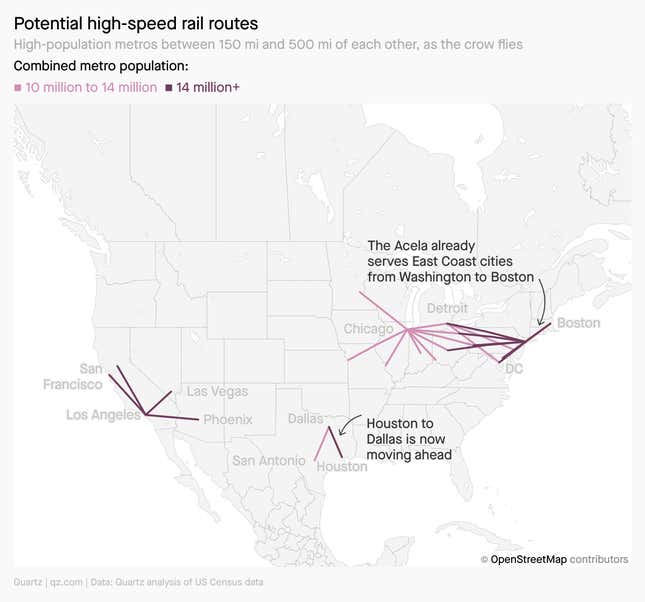 ---
The shipping container shortage that's snarling global trade
Shipping containers are the lifeblood of world trade, but lately, they've been in short supply in the places where they're needed most. The shortage is yet another symptom of the havoc the pandemic has wrought on international supply chains. As a result, freight costs are rising, which in turn leads to higher prices for consumer goods.
Here's a snapshot of the problem, by the digits:
3 weeks: Wait time for Indian exporters to find a shipping container
2 months: Delay in shipments for British exporters to east Asia
2x: Amount the price of shipping containers has increased in China
20,000: Container capacity of the Ever Given, the cargo ship that got stuck in the Suez Canal in March
80%: Proportion of the world's shipping containers supplied by just three Chinese companies
Nicolás Rivero looks at what's causing the shortage and how long it's expected to last.
Handpicked Quartz
(Psst. 👇 We took the first story out from behind our paywall because it's that important.)
💉 India's vaccine diplomacy is at the center of a procurement scandal in Brazil
😰 The four ways that organizations deal with doubt
📬 Facebook is coming for your email inbox
🤳 Which African country has the best-value mobile internet?
🌴 Thailand, battling a third wave, is opening Phuket to quarantine-free tourism
🇨🇳 Global opinion of China's handling of Covid-19 is now dramatically more positive
---
Surprising discoveries
Miss USA will have its first openly trans contestant. Kataluna Enriquez is the new Miss Nevada.
Togo performed an exorcism on a plane that had been struck by lightning. An offering was made to Hiébiésso, the "divinity of thunder."
New research shows dinosaurs were already on their way out. The asteroid just finished the job.
Google and Microsoft's truce is over. They're ready to start suing each other again.
The M&M stacking world record has been broken. It's only five of them.
---
---
Our best wishes for a productive day. Please send any news, comments, candy towers, and dinosaur condolences to hi@qz.com. Get the most out of Quartz by downloading our iOS app and becoming a member. Today's Daily Brief was brought to you by Hasit Shah, Camille Squires, Nicolás Rivero, Susan Howson, and Liz Webber.