Good morning, Quartz readers!
Was this newsletter forwarded to you? Sign up here. Forward it to a friend, and then see if they send you a congratulatory note.
---
Here's what you need to know
Robinhood filed to go public. The retail investment platform earned $7.5 million in 2020, its first profitable year, according to documents sent to the SEC.
130 countries have agreed to a 15% global minimum corporate tax. Previously reluctant China and India are now on board.
The US handed Bagram airfield back to Afghanistan. For nearly 20 years, the base was the epicenter for the "war on terror."
H&M sales fell in China. The 23% drop in the first quarter of 2021 could be the result of boycotts that followed company statements on alleged human rights abuses in Xinjiang province.
A wealth management firm wants to withdraw from Britney's conservatorship. Bessemer Trust was about to take over as co-conservator, but now says recent revelations from the singer have changed its mind.
The town at the center of Canada's deadly heatwave burned down in a wildfire. This footage shows flames engulfing Lytton, British Columbia.
US sprinter Sha'Carri Richardson reportedly tested positive for marijuana. If confirmed, the world-leading athlete would miss the Olympic Games.
---
What to watch for
The US June jobs report is out today—it's an important indicator of labor shortages and inflation expectations, as well as the Fed's future plans. Analysts are predicting 700,000 new jobs, which would be a big uptick from May. ADP's monthly report of private payrolls showed companies added 692,000 workers in June, above expectations but down from 886,000 in May.
All signs point to continued unpredictability ahead:
💵 While CEOs can't stop talking about the labor shortage, workers holding out for higher wages shouldn't surprise low-paying employers—especially in the restaurant industry.
👋 Dissatisfied workers are quitting and retiring in record numbers. (If you're thinking about leaving your job, our chatbot can tell you if it's the right move.)
🍦 There's a bright spot for 16- to 19-year-olds: It's the best year in decades for teens to get summer jobs.
---
Mapping offshore wind potential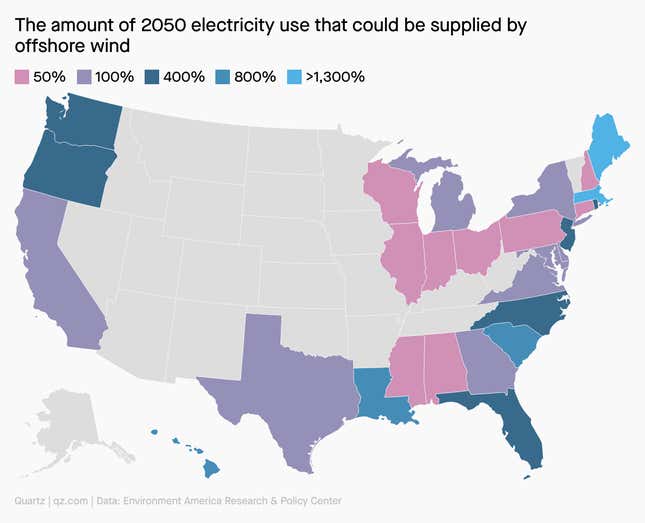 Offshore wind is a huge opportunity for the US but the fishing industry is worried about its businesses. Notably, the lobster industry pushed for the moratorium on wind farms near Maine's coast that advanced through the local state legislature this week.
Maine is now set to study the effect of wind turbines operating in its waters, but Europe's been researching the effects of wind on lobstering areas for years. What it's learned can help steer both wind and fishing industries in the US.
---
Satellites are making pollution harder to hide
In May, the shipping vessel X-Press Pearl suffered a catastrophic fire and sank, spilling its cargo of chemicals and microplastics into the sea. Residents are already seeing devastating impacts on local marine life. The owner of the ship and Sri Lanka's government say that no oil has spilled from the vessel.
Satellites disagree. Analysis of radar data (shown below overlaid on a satellite map in Orbital's dashboard) suggest that hundreds of tons of oil spilled from the vessel, represented in gray.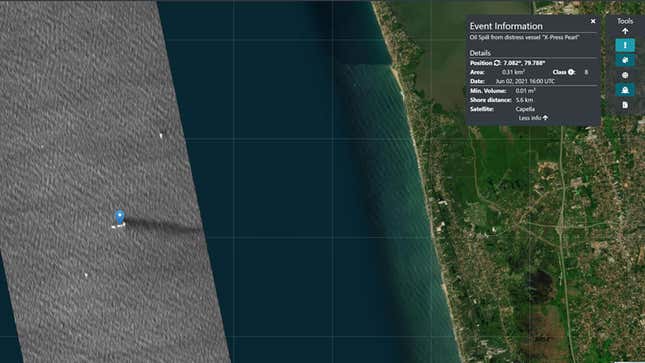 Data like these, from the newest generation of small satellites, can help emergency responders, but could also be used as evidence in legal disputes over who is liable for the consequences of this disaster.
✦ Satellites never sleep, and we're covering what the eyes in the sky can and can't do for those of us on Earth. If your own eyes are having a tough time staying open lately, you're not alone. Take advantage of our Sleep Week sale, and grab a membership for 40% off—just use code SLEEPWEEK.
Handpicked Quartz
(👇 The first one is so good, we took it out from behind the paywall.)
🌊 A ruling on Olympic swim caps evokes decades of racism in the sport
⚔️ Both "made in India" vaccines are in the middle of international political storms
📜 Read Xi Jinping's full 100th anniversary speech and then notice who sends their congrats
🙃 The world's social media giants admit they can't protect women online
📦 An analysis of 250 retailers shows what online shopping does to profit margins
🍿 India's renewable energy sector is set to witness a clash between the country's two richest men
---
Surprising discoveries
A Chinese police academy is auctioning off dogs who didn't make the cut. Cowardly, small pups who weren't great at following commands will find new homes with civilians.
It didn't take long for ancient Sicilian elephants to shrink to the size of horses. New research shows it could have happened in as few as 40 generations.
Jeff Bezos is bringing an aerospace pioneer on his Blue Origins flight. Wally Funk, 82, trained to be an astronaut in 1961 but NASA never let her fly.
The toilet on SpaceX's Crew Dragon will have a 360-degree view. It's located inside the glass dome at the nose of the spacecraft.
Bull sharks make friends with each other—and exclude others. "You can't swim with us!"
---
---
Our best wishes for a productive day. Please send any news, comments, cowardly dogs, and companionable sharks to hi@qz.com. Get the most out of Quartz by downloading our iOS app and becoming a member. Today's Daily Brief was brought to you by Hasit Shah, Tim Fernholz, Clarisa Diaz, Susan Howson, and Liz Webber.