Good morning, Quartz readers!
Was this newsletter forwarded to you? Sign up here, and forward this email to a friend who watched sports all weekend.
---
Here's what you need to know
Cubans are protesting against their government. In a rare show of dissent in the tightly controlled island, thousands are demonstrating over the handling of the pandemic, and economic issues.
G20 finance leaders acknowledged that carbon pricing could help fight climate change. It's one of a "wide set of tools" that could be used to reduce emissions worldwide.
California is burning. Western US states are experiencing an intense heatwave, numerous wildfires, and power outages.
Taiwanese tech giants are buying up Covid-19 vaccines. Foxconn and TSMC will purchase 10 million Pfizer shots, worth around $350 million, and donate them to the government.
China pushed back against US blacklistings. It described the latest American move as "a serious breach of international economic and trade rules" and an "unreasonable suppression."
Richard Branson went to the edge of space. His flight, just nine days before that of fellow billionaire Jeff Bezos, marks the beginning of the age of space tourism.
Italy won Euro 2020. It beat England in European men's soccer's biggest game. Meanwhile, Argentina won the Copa América, while tennis stars Ashleigh Barty and Novak Djokovic took home the Wimbledon singles' titles.
---
What to watch for
Elon Musk takes the stand in Delaware in a trial over an old deal. In 2016, Tesla paid $2.6 billion to acquire home solar energy company SolarCity; Musk was chairman of both companies at the time. Shortly after the deal went through, the world learned that SolarCity wasn't just in debt, as was previously thought—it was insolvent.
The plaintiffs in this case, primarily pension funds that owned Tesla stock, claim that the deal was effectively a bailout and did little more than enrich Musk himself.
The question at hand is whether Musk orchestrated the deal. If he loses, he'll have to pay back the $2 billion or so; some speculate it could even threaten the future of Tesla. If he wins, it will be yet another lawsuit from which Musk escapes scot-free.
---
Charting the spike in denim sales
After 15 years of skinny jeans, we're entering a new "denim cycle." Between changing styles and altered waist sizes, lots of people are in the market for jeans again. That's good news for Levi's, which saw its total sales rise 156% in the three months ending May 30 versus the same period last year.
Granted, the comparison was against last year's pandemic plunge in denim sales, so there was practically nowhere to go but up. But Levi's CEO Chip Bergh is optimistic that these factors could drive denim sales for years to come.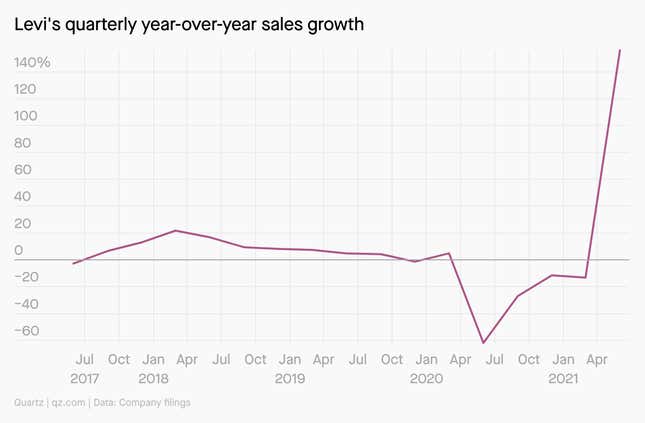 ---
Ethical investing by the digits
Investors are increasingly putting their money in line with their values. They're taking special interest in companies that adhere to high standards for ESG—environmental, social, and corporate governance criteria.
~$40 trillion: Money held in ESG assets worldwide
$53 trillion: Total of ESG assets worldwide by 2025, according to Bloomberg Intelligence
1/3: Proportion of global investments that could be ESG by 2025
90%: Millennials active in the markets who say they believe in sustainable investing, according to a 2019 study by Morgan Stanley
$285 billion: How much ESG funds grew in 2020 alone, a 96% increase over 2019
✦ Can sustainable investing work? Find out the answer to this and many more questions with Quartz membership. Try a week on us.
Handpicked Quartz
(👇 The first one is so good, we got rid of its paywall.)
🍞  Zimbabwe's new high-denomination banknote can't buy a loaf of bread
🏃  Politics are coming for the "apolitical" Olympics
💸  The Fed's digital dollar could bring millions into the digital economy
🔌  Biden's executive order will restore net neutrality—if Congress cooperates
⚽  How do Nigerians identify with England soccer hero Bukayo Saka?
🌏  The IMF wants poor countries' debt erased in exchange for climate action
---
Surprising discoveries
Beyond Meat's plant-based chicken is here. It apparently chews like the real thing.
Black Widow broke box office records. The film raked in an estimated $87.8 million over the weekend, the biggest debut this year, proving that nothing can fill theaters quite like Marvel can.
Tree DNA was used in court. It helped convict a Washington man who stole timber and then started a forest fire.
A toilet at a South Korean university drives a digital currency. The waste becomes biogas that powers a building, and the people who use it earn enough to buy a cup of coffee.
Giant pandas are no longer endangered. China says conservation efforts have worked.
---
---
Our best wishes for a productive day. Please send any news, comments, non-skinny jeans, and meatless chicken to hi@qz.com. Get the most out of Quartz by downloading our iOS app and becoming a member. Today's Daily Brief was brought to you by Hasit Shah, Marc Bain, Lila MacLellan, and Alexandra Ossola.