Good morning, Quartz readers!
Was this newsletter forwarded to you? Sign up here, and forward to your friend who's not into social media.
---
Here's what you need to know
The Biden administration is set to issue a warning about doing business in Hong Kong. The president himself says the situation there is "deteriorating," while China wants its tech companies to shift from the US to HK.
The Covid-19 lab leak theory is still alive. World Health Organization chief Tedros Adhanom Ghebreyesus said it was "premature" to rule it out, and he wants more access to China's data.
Intel is reportedly in $30 billion talks to buy chip maker GlobalFoundries. That's according to the Wall Street Journal, while Taiwan's TSMC expects the chip shortage to continue into 2022.
Paytm filed its prospectus for a $2.2 billion IPO. The Indian digital payments company, backed by SoftBank, Berkshire Hathaway, and Ant Group, follows in the slipstream of Zomato's IPO earlier this week.
Revolut became the UK's most valuable startup. The six-year-old digital banking and payments company is now worth £24 billion ($33 billion) following its latest funding round.
More than 80 people are dead in Germany's catastrophic floods. Hundreds more are feared missing after heavy rains in the west of the country.
An 18-year-old student will join Jeff Bezos in space. Oliver Daemen, whose rich dad bought him a seat, joins the Blue Origin crew, while the anonymous bidder who spent $28 million on his ticket has a "scheduling conflict."
---
What to watch for
In the contest for the most number of World Heritage Sites, Unesco will break the tie between China and Italy during its annual meeting in Fuzhou, China. A 21-member committee is expected to add the ancient coastal city of Quanzhou in eastern Fujian to the list of 1,121 places with "outstanding universal value."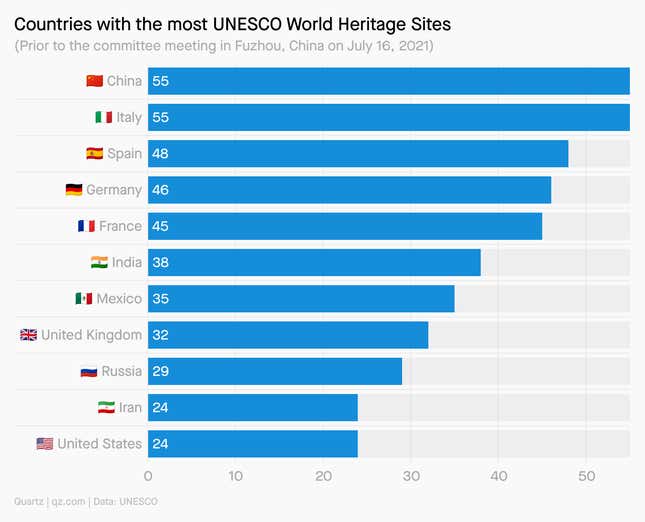 The United Nations' cultural arm has a particularly onerous workload (link in Chinese) this year as it powers through a backlog of 45 applications to the World Heritage List and 258 site protection reports. Getting on the list is an ordeal—about a year and a half's worth of paperwork, lobbying, and presentations—but those who triumph can expect a healthy boost in tourism and conservation efforts.
---
Charting artists' streaming income
An influential group of British lawmakers wants a "complete reset" of music streaming's business model, so that artists can earn a fairer share of the revenues made by giant companies like Spotify, Amazon, and Apple.
The UK Department for Digital, Culture, Media, and Sport, which heard testimony from more than a hundred artists, record labels, producers, and streaming companies since last October, found that musicians and songwriters make "pitiful returns"—if they make anything at all. In its report, the committee backed a different model, closer to music broadcast over the radio, or DVDs rented from libraries.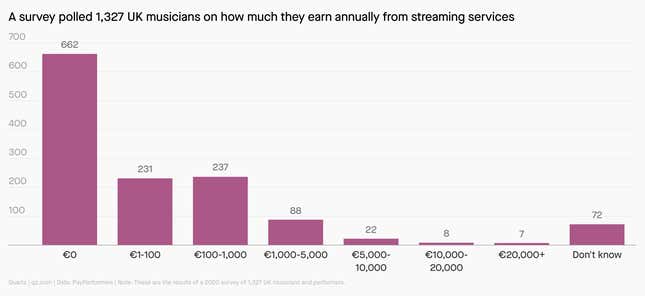 ---
What's in your basket?
When economists calculate inflation, they're trying to determine how prices have risen or fallen across products and services. But since they can't track every item, they make up a "basket"—a collection of specific products and services based on how people live and what they typically consume in the economy.
The basket is divided into broad categories that are common across countries and then weighted, to show how much of an average household budget is spent on those goods and services. A country may tinker with the weights assigned to categories as well, to reflect changes in spending habits or the economy over time. Our interactive tool illustrates how these baskets reflect cultural patterns and levels of economic development.
✦ Inflation is a tricky subject, but we're here to untangle it for you. Support what we do—and read every bit of it—by trying out a membership.
---
Handpicked Quartz
(👇 The first one is so good, we decided to drop its paywall.)
🔮 Three factors that will determine the timing and magnitude of India's third wave of Covid-19
💉 Why the vaccine is crucial in the fight against the delta variant
👶 The families that could miss out on US Child Tax Credit payments
🔢 The real opportunity in space business is data, not tourism
👊 There's still only one way for authoritarians to control the internet
👤 Meet the new gatekeeper for Chinese companies seeking to go public in the US
---
Surprising discoveries
A suitcase full of cocaine fell from the sky in Italy. The €9 million ($10.6 million) shipment missed its intended target and landed on a bystander's roof.
Golden retrievers helped cheer up Surfside first responders. The comfort animals are trained to interact with people in times of crisis.
McCormick is scouting a director of taco relations. The spice company gig pays $100,000.
Beware of online ads for semiconductors. Con artists are taking advantage of the global chip shortage.
Many Japanese calendars put two holidays on the wrong dates. They were printed before this year's Marine Day and Sports Day were moved because of the Olympics.
We'll have all the Olympics fun facts, delivered to you (almost) daily.
---
---
Our best wishes for a productive day. Please send any news, comments, comfort dogs, and correct holiday dates to hi@qz.com. Get the most out of Quartz by downloading our iOS app and becoming a member. Today's Daily Brief was brought to you by Hasit Shah, Samanth Subramanian, Amanda Shendruk, Anne Quito, Liz Webber, and Susan Howson.