Good morning, Quartz readers!
Was this newsletter forwarded to you? Sign up here. Forward to a friend or co-worker who could use some feedback.
---
Here's what you need to know
The UK wants to renegotiate post-Brexit trade rules with the EU. Brexit minister David Frost has termed the Northern Ireland protocol unsustainable, but the European Commission isn't having it.
Volvo is buying out Geely. The Swedish automaker will take over its joint ventures with the Chinese car manufacturer, which should make an IPO more appealing to investors.
Floods continued to wreak havoc in China's Henan. At least 25 people have died in the capital city Zhengzhou, while an estimated 1.2 million people have been affected in the province. Meanwhile, Germany's cabinet OKed $472 million for flood aid. 
Israel is reportedly setting up a task force to review the Pegasus project. The investigation will ascertain whether "policy changes" are needed for sensitive cyber exports.
The Olympics lost its opening ceremony director. Kentaro Kobayashi was removed after reports surfaced that the comedian had made Holocaust jokes in the past. On Monday, a music composer for the event resigned due to a backlash over his bullying of a disabled classmate.
China fined tech giants for content deemed unsafe for children. Kuaishou, Tencent's messaging tool QQ, Alibaba's Taobao, and Weibo were the latest targets of Beijing's ongoing crackdown on tech firms.
Johnson & Johnson expects $2.5 billion in global Covid-19 vaccine sales this year. The pharma giant believes more than half of the projected sales will come in the fourth quarter even as researchers find its shot slightly less effective against the delta variant.
---
What to watch for
The European Central Bank reveals its latest set of short-term interest rates today. Currently, the deposit rate for banks is -0.5%, which means that financial institutions effectively pay the central bank to store their excess reserves, and it's likely to stay that way.
€ Negative rates prevent speculation on the euro, reducing yields to such an extent that foreign investors are deterred, and keeping the currency's value low and stable.
💸 Rather than paying the central bank for storage, lenders are encouraged to lend. Sure, they won't make any money, but it's still better than seeing their existing assets reduce in value, and gives a huge boost to broader economic activity.
🏠 But if lenders don't make any money from lending, products like mortgages might actually become more restricted. Further, people are less likely to deposit their cash in a bank if it earns nothing in interest.
---
Charting cyber insurance premiums
The recent rise of sophisticated ransomware gangs is scrambling the cyber insurance business model. Existing premiums haven't been enough to cover losses, so insurers are hiking premiums at a fast clip.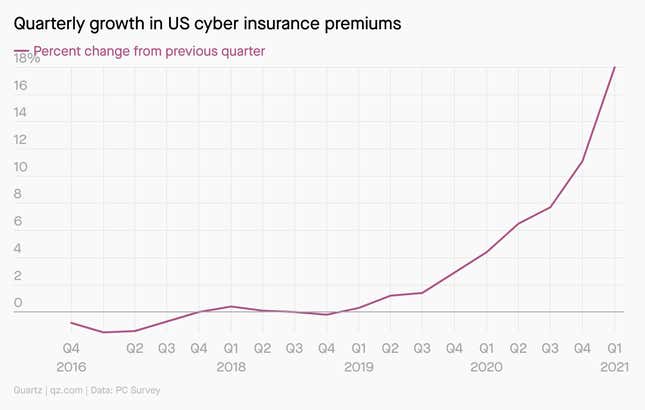 Ransomware attacks were responsible for all of the growth in US cyber insurance claims last year, and now account for 75% of all cyber claims. In other words, cyber insurers are now almost entirely dedicated to covering one type of risk—ransomware—that barely existed five years ago.
---
Hong Kong doxxing rules alarm US tech firms
Yesterday, Hong Kong's legislature began debating new legal rules that would criminalize doxxing, the practice of publicly disclosing someone's private information. An industry group representing major tech firms says the proposals could force companies to cease offering their services in Hong Kong.
In a letter, the Singapore-based Asia Internet Coalition—which counts Amazon, Apple, Facebook, and Google among its members—outlined two major concerns:
What constitutes doxxing isn't clearly defined in the bill, which could lead to overly broad interpretations that criminalize innocent acts of information sharing.
Given the extraterritoriality of the new rules, an alleged doxxing disclosure made on an overseas social media platform would still be subject to take-down orders—and Hong Kong-based employees could be held criminally liable for failing to comply.
However, the Hong Kong legislature no longer has an opposition, so the new rules are almost certain to be rushed through as quickly as possible and rubber-stamped.
✦ We're watching the small changes in China that will have outsize effects elsewhere in our Because China Obsession. You'll need a Quartz membership to unlock all of our coverage—try it free for a week.
---
Handpicked Quartz
(👇 We found the first one so fascinating, we dropped its paywall.)
🚀 The problem with Jeff Bezos's road to space
🗳 Brisbane 2032 is the first test of the Olympics' new host-city bidding system
🥱 Netflix is not impressed by any of the media companies it can buy
🏛 African immigrants are uniquely poised to influence US policy
🍴 These businesses are saving thousands by replacing single-use plastic
💌 Vaccination could be the new currency for online dating in India
---
Surprising discoveries
Liverpool is no longer a UNESCO world heritage site. In its decision, the UN's heritage body cited "irreversible loss" to historic areas like the city's Victorian docks.
One stray character prevented Chromebook users from logging in. A Chrome OS update included an extra "&" in a line of code.
The modern human genome is pretty similar to our ancient relatives'. Only 1.5%-7% is uniquely human.
China's new maglev train can hit 600 km/h (373 mph). It could travel the 1,000 km between Beijing and Shanghai in 2.5 hours—if the tracks existed.
A trove of Jurassic-era fossils was unearthed in the UK. The dig site likely contains tens of thousands of specimens of echinoderms like sea urchins and starfish.
---
---
Our best wishes for a productive day. Please send any news, comments, coding typos, and ultra-fast trains to hi@qz.com. Get the most out of Quartz by downloading our iOS app and becoming a member. Today's Daily Brief was brought to you by Hasit Shah, Nicolás Rivero, Mary Hui, Jane Li, Priyanka Vora, and Liz Webber.