Good morning, Quartz readers! We apologize that this brief, like the Olympics, was delayed.
Was this newsletter forwarded to you? Sign up here. Forward to your Croc-wearing friend.
---
Here's what you need to know
The Tokyo Olympics are finally here. From 6:55am US eastern time you can watch the opening ceremony live on NBC. Read more below.
The funeral of Haiti's president is stoking tensions. Jovenel Moïse, who was assassinated this month in a sprawling plot with a wide cast of suspects, will be buried today amid protests and violence.
The Pfizer vaccine may be a lot less effective against Delta. A study out of Israel put its efficacy at preventing infections from the variant at just 39%, but the findings may be skewed by different testing protocols for the vaccinated and unvaccinated, the researchers said.
The US placed sanctions on Cuban officials for attacks on protesters. It's "just the beginning," said president Joe Biden, who is facing pressure domestically to show support for the demonstrators.
China is deepening a crackdown on online tutoring. According to Bloomberg, Chinese officials are mulling plans to turn private tutoring companies into nonprofits in a bid to make raising children less expensive and stressful.
Italy is expanding its health pass. Following a similar move in France, Italians will need a vaccine or negative Covid-19 test to enter museums, restaurants, and other indoor spaces.
India is considering how to roll out a digital currency. The Reserve Bank of India is looking into pilot programs, days after European central bankers discussed similar plans.
---
What to watch for
While some preliminary events have already taken place, the Olympics officially kick off today with the opening ceremony in Tokyo. The show will happen without its director and composer, who stepped down this week after past bad behaviors came to light. There will also only be a limited number of VIP guests to view it live because, you know, the whole pandemic thing.
Here's what we'll be watching at the opening ceremony and beyond:
👚 With names like Ralph Lauren, Armani, and Lacoste designing the national uniforms teams wear, the parade of nations might as well be a runway show.
🦠 At least 91 participants in the Games had tested positive for Covid-19 as of Thursday.
🦚 NBCUniversal is betting big on its streaming service, Peacock, which will be the only way Americans can watch certain major events live.
📺 The diminished Games hasn't deterred big-spending advertisers—except Toyota, which won't run Olympics-themed spots in Japan.
Want more highlights as they happen? Sign up for our free (almost) daily newsletter, Need to Know: Tokyo Olympics.
---
Charting how Americans spent their time during the pandemic
Despite what it may have felt like, new data from the US Bureau of Labor Statistics show that Americans living with children didn't actually spend much more time actively watching children in 2020 than they did in 2019. Parents simply swapped the hours they would have spent doing things like picking up and dropping off kids at school with education-related activities at home.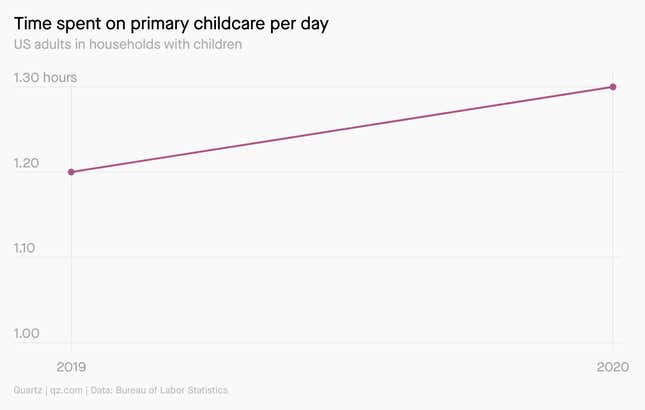 One activity that did see an increase was the amount of time spent on secondary care—when an adult has a child under their care while busy with other things—but the burden was worse for women than for men. The data also show women still did more housework than men during the pandemic.
---
A bumpy ride for global vaccines
Even as most adults in the US and Europe can or will shortly be able to get a Covid-19 vaccine, much of the rest of the world is still struggling to inoculate even the most vulnerable citizens. Recent efforts to increase supply and improve distribution have been spotty at best.
💉 Pfizer and BioNTech's partnership with a South African pharmaceutical company to handle manufacturing for their Covid-19 vaccine for distribution in Africa is a welcome announcement given that just 1.4% of people on the continent are fully vaccinated.
💉 In addition to an ongoing investigation in Brazil, India's Bharat Biotech now faces scrutiny in Paraguay and the US, which is bad news for its Covaxin jab.
Got a Covid-related query? Drop us a line.
Handpicked Quartz
(👇 We found the first one so fascinating, we dropped its paywall.)
✈️ More than 450 airlines can now use IBM's blockchain-based vaccine passport
🐊 Crocs are now mainstream footwear, like it or not
🚀 Blue Origin is still catching up to Elon Musk's SpaceX
🚧 The US is worried about India's "new protectionist measures"
🤐 A legendary Chinese dissident blogger has suddenly fallen silent
🙌 Covid-19 is changing the way African countries are collaborating with each other
---
Surprising discoveries
Duke surgeons installed the first total artificial heart. Unlike other artificial hearts, this one mimics the design of actual hearts and gives the recipient more independence.
Bill Clinton said no to tea with Queen Elizabeth. Newly released records show the US president preferred to eat Indian food and go sightseeing on a 1997 trip to the UK.
Sydney cockatoos teach each other to dumpster dive. As the birds learn to open garbage lids, foraging from bins has spread from three to 44 suburbs in three years
NASA offered a look inside Mars. New research peels back the layers of the planet's interior.
The universe is a giant doughnut. A new theory suggests all existence is in the shape of a vast 3D torus.
---
---
Our best wishes for a productive day. Please send any news, comments, royal tea invitations, and universes in the shape of breakfast foods to hi@qz.com. Get the most out of Quartz by downloading our iOS app and becoming a member. Today's Daily Brief was brought to you by Annabelle Timsit, Tripti Lahiri, Lila MacLellan, Oliver Staley, and Liz Webber.