Good morning, Quartz readers!
Was this newsletter forwarded to you? Sign up here. 
Here's what you need to know
"A pandemic among the unvaccinated." President Joe Biden's chief medical adviser Anthony Fauci said the US is "going in the wrong direction" as the delta variant spreads.
Heathrow's boss urged the UK government to open up travel for the vaccinated. The London airport, formerly one of the world's busiest, has lost more than $4 billion in the pandemic.
Tencent shares fell after another Chinese government order. Citing concerns about monopoly power, China told the tech giant to end exclusive music licensing deals.
Typhoon In-fa made landfall in eastern China. More than 100,000 people and hundreds of vessels were evacuated; in Shanghai, flights in and out of the city's two main airports were canceled, and high-speed rail travel was suspended.
A once-a-day pill for Covid-19? Japanese drugmaker Shionogi started human trials of its coronavirus medication, the Wall Street Journal reports. The pill would compete with Pfizer and Merck's twice-daily regimens, which are in later-stage testing.
A 13-year-old skateboarder won gold in Tokyo. Japan's Momiji Nishiya beat two other teenagers—another 13 year old and a 16 year old—to win the women's street skateboarding title in the event's Olympic debut.
What to watch for
Robinhood is expected to list this week after a weekend roadshow that was livestreamed to the public. The commission-free trading pioneer is hardly the first company to meet with prospective investors online in the pandemic. But as Quartz's Marc Bain explains, its roadshow event was different from the usual in several ways. Among them:
💸  It was aimed at retail investors.
🗓️  It was held on a Saturday.
🙋  It invited questions in advance.
---
Charting high-end hotel rates in India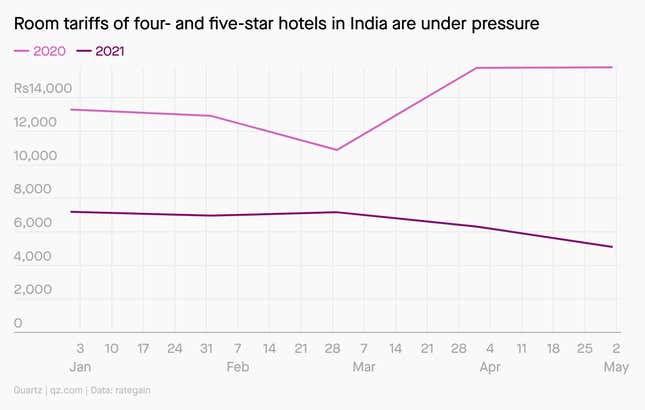 The dropoff in international travel to India has been devastating to the country's hotel industry, particularly for higher-end properties. According to Rategain, a hospitality tech firm that works with some of the leading hotel chains in India, "two- and three-star hotels are witnessing a recovery in prices while four- and five-star hotels continue to suffer erosion in prices."
It's not just the lack of foreign tourists putting pressure on room rates; Indian city-dwellers are increasingly attracted to long-term rentals away from major urban areas. Read more here.
---
Best-laid plans
The last time Tokyo hosted the Olympics in 1964, the city used the event as an opportunity to debut the Shinkansen bullet train, which became the world standard for high speed rail. For this Olympics, the city went to great lengths to ensure that its already-stretched train system could withstand the extra demand of 800,000 additional users every day of the games. That was before the pandemic, of course. Quartz members can read more about how a spectator-free Olympics upended Tokyo's big transit plans.
Unlock this story—and all of Quartz's journalism—by becoming a member of Quartz.
---
Handpicked Quartz
(👇  We found the first one so fascinating, we dropped its paywall.)
📡  Why the US can't just beam internet into authoritarian states like Cuba
🛍️  Hong Kong's $4.6 billion spending stimulus can't revive retail without tourists
🖼️  A new London exhibition aims to bring female African artists into the mainstream
🌏  These are the countries where the delta variant of Covid-19 is now dominant
🛹  Skateboarding's first Olympic gold medal went to a Nike athlete
☝️  We're so obsessed with the Olympics (and sneakers) that we dropped the paywall on that last story. Want more Olympic trivia and highlights from the Games as they happen? Sign up for our free, nearly daily newsletter, Need to Know: Tokyo Olympics.
---
Surprising discoveries
Pole vaulting originated as an alternative to bridges. Before it was an Olympic sport, it was just a convenient way for northern Europeans to cross streams and canals.
Val Kilmer didn't want to do Top Gun. The actor says in a new documentary he thought the script was "silly" but he was under a studio contract, and had no choice.
The CEO of Philip Morris called on the UK to ban cigarettes. The tobacco company's top executive believes their sale should be outlawed within a decade.
Amateur paleontologists used Google Earth to find a cache of rare fossils. A couple in the UK scoured the site during pandemic lockdowns to come up with locations for their next dig.
A Chinese weightlifter won Olympic gold on one leg. Li Fabin said the so-called "flamingo stance" helps him correct his balance.
---
---
Our best wishes for a productive day. Please send any news, comments, livestream roadshow links, four-star hotel room quotes to hi@qz.com. Get the most out of Quartz by downloading our iOS app and becoming a member. Today's Daily Brief was brought to you by Hasit Shah, Marc Bain, Heather Landy, Niharika Sharma, and Camille Squires.