Good morning, Quartz readers!
Was this newsletter forwarded to you? Sign up here. Forward to your favorite Canadian.
---
Here's what you need to know
Simone Biles withdraws from a second Olympic event. The American gymnast won't defend her all-around title in Tokyo on Thursday, citing a need to focus on her mental health.
The US changed its stance on indoor masking for the fully vaccinated. The CDC is going back to recommending that those who have received their jabs wear masks indoors, at least in some circumstances, in light of the highly contagious Delta variant.
Hearings began on the Jan. 6 US capital attack. A House Congressional committee heard testimony from Washington DC police officers assaulted by a mob of Trump supporters who stormed the Capitol leaving at least four people dead.
Beijing's regulatory crackdown caused a slump for Chinese stocks in the US. The Nasdaq Golden Dragon China Index, a group of Chinese companies listed in US markets, fell by nearly 15% within two days, the biggest drop since 2008.
The IMF warned of a widening gap between poor and rich countries. The organization forecast 6% global growth in its latest World Economic Outlook report while warning of a sluggish recovery in emerging economies.
​​Goldman Sachs plans to create an ETF for blockchain and decentralized financial firms. The investment bank told federal regulators it wants to give investors the chance to back the "digitalization of finance."
---
What to watch for
Pfizer, the first pharmaceutical giant to commercialize a Covid-19 vaccine, will report its second quarter earnings on Wednesday. Its shot has already been widely used in the US, and the EU has ordered more than 2 billion doses by 2023. Yet those billions of dollars in new revenue haven't done much for Pfizer's valuation. But the company's fortunes may change. Here's what we're watching:
💉 Booster shots: Countries may begin pushing booster shots for the most vulnerable to Covid-19 (and possibly roll the vaccination into annual flu shots). Both could be shots in the arm for Pfizer.
🏅 FDA approval: New vaccine recipients are likely. The US has granted emergency approval for the vaccines to adolescents, and approval for children under 12 is expected by mid-winter.
🩺 Mandates: A flood of requirements from government agencies, corporations, and San Francisco bar owners means people hesitant to get the shot may change their mind.
---
China tries to kick its coal habit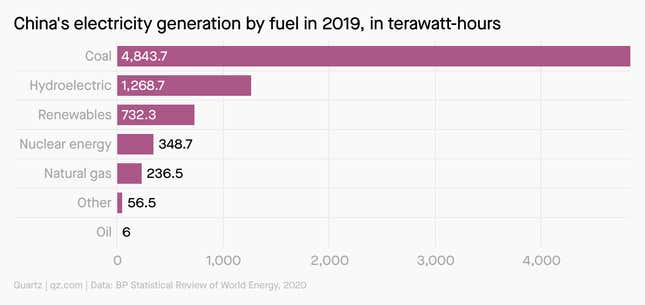 China is the world's biggest greenhouse gas emitter. That's largely thanks to coal. Without eliminating its coal emissions (along with those from Europe and the US), prospects for a stable climate are toast.
But coal consumption continues to rise in China (even as solar and wind expand). China's solution? Go big. Rather than kick its coal habit, China plans to reform its sector by letting its oldest, least efficient, and most polluting plants close first, and then boost generation from its biggest, most efficient plants as energy demand rises. Whether that will put a dent in carbon emissions remains to be seen.
---
When speed matters
Everyone wants chips these days. Automakers, smartphone manufacturers, and PC companies are jockeying to secure the coveted electronics. But few are as desperate as gamers who have been nearly shut out of the market for graphics cards to speed up their video games. So desperate in fact, they're resorting to extreme measures to secure them. Here are a few things people are doing for the chance to buy a graphics card at the low, low price of $1,800.
🚨 YouTube broadcasts: Silent livestreams play in the background until a piercing alarm announces a graphics card has been listed for sale somewhere on the internet.
🎟 Online raffle: 100,000 gamers sign up daily to buy an overpriced graphics card bundled with unneeded computer equipment.
⛺️ Tents: Many have resorted to camping outside of brick-and-mortar stores until shipments arrive.
🤖 Bots: Software constantly trawls retail listings and automatically buy chips.
✦ Dive deep into the workings of the global economy's supply chains. Not yet a member? Try it free for a week.
Handpicked Quartz
(👇 We found the first one so fascinating, we dropped its paywall.)
🥇 It took a woman to end the Philippines' 97-year Olympic gold medal drought
🇨🇦  Why have Canadian dads pulled ahead of American fathers in parenting?
🚙 Ride sharing reduced US drunk driving deaths by 6%
☀️ A new Austin community will come standard with Tesla solar panels and batteries
🤸🏽‍♀️ The two biggest names at the Tokyo Olympics stumbled on the same day
---
Surprising discoveries
A man in Florida tried to "run" to New York on water. He failed.
New residents are flooding into drought-stricken counties. The fastest-growing places in the US are also some of the driest.
A small town in Italy hand-delivers salt to the pope. For centuries, salinaros, or salt pickers, from the coastal town of Cervia have presented the sitting pope with their famous salt.
Swimming is better for the brain than other forms of exercise. It has a particularly positive impact on memory, cognitive function, and mood, but scientists aren't quite sure why.
Earth's interior is swallowing up more carbon than thought. Scientists are learning more about deep Earth carbon capture.
---
---
Our best wishes for a productive day. Please send any news, comments, video game graphics cards, and salt shakers to hi@qz.com. Get the most out of Quartz by downloading our iOS app and becoming a member. Today's Daily Brief was brought to you by Michael Coren, Amanda Shendruk, Camille Squires, and Liz Webber.