Good morning, Quartz readers!
Was this newsletter forwarded to you? Sign up here. Forward to the friend who is least likely to have written a check in the past five years.
---
Here's what you need to know
Ireland dropped its 12.5% tax rate. The low-tax policy, which enticed companies like Google and Facebook to Dublin, will end as part of an OECD agreement setting the global tax rate at 15%, expected to be announced today.
The US avoided default—for now. US lawmakers reached an agreement to extend the national debt ceiling until early December.
A court ruled Poland's constitution tops some EU laws. The decision called into question the power the bloc has over its 27 members.
An earthquake jolted Tokyo. The 5.9-magnitude quake injured at least 17 people and halted trains and subways yesterday.
The UK shrank its red list. Travel restrictions eased for India and 46 other countries and territories that were removed from the list.
Reliance Industries is opening 7-Eleven stores. India's largest private firm is betting on offline retail sales under a new partnership with the US convenience store chain.
The Saudi-led takeover of Newcastle United was approved. Amnesty International had argued the deal was "sportswashing" of Saudi Arabia's human rights record.
---
What to watch for
Today we'll find out who won the 2021 Nobel Peace Prize. Climate activist Greta Thunberg is rumored to be the frontrunner—she's been nominated three times, and at 18, that means she's spent a full sixth of her life being a Nobel Peace Prize candidate.
Let's recap this week's Nobel Prize winners:
✍️ Literature: Zanzibar-born novelist Abdulrazak Gurnah's writing explores identity, displacement, and loss under east Africa's complex colonial history
⚗️ Chemistry: Benjamin List and David MacMillan's work makes drug manufacturing safer and more efficient.
🩺 Medicine and Physiology: David Julius and Ardem Patapoutian's research used hot peppers to understand more about how humans sense pain, which could lead to groundbreaking chronic pain treatments.
⚛️ Physics: The efforts of Syukuro Manabe, Klaus Hasselmann, and Giorgio Parisi have all upheld grim truths about climate change.
🤖 Technology: Just kidding, there's no Nobel Prize in technology, but maybe there should be.
---
Star Trek nostalgia is a distraction from Blue Origin's ambitions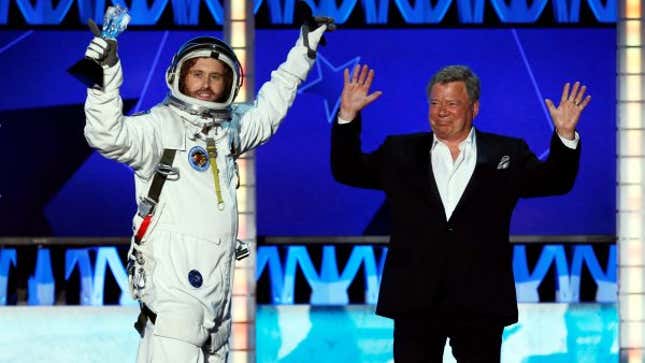 Last week, former Blue Origin director of internal communications Alexandra Abrams revealed the company's sexist, excessively demanding culture in an open letter co-written with 20 others. The Federal Aviation Administration has opened an investigation ahead of Jeff Bezos's company's next suborbital space tourism mission, expected Oct. 12.
The headline passenger? None other than William Shatner, who so famously portrayed Star Trek's Captain Kirk.
"Every space company faces a Trek temptation," says Quartz's Tim Fernholz. Especially with suborbital tourism, which is, at its core, an entertainment product whose target consumer appears to be wealthy, male Star Trek fans. But, as Tim says, "part of the problem is that science fiction only starts getting interesting once you leave the science behind." Blue Origin may seem to be aligned with the technology aspect, but Abrams's letter suggests it's ignoring the humanity that Star Trek understood so well.
For more from Tim, sign up for our free weekly Space Business newsletter.
---
A DTC unicorn goes public
Warby Parker is one of the latest entrants to the IPO club—it debuted on the New York Stock Exchange last week—and its stock has so far held steady, opening at $54 a share on Sept. 29 and closing at $50 yesterday. But Warby Parker lost $55.9 million on $393.7 million in revenue last year, and the company's vulnerabilities include everything from potential supply chain snafus to a bet on brick-and-mortar stores as an engine for growth.
>145: Warby Parker retail stores in the US and Canada
~3,000: Warby Parker employees
$536 million: Total funding raised
95%: Net revenue from eyeglasses sales in 2020
1%: The company's US market share by net revenue
Our latest Company email brings Warby Parker's IPO into focus.
✦ The weekly Company email, exclusive to Quartz members, will make sure you've got 20-20 vision when it comes to the movers and shakers of the business world. Get 40% off a Quartz membership with code QZEMAIL40.
---
Handpicked Quartz
⚡️ General Motors' electric SUV is $10,000 cheaper than Tesla's Model 3
🛫 Can Tata ensure Air India's survival?
🧩 Why Facebook's whistleblower doesn't want the company broken up
🦟 Mosquirix could help India be malaria-free by 2030
🚢 Shipping lines are tapping the brakes on skyrocketing container prices
🤔 What on Earth is Axie Infinity and why is its price going bonkers?
---
Surprising discoveries
We all learned the wrong date for the fall of Rome. The empire hummed along quite nicely for decades after 476.
We were also wrong about the timing of the moon's death. Samples returned by China's Chang'e 5 indicate our satellite's volcanoes were active for much longer than we thought.
The cars used in Bond films can sell for 1,000% more than their list price. Collectors pay a hefty premium for the vehicles of 007.
A man sued his psychic for falsely claiming she could remove an ex-girlfriend's curse. The heartbroken husband was told it would save his marriage.
The largest Lego set ever released is a 4.5-foot (1.4-meter) long model of the Titanic. It has 9,090 pieces—but still not enough lifeboats.
---
---
Our best wishes for a productive day. Send any news, comments, history book corrections, and your favorite Lego set to hi@qz.com. Get the most out of Quartz by downloading our iOS app and becoming a member. Today's Daily Brief was brought to you by Sarah Todd, Morgan Haefner, Susan Howson, and Liz Webber.