Good morning, Davos delegates and devotees!
It has been an honor to be part of your inbox during the forum. If you liked these emails, you should sign up for our Obsession email newsletter, a daily digression into the most fascinating corners of the global economy.
Expect more sun today, with a high of 6°C (43°F). Here is the ski report, in case you're curious.
What to watch for today
Which Trump will speak? Donald Trump's advisors have laid out a less antagonistic "America First" economic plan at Davos, and in interviews yesterday Trump himself seemed open to trade deals (paywall) he once derided. At 2pm, he'll deliver a speech reportedly devised by economic advisor Gary Cohn, once nicknamed "Globalist Gary." Will the speech, then, mark the point when Trump morphs into Davos Man? Don't be so sure. The president frequently rewrites speeches at the last minute himself, Treasury secretary Steve Mnuchin said this week.
Reader mail. Yesterday, we asked you for the one question you'd ask Trump in Davos, if given the chance. Our inbox was stuffed with great suggestions—here are five of the zingiest zingers:
In your mind, what's the most important thing happening in the world today?—Jonathan
Aside from those in your own delegation, what one person at Davos do you admire most, and why?—Daianna
What's the most altruistic thing you've ever done in your life? Why did you do it?—Louise
Describe how your "America First" policy strengthens US alliances and advances world order.—James
Have you watched "The Crown" on Netflix?—Pat
Generation AI. From smart toys to Alexa, artificial intelligence is increasingly prevalent in our kids' lives. Is their data safe, and how can we ensure the services are inclusive and responsible? Quartz's Jenny Anderson moderates a discussion this morning about how, if managed properly, AI can prepare kids for a brave new world. With British digital and cultural secretary Matt Hancock, Sinovation Ventures' Kai-Fu Lee, and others.
Happy Friday! Today is your last day to catch the eye-opening "pandemic threat simulation" run by Richard Hatchett, head of the Coalition for Epidemic Preparedness and Innovations. "The likelihood of a pandemic is, you know, one," he told Quartz. "It will happen."
Who won day three?
Perhaps the most surreal moment of this year's forum was Donald Trump's entrance in the Congress Center, where a massive crowd gathered to watch the president ascend some stairs.
The CEO of a major consumer-facing company told Quartz that sweeping corporate tax cuts weren't enough to convince the company to invest more in the US on their own; Unilever chief Paul Polman was invited to a dinner Trump hosted for European bosses, but opted to promote the importance of play in early childhood education instead. Still, there's no denying that Trump was the dominant figure of the day.
More highlights from yesterday
Don't mention the "B" word. Theresa May tried a new tactic for her second time on stage in Davos as British prime minister. May briefly acknowledged Brexit (without saying the word) and said the country was, somehow, now a strong advocate for free trade. She then quickly pivoted to talk about technology, AI, and corporate social responsibility. The end of her speech was met with polite applause by those who stayed for the full remarks.
An emotional end at the Equality Lounge. Women made up just 21% of the delegates at Davos, but the Equality Lounge has been packed all week. Wrapping up last night, its founder Shelley Zalis, CEO of Female Quotient, was brought to tears speaking with Dorrit Moussaieff, the former first lady of Iceland, ranked the best country for gender equality for the past nine years. "I think women should be paid more than men," Moussaieff declared, a fitting end to a series of sessions unafraid to challenge the status quo.
Soros hit out at tech companies. Outspoken financier George Soros flagged a new threat at his annual Davos dinner (although he also got in his usual digs at Trump). Tech giants like Google and Facebook are using their "monolithic power" to manipulate and deceive consumers, he warned.
A very distributed ledger. The "Blockchain Beyond Earth" workshop at the ConsenSys Lounge did not disappoint. When beaming data over great distances, a panelist said, "you have to take quantum relatively into account." Naturally. But what about wormholes, asked a member of the audience. "If I can inject a transaction from the future into the past…"
Chart interlude
What's in a name? Needless to say, there are plenty of "chiefs," "chairs," and "presidents" in Davos this year. Chief executive officer is so passé; how about "chief innovability officer"?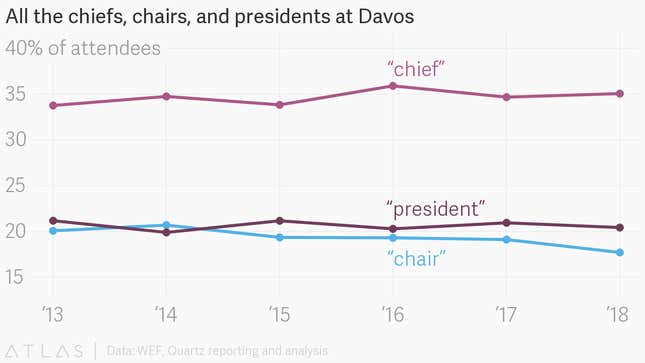 Reading for the plane
Revisit all of Quartz's Davos coverage here. On the way home, take some time to read a synthesis of studies about what skills will survive disruption from AI and other technologies. Follow it up with three ideas for global leaders to prepare for this shift. Then, finally, consider the promise and pitfalls of businesses addressing the world's biggest problems in this in-depth feature on a Silicon Valley-funded quest to educate the world's poorest kids.
Seen and heard
"We're not waiting in this line!" declared Gary Cohn, as he and several other White House staffers strode into Salesforce's packed party around 11pm. Also spotted inside were Sarah Huckabee Sanders, Hope Hicks, HR McMaster, Steve Mnuchin, and Jared Kushner, among others. Trump's speech today will be great, Cohn later said, adding that he wrote it.
The mood in Davos this year, according to John Seifert, CEO of Ogilvy: "It all feels okay, just don't look down."
Alibaba CEO Daniel Zhang says he personally interviews people applying for leadership jobs at the Chinese internet giant, and his favorite question is, "What's the biggest mistake you made before?" Zhang believes you need to be able to make mistakes to be innovative: "If people say they never made mistakes, they might be wrong for Alibaba."
"Democracy has to be more than two wolves and a lamb deciding what they want for dinner."—Dan Schulman, CEO of PayPal
Next year we'll need a bigger room, cryptocurrency edition.
Enjoyed this email?
This is a special edition of the Quartz Daily Brief produced for attendees and others interested in the World Economic Forum in Davos. As a reader, we'll be sending you our regular Quartz Daily Brief as well as coverage from future events like Mobile World Congress, SXSW, and the Cannes Lions. If that's not for you, simply unsubscribe at the bottom of this email.
News from around the world
Czechs vote for their next president. Incumbent Milos Zeman, the populist pick that some have likened to Central Europe's version of Trump (paywall), will face a tough run-off against pro-EU centrist Jiri Drahos. Opinion polls show Drahos with a slight edge over Zeman heading into the election, but the race is still too close to call.
India celebrates its 69th Republic Day. The nation's constitution came into effect on this day in 1950, an occasion celebrated with a grand military parade in New Delhi. Invited guests have included Nelson Mandela, Queen Elizabeth II, and Barack Obama, but this year it's the leaders of Southeast Asia, as India tries to counter China's growing influence in the region.
Trump ordered the firing of Robert Mueller last summer. He backed down when White House counsel Don McGahn refused and threatened to resign, the New York Times reported (paywall). Trump reportedly argued that Mueller, who is overseeing the Russia investigation, had conflicts of interest, including onetime membership at one of Trump's golf courses.
An item in this section in yesterday's brief incorrectly referred to the source of a remark on Myanmar as "a former" UN rights chief. Zeid Ra'ad al-Hussein, who described operations against the Rohingya in Myanmar as "a textbook example of ethnic cleansing," remains in the post.
Matters of debate
Machine learning makes work life worse. AI-driven technology just leads to humans making more serious mistakes.
Asking for your date's surname is rude. Last names can often be the final barrier (paywall) between relative anonymity and someone learning everything about you.
America's gambit to dominate the oil market is dangerous. The sudden influx of extra resources upsets the energy market and exacerbates climate change (paywall).
Surprising discoveries
The flu can stop your heart. Scientists have concluded the influenza virus can actually increase your risk of having a heart attack by a factor of six.
China's cloned monkeys are a power play. The macaques' names, Zhong Zhong and Hua Hua, refer to China's heyday as the world's pound-for-pound greatest superpower.
50 Cent is an accidental bitcoin millionaire. The hip-hop icon completely forgot that his 2014 album Animal Ambition raked in a whopping 700 bitcoins, now worth roughly $7.7 million dollars.
Our best wishes for an inspiring final day at the forum and a safe trip home. Here's how each member of Quartz's Davos editorial team summed up this year's forum, in emojis: 🌍 ⛓ 🙋 👀 🏃.
See you next year!