Good morning, delegates!
It's day 2.0 of the forum about Globalization 4.0, and the high temperature today will be minus 5.0 (that's 23°F).
What to watch for today
World leaders line up. Today's political keynotes, in order of appearance: Japan's Shinzo Abe (11:15am), Ethiopia's Abiy Ahmed (1:30pm), Germany's Angela Merkel (2:15pm), China's VP Wang Qishan (3pm), Italy's Giuseppe Conte (5:30pm), and Spain's Pedro Sánchez (6pm). More importantly, in order of GDP: Wang, Abe, Merkel, Conte, Sánchez, and Ahmed. And most importantly, in order of population: Wang, Abe, Ahmed, Merkel, Conte, and Sánchez.
Not-so-new kids on the block. Will blockchain disrupt institutional financial services? Not if those sharp-suited bankers can adopt blockchain first. Cantor Fitzgerald CEO Howard Lutnick joins Ethereum co-founder Joe Lubin at the ConsenSys Lounge at 10am to talk about the future of investment banking. At 1pm, a session moderated by Quartz's Heather Landy will consider digital asset transformation in global institutional capital markets, with panelists from Credit Suisse and Oliver Wyman. The lounge closes out the day with a 5pm panel on how blockchain is impacting global capital markets. Looking for a crypto fix but don't want to leave the Congress Centre? The FT's Gillian Tett moderates a 9am panel on building a sustainable crypto-architecture, which features noted skeptic Kenneth Rogoff of Harvard.
Rethinking capitalism. It's time to take on some existential economic issues. Namely, how do we make capitalism both sustainable and inclusive? And how should we think about economic growth beyond GDP? New Zealand prime minister Jacinda Ardern is back to ponder alternative economic measurements with OECD secretary-general Angel Gurría at 10:45am in the Congress Centre. Later, at 5:30pm, Canadian foreign affairs minister Chrystia Freeland and execs from BlackRock, PayPal, and BCG attempt to "tackle the growth paradox."
And now for something completely different. The Klitschko brothers—Vitaliy, the mayor of Kyiv, and Volodymyr, the other former heavyweight champion of the family—appear together at Ukraine House at 3pm. The debate will be punchy. (Sorry.)
Clean-living Davos. If you're looking to center yourself after a big night out, there is a 30-minute guided meditation session at the Congress Centre every morning at 8:15am, led by Tsoknyi Rinpoche, "whose lighthearted, yet illuminating style appeals to both beginners and advanced practitioners alike."
Party planner. The Gates Foundation's Goalkeepers party, at the Davos Golf Club this year, is often a star-studded affair—an appearance by Bono is guaranteed. If you're feeling peckish, a world of food awaits you, with the national pavilions from Indonesia, Japan, and South Africa laying out spreads. (The TCS Global reception, in that dome down the stairs at the Panorama Hotel, also usually features killer Indian fare.) Music-wise, the dance floor is always full for the cover band at McKinsey's party in the Belvedere, or you can space out at the ETH Zurich Pavilion with ambient composer Jean-Michel Jarre and Queen guitarist Brian May, who will present a new work inspired by the Apollo Moon landing.
Who won day one?
"There has never been a time when more people have been out of touch with the natural world than there is now," Sir David Attenborough told Prince William, who was playing the role of moderator and seemed a little starstruck on the main stage. Attenborough was everywhere on Tuesday, the day after the 92-year-old broadcaster and historian picked up an award from the WEF for "leadership in environmental stewardship." After wowing Britain's next king, he sat on a panel about fighting climate change, chaired by Al Gore.
For anyone familiar with his nature documentaries, Attenborough's soothing voice is a salve, but the message he brought to Davos is scary. "The future of the natural world is in our hands," he said. "We can wreck it with ease. We can wreck it without even noticing that we are doing." As the risks associated with climate change rise up the Davos set's list of worries, the calm authority with which Attenborough laid out the stakes made the Congress Hall sit up. His agent will also be happy, as his forthcoming Netflix doc Our Planet got frequent mentions and a full screening in the evening.
More highlights from yesterday
The Amazon's unlikely protector. In a speech that lasted for less than seven minutes, Brazil's new president Jair Bolsonaro half-heartedly tried to convince the Congress Hall that his environmental credentials were sound. He promised economic development and environmental stewardship of Brazil's forests and "natural beauty." He failed to mention that Brazil's forests have been shrinking and last year the Amazon lost more than 3,000 square miles. Shortly after Bolsonaro's speech, across town at a panel about deforestation Jane Goodall said, "I think we're all worried about the new administration in Brazil."
What, me worry? Citigroup CEO Michael Corbat said he's more concerned about the political environment than he is about consumers or businesses. "You know, here we are, we are 20 days into earning season … [and] 75% of the companies that have reported have actually reported above expectations. That doesn't feel like a business environment that is falling off into the abyss," he told Bloomberg editor in chief John Micklethwaite.
What if we used data for good instead of serving pop-up ads? Mastercard and The Rockefeller Foundation announced an initiative to fund data science at nonprofits and other civic organizations. The groups are putting $50 million of their own money in to start, and called for other companies and philanthropies to chip in to give underfunded groups the "tools, expertise and knowledge they need to help solve the world's most pressing challenges."
Chart interlude
Economic forecasts are being cut, profit warnings are more common, and there's a general sense that things may be going downhill from here. One sign we're past the peak is that fewer corporate execs are saying "peak" on earnings calls and presentations. That's right—peak "peak" has peaked.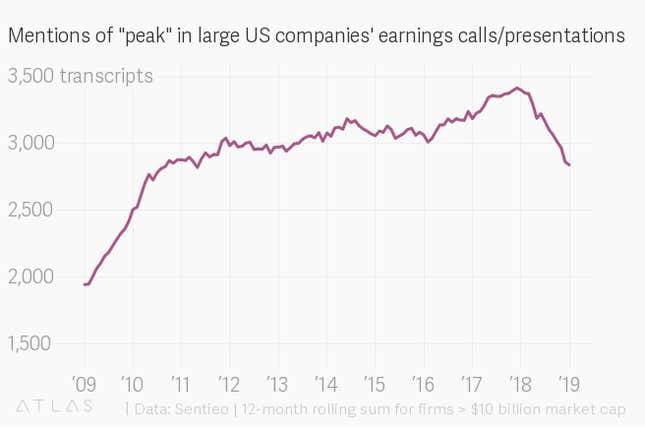 Let's chat
Today at 11am ET (5pm in Davos, 4pm in London, midnight in Hong Kong) we'll hold a live, 30-minute videoconference with Quartz editor in chief Kevin Delaney to discuss the latest goings on at Davos. We'll be taking your questions and comments, so please join us here. We look forward to seeing and hearing from you!
Got questions for Guterres?
Quartz's Eshe Nelson will interview UN secretary-general António Guterres on Facebook Live on Thursday at 9am Davos time. What should she ask him?. Send Eshe your questions and she'll try to work them in.
Seen and heard
"The relationship has developed to the point where I'm wearing Gary's clothes right now because Swissair lost my bag."—A perfectly presentable Matt Damon told a Bloomberg event about working with Gary White, his Water.org co-founder and, on this day, emergency stylist.
"I don't think we're remotely isolated."—US secretary of state Mike Pompeo, via a video link to Davos because he couldn't travel thanks to the government shutdown.
Iranian artist Mehdi Ghadyanloo painted the murals atop the grand staircase in the Congress Centre. He created the large panels for the artwork, meant to reflect the hopes and perils of today's world, in a factory in Iran abandoned after the revolution. Ghadyanloo says he has murals commissioned for public spaces in Atlanta and Detroit but can't go to the US because of the travel ban.
"The ratio of dictatorships to democracies in Davos is now seriously skewed towards the bad guys."—Hermitage Capital CEO and Russia agoniste Bill Browder
You could leave last night's Politico nightcap on the Schatzalp the easy way (a four-minute funicular ride) or the hard way (a bracing, three-kilometer sled ride down the slope). It was an easy choice:
Enjoying this email?
This is a special edition of the Quartz Daily Brief produced for attendees and others interested in the World Economic Forum in Davos. If you were forwarded this newsletter by a colleague, head of state, or Klaus Schwab himself, you can get your own copy for free by clicking here. And follow all of Quartz's coverage from the forum during the week here.
News from around the world
US Senate leaders reached a deal that could end the government shutdown. Majority leader Mitch McConnell and minority leader Chuck Schumer agreed to hold votes, scheduled for Thursday, on competing proposals to temporarily fund shuttered agencies through Feb. 8, and to allocate $5.7 billion for Donald Trump's border wall.
The US cancelled a pivotal trade meeting with China. CNBC reported that the US trade representative abruptly cancelled talks this week due to disagreements over intellectual property rules, ahead of a March 1 expiration of a truce between Donald Trump and Xi Jinping. The news helped send US stocks dramatically downward.
The Bank of Japan didn't touch interest rates. The unsurprising decision came as the central bank cut its forecast for inflation for the financial year starting in April for the fourth time. Meanwhile, trade data released today showed the impact of weakening global demand, as Japan's exports saw their worst drop in two years.
Matters of debate
Join the conversation with the new Quartz app!
Iran was the only victor of the US-Iraq War. The Pentagon made a disastrous strategic error by failing to apply the lessons of the Vietnam War.
Music is essential for people with dementia. Personalized playlists may alleviate some symptoms associated with Alzheimer's.
Apple Pay is a huge sleeper hit. Most major retailers now accept the digital payment system, though Walmart and Home Depot are still holdouts.
Surprising discoveries
Stranded United passengers are spamming the CEO. Travelers who spent 12 hours in Newfoundland were given Oscar Munoz's email address by their irate captain.
Facebook is reportedly building its very own space lasers. Satellites and base stations would enable Facebook to beam the internet to remote base stations.
Naomi Osaka was whitewashed for a ramen ad. The Japanese tennis star, whose father is Haitian, was depicted with light skin by her noodle-making sponsor, Nissin.
Our best wishes for an inspiring day at the forum. Please send any news, tips, hopeful signs, and lost luggage to me, Jason Karaian. Keep up with the news while you're on the go this week with the Quartz app for iPhone and Android.