Dear Davos delegates and WEF watchers,
Davos-week Mondays are unhurried affairs. The snow fell gently, and not for very long. People walked slowly, and found time for lunch. The official WEF panels had yet to start, so everyone prowled the Promenade instead, peering into corporate pavilions and drinking free Tata tea from a kiosk outside the Panorama Hotel.

All this absence of urgency belied the big WEF report that dropped on the day: a survey of chief economists, in which two-thirds of them predicted a global recession this year. Businesses will lay workers off and shrink their spending. "The global economy," said Saadia Zahidi, managing director of the WEF, "is in a precarious position."
Inevitably, because Davos is Davos, panelists will discuss this turmoil in abstractions: in basis points knocked off GDP growth, or corporate revenue projections, or central bank maneuvers. The likely truth—that a recession will hurt the Davos set much, much less than others—was implicit in another report published on Monday by Oxfam. Over the last two years, the richest 1% accumulated nearly twice as much wealth as the rest of the world combined. An annual tax of 5% on the world's multimillionaires could lift 2 billion people out of poverty.
Over the next few days at Davos, it will take a bold moderator to raise such problems and solutions, and to put multimillionaires on the spot over them.

---
💲 THE MOOCH v SBF
At the Blockchain Hub, a pavilion on Davos's promenade, a fireside chat had barely begun when Anthony Scaramucci brought the fire. "Are we gonna talk about FTX?" asked Scaramucci, the founder of SkyBridge Capital and, for 10 days in 2017, the Trump White House's spokesperson. "Someone was calling it FUX."
Last September, FTX Ventures, run by Sam Bankman-Fried, bought a 30% stake in SkyBridge for $50 million. Scaramucci said he'd considered Bankman-Fried a friend. "I got to know his dad. I worked on a charity with his aunt." But when FTX, Bankman-Fried's crypto exchange, collapsed in November, and when Bankman-Fried himself was arrested and charged with various kinds of fraud, Scaramucci felt personally aggrieved. "If anyone has read Dante's Inferno, you know what the ninth circle of hell is reserved for," he said. "It's betrayal. Who lives there on a frozen lake with the devil? It's Judas and Brutus."
Scaramucci said the downfall of FTX underlined the need for more regulation of the industry, but did not spell the downfall of blockchain or crypto. Notably, though, neither he nor his two fellow panelists brought up the rash of other recent crypto scandals: Genesis and Gemini, the crash of Luna, thefts of crypto assets, BlockFi. Scaramucci also did not refer to SkyBridge freezing redemptions in one of its funds last summer, after its crypto investments plummeted. "I'm a high-profile person, so my mistakes get wildly magnified," he said obliquely. "But I won't stop taking risks."

---
👀 WHAT TO WATCH FOR TODAY

Present in absentia. The Chinese government's delegation to Davos is small this year: just four people in the official WEF list of public figures. But it turns out lots of folks are interested in China's next chapter. That's the title of a session that filled up almost as soon as sign-ups were open. It will be livestreamed, though, beginning at 9:45am Davos time.
Turbulence. Also at 9:45am, Heathrow in the hot seat. John Holland-Kaye, CEO of the often-beleaguered UK airport, is on an international panel about the future of travel and tourism. If you're headed to Thailand or Rwanda anytime soon, you may hear something to help you in your planning. Go to the Salon room at Congress, or livestream it.
Stay or go? At 10am, in Dome A of the Ice Village, Amy Webb, a "quantitative futurist" from New York University, offers a briefing on building foresight and preparedness. But in case this Earth thing doesn't totally work out, you might wish to take in McKinsey's presentation on the role of space in sustainability and security, featuring Chris Kemp, the CEO of Astra Space. That's at 12:15pm in Dome E of the Ice Village.
The post-lunch downer. At 3pm, WEF presents a bounty of sessions on dire topics, such as the surging cost of living, the polar crisis, and women's rights in Iran. If you can stomach more pessimism, a 4:15pm session in Aspen 3 at Kurpark is delightfully titled "Thinking the Unthinkable: The Risk of Nuclear Confrontation."
Off-piste. At the Palantir Pavilion, a conversation on the post-war recovery of Ukraine gets underway at 5:45pm. Participants include Rawan Odeh from monday.com, the Israeli project management app company, which formed an emergency response team soon after Russia's invasion to help refugees make safe travel plans.
---
😱 WORRYING TRENDS
Aside from late-night cocktail receptions on the Promenade, what's keeping executives up at night? PwC recently asked more than 4,400 CEOs from 105 countries how exposed they thought their company would be to various threats over the next year, and the next five years.
Percentage of CEOs who say their companies are "highly" or "extremely" exposed to hot-button issues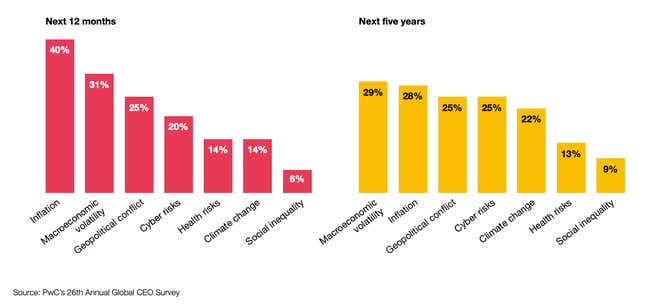 But a slowdown in inflation won't necessarily make it easier for CEOs to get a handle on things. "The interesting thing is to watch how many leadership teams have never managed through a higher interest-rate environment," PwC global chairman Bob Moritz said in an evening presentation at the Belvedere.
---
🤔 TWO QUESTIONS WITH...Jeff Maggioncalda, CEO of Coursera
Reading the signals in your field, what will happen to the economy in 2023?

At Coursera, we sell directly to individuals. They can buy either open courses or full degrees. A countercyclical indication is often the degree enrollment. So when unemployment goes up, people want to go back to school and get a degree, level themselves up so they can be more competitive in the workforce.

On the enterprise side, we also sell to businesses. Businesses are pro-cyclical, and the learning programs they offer their employees are more discretionary spending than other things.

In North America, degree enrollments have not gone up. What's interesting about where we are is that unemployment is still quite low. With businesses upskilling staff—it's a little bit of a tale of two cities. There's still intense competition for computer science and data science talent. But some of the global [kinds of upskilling]—"Here's education for everyone, it doesn't matter what you take, just educate yourself"—we've seen a bit of a slowdown in that, starting in the second quarter last year [ending June 30], especially in Europe.
This is your second Davos. What's the weirdest part of this entire jamboree for you?

It seems like a growing number of people have certain conspiracies about what happens in Davos. My view is: What's the simplest explanation for what happens here? At a very small scale, it's like when a vendor invites a customer to a golf tournament or something. This is just a bigger version of that, where the customers are governments and the vendors are businesses. It's a way to understand needs and create relationships and get some deals done. And talk about global issues as well, of course—but clearly, some commercial relationship building is happening.
---
🌍 NEWS FROM ELSEWHERE

TikTok is trying to win friends and influence people. In the US, the Chinese app is opting for increased transparency, including the disclosure of details of a $1.5 billion plan to restructure its US operations.

Siemens signed a $3.3 billion train deal with India. The German technology company will provide 1,200 electric trains and 35 years of servicing under the deal, the biggest in its history.
Nigeria's inflation cooled for the first time in 11 months. December's rate fell from around 21.5% to 21.3%, raising the prospects of a smaller rate hike ahead of February's general election.  
The UK's plan to deport migrants to Rwanda will face challenges in court. Two judges have permitted that appeals to parts of the controversial decision will be considered.
PwC resigned as China Evergrande's auditor. PwC mentioned in its resignation letter that the embattled property developer had failed to provide key information.
---
🤓 THANKS FOR READING QUARTZ!
Want more carefully curated news items like this in your inbox? Every weekday, the Quartz Daily Brief delivers the most important and interesting news from the global economy, straight to your email. Sign up here.
Our best wishes for a productive day. Today's Need to Know: Davos was brought to you by Heather Landy and Samanth Subramanian.