Welcome back! If you're new, sign up here to receive this free email every week. 
---
Hello Quartz readers!
There's long been talk about Big Tech invading Big Finance—something this newsletter addresses regularly. For the most part, aside from things like payments, this hasn't happened yet in a meaningful way. Banking is heavily regulated, and watchdogs are hostile to interlopers from the outside taking advantage of loopholes. Tech giants can probably generate better margins elsewhere.
But when it comes to cloud computing, Amazon, Microsoft, and Google have made deep inroads into the financial sector without needing a banking license. As computing and data storage get outsourced, the cloud is increasingly important to the banking sector. Indeed, 48% of the industry's IT budget will be invested in public cloud technology next year, according to Refinitiv, an increase from 34% in 2018. Bloomberg reports that Commerzbank is looking for greater leverage over the cloud companies it and other banks depend on:
The German lender has sent out invitations to several big European banks to meet at Commerzbank's Frankfurt head office on Nov. 25, Kerem Tomak, in charge of big data at the firm, said Wednesday. Adoption of standards would mean lenders have more leverage over cloud providers and it would also ease the job of regulators who wouldn't need to vet each individual contract, he said.
Commerzbank is increasing its reliance on the cloud providers, which essentially offer giant external data storage centers and computing capabilities. It now has service contracts with Google and Microsoft as it seeks to reduce spending on hardware. But the cloud industry is dominated by a handful of large U.S. tech companies, which has raised concerns that European banks may become too dependent on them.
The reason Europe doesn't have a big cloud company like Amazon or Microsoft is probably the same reason it doesn't have a tech or banking champion: the bloc is still fragmented along national lines, with different languages, regulations, and cultural expectations. EU tech companies have also traditionally lacked the mega-funding injections needed for startups to bulk up quickly.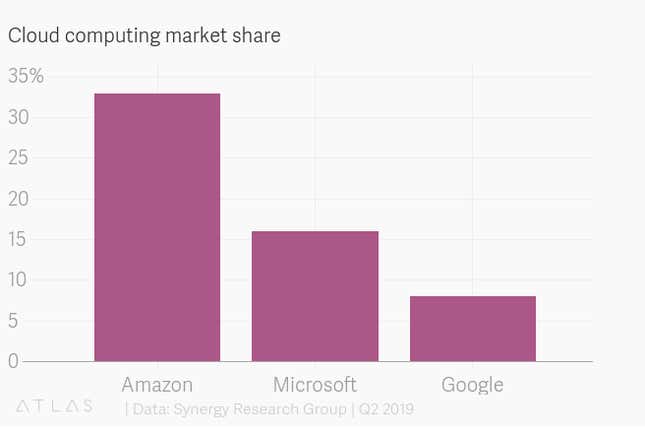 There's room to criticize the American obsession with scale—see WeWork and MoviePass—but there's no denying that the cloud business is, well, all about scale. A homegrown European cloud company could mean more jobs, money, and expertise for the region, and put more oversight of a crucial piece of financial infrastructure in local hands.
There's already a model for building a European champion along these lines. When it comes to making jetliners, another sector that's all about heavy capex and scale, Airbus has shown that Europe can go big when its officials help link the pieces together.
The story goes something like this, according to aerospace researcher TA Heppenheimer: An American airline executive wanted a twin-engine jetliner that didn't yet exist because of a quirk in US regulations. A French firm wanted the contract, but it was too small to take it on alone. French, British, and German officials agreed to help support the project. Airbus formally came together in 1970 as a cross-border consortium.
It sounds unwieldy, but The Economist wrote (paywall) in April that the modern version of Airbus "has stood out for its innovation, competitiveness and, sometimes, inspired leadership."
These days, the Boeing 737 Max scandal demonstrates the danger of relying on a small number of companies for something that's critical to the economy. There are signs that Boeing and US regulators took shortcuts on the 737 Max, leading to two deadly crashes. Because of Airbus, the airline industry is less reliant on a single American manufacturer (and its regulator) as hundreds of planes are grounded while investigations take place.
It's not crazy to imagine that a similar breakdown could happen in other crucial areas, like cloud computing. It makes sense for companies not to depend on a small number of suppliers in one country, which may not share their values on things like trade, data privacy, and foreign policy. Maybe it's time to launch an Airbus into the digital cloud.
---
This week's top stories
1️⃣ Santander is going up against Goldman Sachs' Marcus in the US. The Spanish bank will open a high-rate online deposit platform within the next year, according to the Financial Times (paywall).
2️⃣ WeChat Pay and Alipay could soon face competition from China's central bank. An analyst told Bloomberg that the government wants to regain its power over payments.
3️⃣ The Trump administration says the Consumer Financial Protection Bureau is unconstitutional, and a Supreme Court decision could unravel years of work by the agency. A district court judge also ruled against the US fintech charter, American Banker reports (paywall). The ruling said the Office of the Comptroller of Currency doesn't have the authority to grant banking charters to non-banks.
4️⃣ Gojek is looking to go public, raising money for financial services and food delivery. But the Indonesian internet startup's dual listing is still likely years away, per Bloomberg.
5️⃣ Square and Bank of America are the latest companies to slash stock brokerage fees. One of the winners could be stock exchanges like Nasdaq: While many of these retail trades are handled off exchange directly with trading firms, scrutiny over this practice could push volume back to the exchanges.
---
The future of finance on Quartz
Visa and Mastercard's fight over Revolut shows how important fintechs are becoming for card networks. (Note: More than 70% of Revolut's revenue last year came from card usage and interchange fees, per Companies House.)
In Washington, Mark Zuckerberg discussed the unbanked. The Facebook CEO has touted its Libra cryptocurrency as helpful for the poor, but lawmakers seemed unconvinced by its merits (join the club).
Quartz recently published an in-depth field guide for members about Apple after the iPhone. Tim Cook is looking for the next big hit and is spending aggressively to discover it. If you're not a member, you can sign up here and get 50% off the annual cost of membership by using the code "JD2912" at checkout.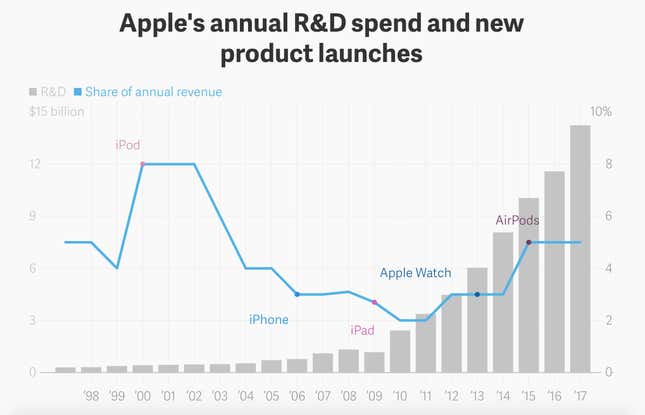 ---
Let's hang out
Are you going to Web Summit next month? Me too! I'll arrive in Lisbon on November 5th and will moderate two panels the next day. I'll be talking about fintech and unicorns with Plaid, OakNorth, Airwallex, and Deposit Solutions. Hit me up if you're around on the evening of the 5th or 6th.
---
Always be closing
---
I hope your week has been a profitable one (pick your own metric). Please send any cloud hacks, tips, and other ideas to jd@qz.com.