Welcome back! If you're new, sign up here to receive this free email every week.
---
Hello Quartz readers!
This week, we published a series of stories for members about what happens when the fintech hype fades. My colleague Jane Li in Hong Kong spoke to analysts about whether Ant Financial is still worth $150 billion—the valuation it achieved in 2018. Despite the global trade war and domestic regulatory crackdown, Ant has expanded abroad and pivoted to offering technology to other companies. Profits appear to be increasing and analysts, if anything, seem more bullish about it.
And Quartz's Ananya Bhattacharya in Mumbai wrote about Paytm, the Indian mega-fintech that is burning increasing amounts of cash. It's hard to see any respite for Paytm, as competition from Walmart (PhonePe) and Google Pay ramps up. But the company has at least one major thing going for it—it has no trouble raising money.
Something Paytm and Ant Financial have in common is investment from SoftBank. The Japanese conglomerate's buying spree has included plenty of fintech, and given the travails at the likes of WeWork, Uber, and Wag, the dog-walking startup it just wrote down, it's worth asking whether there are any other landmines tucked away in its holdings. (You can see our presentation on SoftBank's portfolio here.)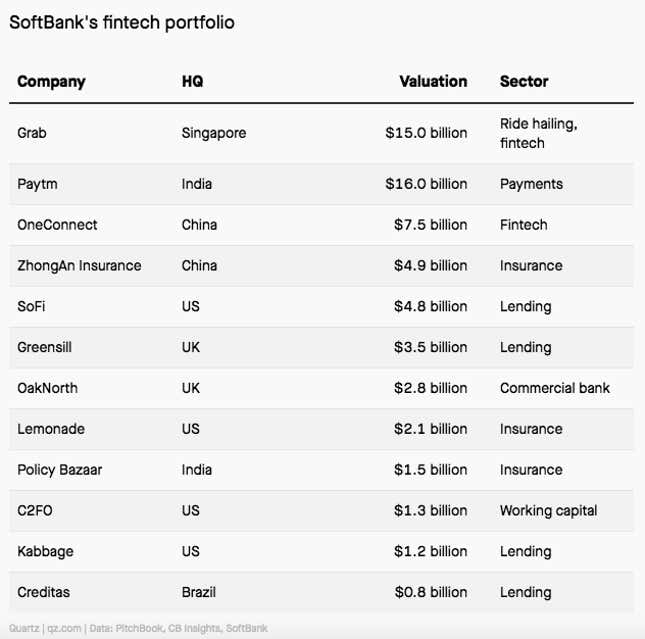 Our state of play for members highlights a few things to keep in mind:
SoftBank has put around $3 billion into Singaporean super app Grab, which has services for things like ride-hailing, food delivery, and payments. It sounds a lot like Ant Financial (Alibaba, which owns 33% of Ant, is an investor, while SoftBank is also an investor in Alibaba). Grab is seen as the Uber of Southeast Asia, and it burns up cash just like the US ride-hailing company.
San Francisco-based SoFi's valuation has plateaued, as investor confidence in the peer-to-peer financing model fades. One way forward could be a banking charter, which would provide access to lower-cost funding, but US regulators haven't made that option available to fintechs.
Whereas some funding rounds for mega unicorns have almost a dozen investors, UK working capital company Greensill's latest valuation is solely based on SoftBank money, according to PitchBook data. Greensill also received an additional $655 million from SoftBank in October through convertible debt. One investor determining a company's price is not, to say the least, an efficient pricing mechanism.
Lemonade, a money-losing insurance startup in New York, postponed its IPO, according to a Business Insider report. Its founders include Shai Wininger, who also founded freelancer app Fiverr. Shares of Fiverr have declined since it went public this summer.
There are exceptions, of course—OakNorth, the UK digital bank for business customers, is profitable. But overall it seems fair to say that SoftBank's fintech portfolio features some investments with questionable valuations that may, like some of its other holdings, have trouble finding a way to profitability.
In the meantime, SoftBank is still splashing the cash: The Japanese firm is reportedly planning to invest $500 million in venture capital funds in Latin America, as part of its ambition to invest $5 billion in the region. It recently plowed $100 million into Mexican fintech Konfio, a small business lender, and the Argentinian company Uala, a personal finance app.
I'll leave you with some words from Woody Marshall, a general partner at TCV. The boom in venture capital funding for fintech, in which SoftBank is a major player, came up when I was speaking with him about Nubank, which TCV led a $400 million round of funding in during the summer. Marshall acknowledged that the word "bubble" comes up in these types of conversations, and he said there's "no doubt" there's a lot of capital floating around. Along with that is the risk of cash flowing into second-rate companies. But he didn't seem worried.
"I can't tell you if there's a bubble," he said. "Even if there were lots of competitors that got funded, and that can happen in a bubble, I think the best business and best managed businesses will win over time."
---
If you're not already a member, you can support our journalism by signing up here. Membership gets you access to weekly conference calls with journalists, as well as unlimited access to all of our reporting, which includes members-only field guides, like this week's about fintech. Use the promo code JD2912 to get 50% off an annual subscription. Please send any dog walking advice, tips, and other ideas to jd@qz.com.