Hello, Quartz at Work readers!
Deloitte Consulting CEO Dan Helfrich has an unlikely approach to handling hot-button topics at the consulting giant. It looks a lot like a high school mock trial.
In his time leading the firm through a pandemic, Helfrich brought in an new strategy for making big choices: Staff-wide debates, structured and sanctioned by the leadership team, where all employees can make their stance known on the firm's most controversial decisions.
For its first all-team debate, the company pulled no punches: It invited the whole organization to weigh in on writing the company's return to office policy.
"We decided that the debate would benefit from the wisdom of the major crowd—the [nearly] 90,000 people who would be impacted—as opposed to just the wisdom of the couple dozen people who have the privilege of sitting at the management table," he tells Quartz's Anna Oakes.
Management's move paid off. As it turns out, company-sanctioned dissent didn't just help leaders make a tough call; it also changed team dynamics across the firm. Junior colleagues, for one, started challenging more tenured ones regularly. Disagreements were met with encouragement. And surveys showed that employees felt like their opinions mattered at work.
"[Debate builds] an environment where people willingly share contrary ideas with one another, but do so in a way that's free of judgment," Helfrich says. "If you can create that environment, no matter what size of team, you have magic results."
🗣 To test an all-team exchange yourself, Helfrich outlines how to structure a company debate. Read on for the opening arguments.
---
CHASING RAINBOWS
45%: The percentage of LGBTQ+ employees in the US that believe being "out" at work could hurt their opportunities for professional advancement.
Despite the investments—or the lip service—companies are making to increase diversity, equity, and inclusion initiatives in their work, a new report finds that queer people still say workplace discrimination is alive and well.
🌈 As Pride Month begins in the US, Quartz's Julia Malleck reports on the ongoing barriers to equitable workplaces for queer people, and what LGBTQ+ workers really need to achieve equal footing.
---
ZEN MODE, ACTIVATED
😌 Kaizen (n.): A Japanese word meaning "good change." But Kaizen isn't about fair winds or favorable tides: It's best known as the philosophy of continuous improvement, or the idea that tiny, incremental changes eventually add up to substantial shifts.
Kaizen is the alternative to feeling defeated by overly-ambitious goals; instead, it praises small steps forward towards satisfaction. And when brought into team culture, the Kaizen approach might be a bulwark against burnout.
Now companies that are worried about quiet quitters are turning to the philosophy to reset, reengage, and reenergize their employees. Step towards the story to learn how one company gave Kaizen a try.
---
WOMEN ARE LIFTING UP THE LABOR MARKET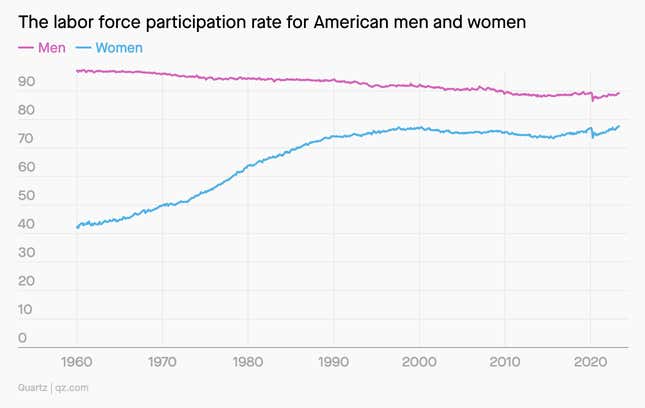 The American jobs market is making a post-pandemic recovery—and women are leading the way.
The percentage of working-age women who are either employed or on the job hunt reached an all-time high last month, according to new data from the US Labor Department. That's a strong snap back from the beginning of the pandemic, which saw 20 million American women exit the workforce.
Quartz's Nate DiCamillo makes the case that passing pro-women economic policies can keep the trendline growing. But companies can play a part in the upswing, too. They're starting with these strategies:
🤸‍♀️ Flexible policies that give employees more say over when or where they work, especially as women disproportionately juggle responsibilities at home while working
🔙 Return-to-work programs that help those who have taken a career break—typically women who have stepped away for caregiving—come back to full-time employment
🍼 Family leave, childcare subsidies, and cash incentives that support working parents; consider the baby bonus, which give parents a reason to come back to work from parental leave
---
YOUR WEEKLY WORK HACK
Six steps can help you job-hunt after a layoff. In other dispatches from the US labor market, recent jobs reports indicated the lowest level of unemployment since before the moon landing in 1969.
At the same time, much-publicized layoffs have swept a number of industries—and have left plenty wondering what's next for them.
If you've been hit by a layoff, or are worried one may come your way, journalist Felix Zeltner offers six tips from experts for heading into the job hunt. To start, he writes, understand how you fit into a re-shifting, not a recession.
---
QUARTZ AT WORK'S TOP STORIES
🤖 The real-world reasons AI could have rejected your job application
🚺 American women are leading the post-pandemic US jobs recovery 
🗣 How Deloitte uses staff debates on the firm's most controversial decisions
💼 Zeynep Ton, the academic who popularized the "good jobs" strategy, explains how to execute on it
👨‍👧‍👦 To attract parents back to the workforce, companies are paying cash 
---
YOU GOT THE MEMO
Send questions, comments, and heated debates to aoakes@qz.com. This edition of The Memo was produced by Gabriela Riccardi.