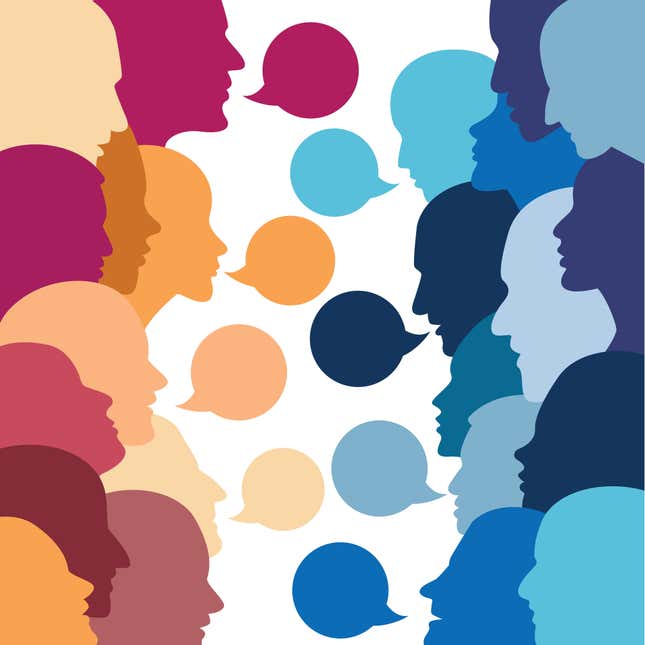 Dan Helfrich has a big job as CEO of Deloitte Consulting LLP. It's no small feat leading 85,000 employees forward in the day-to-day, let alone on big topics that impact their work and personal lives. When deciding how the global consulting firm would handle the return to the office, Helfrich leaned on a tool he's been leveraging since grade school: debate. Not in the boardroom or on the executive team—but among every single employee.
Why a tightening of credit conditions could lead to a weak economy
"It's the creation of an environment where people willingly share contrary ideas with one another but do so in a way that's free of judgment," Helfrich said. "If you can create that environment, no matter what size of team, you have magic results. When you put that philosophy to the test at that scale, fun things happen."
Helfrich's viewpoint is unique not just because of the company's size but because of the nature of his work. "I have an interesting job because I'm the CEO of a really big enterprise," he said. "At the same time, I'm advising and spending time with lots of CEOs of other big enterprises." What he has found is that most people run from conflict and debate. "It's not only fear of negative or dissenting opinions being voiced; it's actually fear of unmanaged conversation."
Fear of conflict at Deloitte has been drastically reduced simply by hashing things out, Helfrich says. Now he's much more likely to see employees acknowledging that decisions are difficult instead of begrudging them. Helfrich hopes other companies normalize talking through the tough issues and is excited to share his firm's learnings.
Deloitte's first staff debate? The return to the office
The timing was right for Helfrich. Companies were starting to consider whether their employees would be returning to the office or if they'd pursue hybrid or remote work. Helfrich knew this was his chance.
"People thought I was crazy to take [on] a management team debate which every company was having," said Helfrich. "We decided that the debate would benefit from the wisdom of the major crowd, the close to 90,000 people who would be impacted, as opposed to just the wisdom of the couple dozen people who have the privilege of sitting at the management table."
The leadership team expected a wide range of opinions, and they got it. What they didn't expect was that so many of their assumptions would be proven wrong. One such assumption was that young consultants wanted to return not just to the office but to their frequent travel. "[A]ctually there was as much diversity of perspective from our employees in the first three years of their career than there was [among] employees in their third decade of their career. And that was really powerful to make sure we were having a fulsome debate, not just based on the perspectives of a couple of dozen senior management team members."
How to structure a work debate
As civilized debaters, Helfrich knew Deloitte's employees would need rules to keep the conversation healthy and reach a conclusion. First up was framing the debate, which they did in a company-wide town hall that employees could watch live or on replay. Next, they presented the options (Helfrich says there should be two to three alternatives to pick from). Once the choices are clear, Deloitte provides background data, often in the form of short videos full of facts, figures, and context to help everyone enter the debate with a common data set.
The fun begins as debate time approaches. Discussions are held both in synchronous and asynchronous formats (on chat tools like Yammer) to provide options. The company also had focus groups with 15 to 30 employees at a time, typically remotely, where they were asked three to four specific questions to help assemble a data set. The unmoderated chat is left open for two weeks, accumulating thousands of threaded discussions highlighting different perspectives.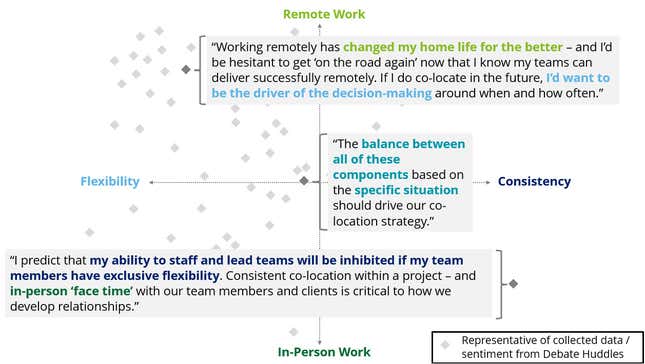 "The variations of choice in terms of how people engage is super important because it invites in more personalities," said Ally Landers, engagement leader for Deloitte US consulting. "So you get the introverts, and you get the extroverts. Some people prefer to write and articulate a well thought-out point of view. Some are willing to just jump in and work through it with people. It gets at the diversity of viewpoints, not just the people who joined mock trial in high school."
To get to a decision, Deloitte weighs all the data collected and test drives the alternatives with different groups.
Deciding what to debate and making a decision
Helfrich believes two things make for a great debate topic. "The first is that it is a topic for which a large set of people have passion," he said. "And the second is that the range of views is likely to be broad." He cautions not to pick a boring topic so the debate doesn't fizzle quickly. And if there's a topic with a clear majority opinion from the onset, Deloitte skips it. "We don't just do them because it's a certain time of year. We do it when there is something worthy of discussion," said Lander.
Helfrich is quick to warn that the debates can't be performative. Instead, they are debating the tough choices, informed by engagement from everyone impacted.
When a decision is final, Helfrich suggests announcing it with the full data considered. He also recommends selecting a timeframe to pilot the winner, which helps soften the blow for anyone disappointed by the decision. There's a buffer in telling employees that you'll try it this way for 6 to 12 months, and the company reserves the right to adjust the decision if necessary.
"One of the most beautiful things about debates is you really avoid the criticism that the people in the ivory management tower have not listened or considered a fulsome set of views, because you've actually exposed the views to everybody," says Helfrich.
The benefits of debates at work
Debate doesn't just help reach a decision; it engages employees and builds trust. Deloitte's employee engagement survey scores show it. The firm's scores in "trust in leadership" and "people care about my opinion" have increased dramatically.
For Helfrich, that's a sign that the intent of the debate is trickling down into the day-to-day experience of how the company is run. "I watched a team having a meeting, and I see one of the most junior people in the room, by experience, really challenge one of the more senior folks," he said. "And it's not this big moment where people are aghast. Then I feel like the culture we're seeking is sticking."