To modern workers everywhere,
Executives facing massive technology shifts in their business have two choices—bet the company on the next era, or collect cash in a shrinking industry before hanging up their spurs. Plenty of companies fail to make the leap: Kodak in digital photography, Blackberry in smartphones, and most newspaper companies on the internet, to name a few.
GM is going to try. Last week, Detroit's biggest automaker said it plans to exclusively offer electric light-duty cars and trucks by 2035, five years ahead of a previously announced goal and part of a broader mission to make its production and operations carbon neutral by 2040.
It's a big risk, but it's not a profile in courage, says Sven Beiker, a former BMW engineer who now runs the consulting firm Silicon Valley Mobility. The writing is on the wall. Overseas, where GM sells about two-thirds of its cars (pdf), Europe, Japan, and China have all said the internal combustion engine's days are numbered. In the US, combustion engines will be phased out in California and Massachusetts by 2035, and other states are sure to follow. The market, too, is sending strong signals—while Tesla stock climbs, investors are pouncing on companies seen as moving too slowly. Ford, for example, has seen three CEOs cycle through the boardroom since 2014.
The sudden conversion of the major automakers to electric evangelists is leadership, surely. But it only comes as automakers are being dragged into a future they never really wanted. Bolder leadership earlier on might have made the transition much smoother.—Michael Coren
---
Five things we learned this week
Volunteer work can help solve the employee morale crisis. Arranging it is a culture-building opportunity for employers.
Corporate political contributions ought to line up with corporate values. Here are three questions companies might consider to check for misalignment.
A new study shows occupations with the highest Covid-19 death rates. The findings might be useful in determining priorities for vaccine distribution.
India is rolling out the red carpet for one-person companies. A proposal from the finance minister includes allowing non-resident Indians to set up shop.
Dolly Parton's Super Bowl ad rewrites "9 to 5" as a side-hustle anthem. And Quartz at Work's Sarah Todd has rewritten the rewrite.
An upcoming workshop
Join us this Thursday, Feb. 4, at 11am US eastern time for a free, one-hour workshop on how to be a productive skeptic at work. Learn to be a person who pushes your teammates to meet your company's mission and goals, without fearing conflict or being labeled a "naysayer." And learn why the skeptics are so vital to your company's future. Jim Detert, a professor at the University of Virginia's Darden Graduate School of Business Administration and author of the forthcoming book Choosing Courage: The Everyday Guide to Being Brave at Work, will present and take your questions.
---
30-second case study
Every play during a pandemic is, by necessity, experimental. For the few theater companies that are attempting to hold live performances, every artistic element of staging—from set design and casting to costumes—is being reconsidered to safeguard the health of actors, stage crew, and theater-goers.
This spirited, trial-and-error ethos courses through New York University's theatrical production wing, which has been holding live performances since last October. For its latest production, a modern adaptation of William Shakespeare's Romeo and Juliet, the cast of 15 actors are spread across two theaters, with live action supplemented by a live video feed of both stages. Audience members in both theaters are seated six feet apart and asked to show proof of a negative Covid-19 test before they're allowed in the venue. Per the school's guidelines, actors, crew members, and faculty are tested regularly, and are required to wear masks at all times. The masks themselves are the result of research and experimentation by NYU's costume department, and are not just for protection: in this staging of Romeo and Juliet, they're used to identify actors who switch roles throughout the play.
So far, NYU's is the only MFA program in the country that's figured out how to safely hold shows for a live audience. It's no small feat considering that most productions from Broadway to London's West End remain shuttered. The Broadway League, the trade union for the US theater industry, predicts that some Broadway shows could reopen this May, but it has pushed back its forecast six times already.
The takeaway: Successfully and safely reopening anything right now—theaters, restaurants, schools, offices—is going to take some ingenuity. It also might require picking up some new skills. At NYU, actors are instructed to be more gestural to better convey emotions through their PPE. "Honestly," says Krista Intranuovo, a graduate student in the NYU costume department, "it's such a privilege to have the chance to do things in person, even in a restrictive way."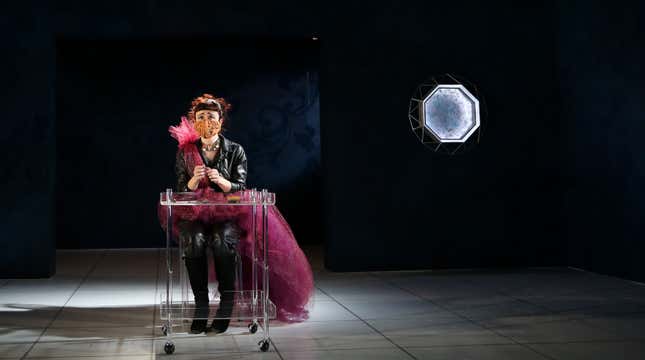 ---
Quartz field guide interlude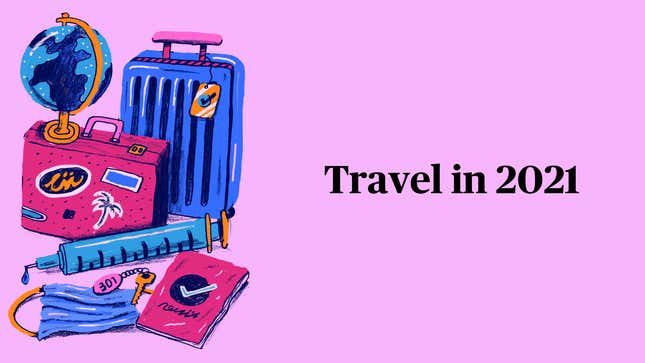 If you're traveling internationally this year, you should expect to show a negative Covid-19 test at some point during your journey; today, at least 160 countries require a negative Covid-19 test for entry. But that process is a bit of a mess, since no two countries or airlines are adhering to the same protocols. There are efforts to standardize these throughout the industry, paving the way for future requirements that will become a staple of international travel. Prepare for the bumpy ride ahead with Quartz's new field guide to travel in 2021.
Get access to all of Quartz's field guides with a Quartz membership. Not yet a member? Sign up for a 7-day free trial!
---
Words of wisdom
"Entrepreneurship is one of the most direct paths towards closing the racial wealth gap and to building personal wealth."—Tiffiany Howard, an associate professor of political science at the University of Nevada, Las Vegas
Read more in Lila MacLellan's piece on what the Biden administration needs to do to close the venture capital race gap.
---
ICYMI
Now that he's stepping down as CEO, there will be plenty of retrospectives on Jeff Bezos's tenure at the company he founded in the early days of e-commerce. When you're done reading about all the retail and the servers and the third-party seller controversies, take a moment to appreciate one of his lesser-known innovations: the silent meeting. In this article from the Quartz at Work archive, we explain why Bezos likes his meetings quiet, and what you can do with all the cognitive surplus the quiet creates.
You got The Memo!
Our best wishes for a productive and creative day. Please send any workplace news, Dolly Parton "5 to 9" rewrites, and theater tickets to work@qz.com. Get the most out of Quartz by downloading our app and becoming a member. This week's edition of The Memo was produced by Heather Landy and Lila MacLellan.